What Is DriverPack Solution and How It Helps Run a PC Properly
DriverPack Solution is a free tool for updating USB drivers for devices, which is often necessary to make everything work properly on a Windows computer. It automatically analyses your device and determines which driver is needed before downloading and installing it for you. That's it, no-hassle, no-frills. You do not have to go through dozens of websites and click several set-up wizards to upgrade your graphics drivers for maximum gaming performance.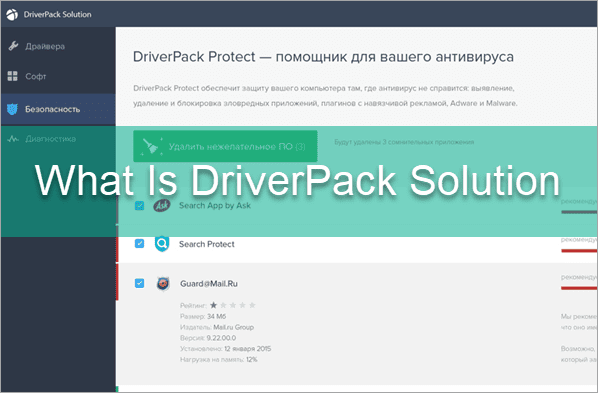 Simply speaking, DriverPack Solution is a tool that aims to help you improve your device without much of a hassle. Being a useful tool with no frills, DriverPack Solution has a lot of features that you cannot find in other similar applications.
Main Features of DriverPack Solution
While this driver manager app is super easy to use, you will find quite a punch of features as shortlisted below:
It is compatible with Windows X, Windows Vista, and Windows 7 through Windows 10.
It is portable and can be launched using any folder or hard driver or even an external device such as a flash drive.
You can download DriverPack Offline to use this tool even when you do not have a working network connection.
It can easily list all of the drivers on your computer even ones which do not require an update. It shows you the version of your already installed drivers as well as the version which could replace it; this tool can download all of the drivers which need to be installed at once without any breaks.
The Diagnostic section provides you with essential information
There is a bulk software downloader which suggests apps that you could benefit from using.
Pros and Cons of DriverPack Solution
As with any application, DriverPack Solution has its advantages and disadvantages. But do the pros outweigh the cons in this situation, or is it the other way around? Find out below:
Pros:
Easy to use
Can work offline when internet connection is not available
Support downloads in bulk
Downloads are completed with no prompts
Quick to download
Cons:
Include a section which suggests apps which you may accidentally click and download apps that you do not want.
Sometimes this app can seem slower than usual
You cannot schedule scans
You cannot prevent drivers from showing up in future scans
Why You Need the Driver Manager Tool?
A USB driver, or device driver, is a program that allows the attached hardware device to communicate with the computer OS. USB drivers are necessary for a range of electronic devices, such as keyboards, monitors, USB flash sticks, SD card, smartphones and external hard drives. That's why many people are bothered by the issues of Android USB device not recognized, or SD card not showing up on computer. Those problems will usually disappear after updating or reinstalling the proper drivers.
With a handy driver manager tool, like DriverPack Solution, you will surely enjoy the smooth experience of using your computer free from the trouble of corrupted or missing drivers.
Pro tips: It is important to have the device driver updated or repaired, otherwise you may need to recover lost files from SD card, external hard drive, or pen drive. In case the accident happens to you, don't hesitate to try with iReparo Data Recovery Software.
Final Thoughts
From this DriverPack Solution review article, it is easy to see that this simple tool has a lot of useful features, and while it does have a few cons, none of them are severe enough to deter you from using this app. DriverPack is excellent for those who are looking for a simple solution for their drivers. It is excellent if you do not have a working internet connection and want to be able to sort out your driver. This app is minimal and useful for those who are not interested in the back-up or restore features that other apps seem to offer. With DriverPack, what you see is what you get, although sometimes it may take a bit longer to download some drivers. This app is worth a try if you do not want any extra frills.