Recover&Print WhatsApp Messages from iPhone
"Yesterday, I deleted some important WhatsApp messages by accident when freeing up space on my old iPhone 6, and these messages are precious to me. What can I do to get them back?" – Julia
WhatsApp has become a strong force in social communications with its powerful functions in sending text messages, photos, videos, GIF, real-time location, etc. You might have saved countless WhatsApp messages unknowingly, which may occupy much of your phone storage. However, when facing the same problem as Julia, what can you do? No panic. Next, I will give you suggestions on how to recover deleted WhatsApp messages from iPhone X/8/7/6/5 and print them out.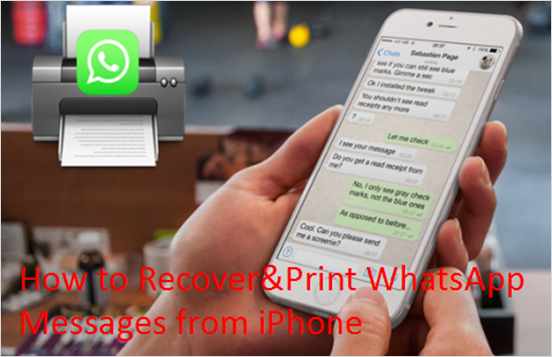 Restore WhatsApp Chat History on iPhone with iTunes/iCloud Backup
You can choose one of the recovery methods below to restore your WhatsApp if you have an iTunes/iCloud backup.
1)If you have backed up your iPhone to iTunes, then the WhatsApp data will be synced to iTunes as well. Therefore, you can get back your whatsApp data by restoring the whole iPhone backup. However, this may cause another data loss problem because all your existing data on iPhone will be replaced by the backup you restore from, which means the data created after the backup will no longer exist. Therefore, this method is not recommended if you have an iCloud backup.
2)Once you backed up your WhatsApp chat history to iCloud, you can restore it easily. Compared with restoring from iTunes backup, Restoring from iCloud backup is more targeted.
First, you can go to WhatsApp>settings>Chats>Chat Backup on iPhone to verify that you have backed up WhatsApp messages indeed. Then, you need to uninstall and reinstall WhatsApp app on iPhone. At last, open the WhatsApp you re-installed and follow the prompts to restore WhatsApp messages.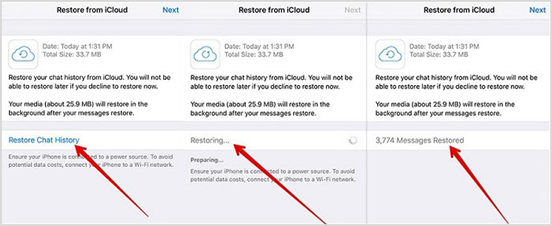 Recover&Print WhatsApp Messages from iPhone with Third Party Software
If you don't have any backup of your WhatsApp data, you can recover them with WhatsMate. This software allows you to find, preview and retrieve deleted WhatsApp messages on iPhone directly. What's more, you can print these messages whenever you want. Follow the two steps on how to recover and print WhatsApp messages with this amazing software.
Step 1: How to Get Back Deleted WhatsApp Messages on iPhone
First, download and open this software on your computer and choose "Recover deleted/lost WhatsApp data". Then, connect your iPhone to computer, after which click "Next" to scan and find your deleted WhatsApp data. At last, preview and choose the WhatsApp data you want and click "Recover" to save them on your computer.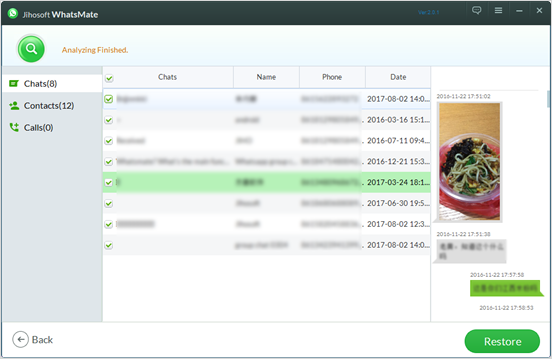 Step 2: Print WhatsApp Messages from iPhone
Open the folder where you save the recovered WhatsApp messages, you will find they are stored in three formats: CSV, HTML, TXT. Open the HTML format, check the data you want and then print them out.