[Solved] Canon: Movie Recording Has Been Stopped Automatically
When filming a video with my Canon EOS Rebel camera in 1920×1080 quality, an error appeared saying "Movie recording has been stopped automatically" at roughly around 12 minutes. After around 30 minutes, the error disappeared, but it did not even continuously record. Is there a way to make the recording exceed 12 minutes or and solve the issue?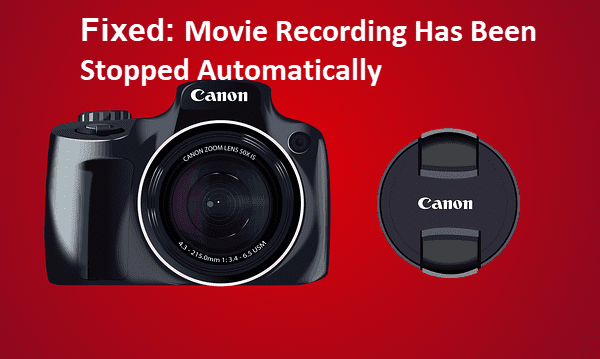 The error of "movie recording has been stopped automatically" has confused a lot of Canon DSLR camera users. When it happens, customers can not record videos longer than 5 seconds – 12 minutes depending on the condition of the memory card and camera, though the memory size is big enough. In other words, you may miss some wonderful scenes or an important show in your daughter's school play if the annoying trouble is not solved. Don't worry. In this tutorial, we are going to troubleshoot this problem and introduce possible solutions.
Part 1. Check Camera SD Card for Compatibility and Write Speed
In most cases, the problem is in the SD card used in Canon camera. Even if it worked well several days or weeks ago, you may receive the error later if the SD card is incompatible or unqualified. The most common issue with compatibility is about the speed of the memory card, but there are some other factors could lead to the problem.
Facts about memory cards used in Canon DSLR:
Total movie recording time and file size per minute are limited in Canon DSLR. The length of a video could vary from minutes to hours depending on the size of the memory card and resolution of video (up to 1920×1080). Check out the instruction manual for Canon camera for details of your device.

The size of an individual video stored in camera memory card has a maximum limit of 4 GB, which means the shooting will be stopped once a single video clip reaches 4 GB. For file transfer, you will need a workaround for files larger than 4 GB for USB drive in FAT32 format.
Part 2. How to Fix Movie Recording Has Been Stopped Automatically
In some rare cases, the digital camera itself contributes to the error, but you can rule it out by resetting the camera. If it works well after resetting, then you don't need to do anything else to the memory card or the camera body. However, more often than not, you will need to proceed and try the solutions below to fix "movie recording has been stopped automatically" issue.
Solutions:
Make sure there is enough free space in your card.
Format the SD card in the original camera instead of a computer. This could fix the problem caused by missing essential files in the card. However, make sure you know how to backup SD card to computer if there are files in the card.
Lower down the resolution of your shooting. Try an option as low as 640×480 to test if it is the high resolution causing the problem. 12 minutes or so is the maximum recording length of some cameras in highest resolution, because the file size reaches 4GB faster in this case.
Change to another SD card and see if it works. Preferably, it shall be a high-class SD card (Class 6-10) with a minimum sequential write speed of 12.5MB/s or higher.
Tips: If you have reviewed the instruction manual of your Canon camera, you might find a line on the bottom of one page, saying "An increase of the camera's internal temperature may cause movie shooting to stop before the maximum recording time." Therefore, cooling down the camera is a new direction to fix the error of movie recording has stopped automatically.
In addition to the error of movie recording has been stopped automatically, you could also lose important memories in picture or video due to accidental deletion or formatting. Don't hesitate to use Jihosoft Photo Recovery to undelete photos and videos from SD card, pen drive, hard drive or computer.
Bottom Line
The solutions listed in this tutorial have been proven to be helpful for hundreds of people. However, one article cannot cover all possible cases happened to all users of Canon camera. Feel free to tell us your experience and questions in the comment below in case the problem is not solved. Make sure to let us know if any method did work for you.