Fixed: Windows 10 No Option Mount ISO Files
I have a Windows 10 PC and when I right click on .ISO files, there is usually "Mount" as an option on the list. But today, the "Mount" disappeared from the context menu. How can I add it back? I might install some apps to my computer recently.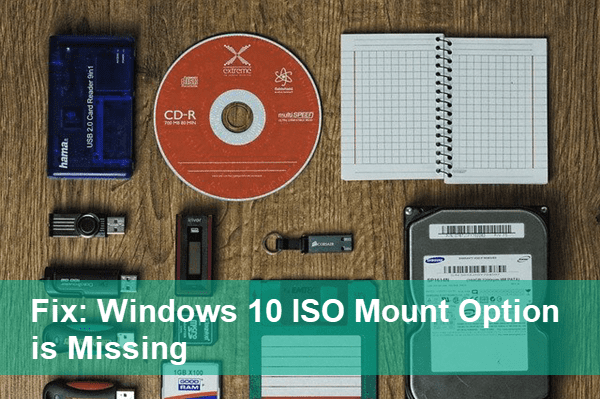 In Windows 7, users need to install an ISO mounter software for creating virtual CD drive. Luckily, Windows 8 and Windows 10 come with the function of ISO mounting. However, a lot of users have reported the issue of "Windows 10 mount ISO missing" or "ISO files not showing Windows 10". When people right-click on an ISO file, the "Mount" option is missing from the list. In this article, we will introduce the solutions to fix Windows 10 no option mount ISO.
Method 1. Restore ISO Mount Option in Windows 10/8
After you install a third-party burning software, you may find the Mount option missing from the context menu when you right-click on an ISO file. Fortunately, it can be restored easily in Windows 10/8 in 4 steps.
Step 1. Open File Explorer, then navigate to the folder containing the ISO file.
Step 2. Right-click on the ISO file, then click Properties.
Step 3. In the General tab of Properties dialog, click Change button next to Open with.
Step 4. Select Windows Explorer from the pop-up list, then click OK > Apply to save the change.
Now, the Mount option shall appear on the right-click list. The ISO files are associated with Windows Explore and you can
double-click on the ISO file to mount it directly.
Method 2. Fix Windows 10 Mount ISO Missing by Specifying Default App
Alternatively, you can specify the default app for opening ISO files in Windows 10 Settings. This method works in all variants of Windows 10 available at current.
Step 1. Click Start button, then click on the gear icon to open Settings.
Step 2. Go to Settings > Apps > Default apps.
Step 3. Scroll down to find and open Set defaults by app.
Step 4. Locate Windows Disc Image Burner, then click on it and choose Manage.
Step 5. Under File type and protocol associations, click the icon on the right of .iso, then select File Explorer.
From now on, when you double-click on a .iso file on your computer, it should be mounted with File Explorer automatically.
Tips: In case you accidentally deleted or lost important files from hard drive, SD card, pen drive or other storage devices, don't hesitate to use iReparo Data Recovery to get them back. It will help you recover permanently deleted files in PC.
How to Fix "The disc image file is corrupted"
If the two methods above fail to fix your problem, you're possibly encountered with another issue – The disc image file is corrupted. It is not necessarily that the disc image file is really damaged or corrupted, but you're suggested to double check it.
For example, you may download Windows 10 ISO file again if you're going to reinstall the OS, or see if you can mount other ISO files. If your computer has mounted other virtual drives, please unmount all of them temporarily, then try to mount only the ISO file only. In case all the methods and tips fail, please use a third-party mounting software to mount ISO file.
Bottom Line
ISO files could contain important content for many people, so it would be perfect if everyone can mount it on a Windows PC conveniently. We hope the solutions mentioned in this tutorial will help you fix Windows 10 no option mount ISO problem. Don't forget to share this article to your friends so that more people will be benefited.