6 Methods to Fix Windows 10 Not Responding Programs
It should be clarified that the topic of this tutorial covers both the occasions when Windows 10 not responding and the programs not responding in Windows 10. Most of the methods below are helpful on both cases, so you can follow the tricks without worries.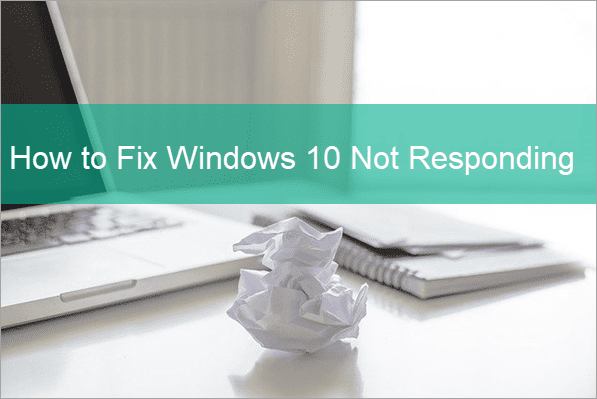 Why Programs Not Responding in Windows 10
A lot of factors could contribute to programs not responding in Windows PC, such as wrong operation, poorly optimized program, system corruption, etc. In addition to high disk usage in Windows 10, the conflicts between certain programs as well as virus attack could also result in the problem.
Comparing with upgrading hardware, which is often quite expensive, we are surely willing to fix the issue in software level, which is indeed possible as long as your computer was not bought 20 years ago.
6 Methods to Fix Windows 10 Not Responding
When a program stops responding, you can just close the error window or force end it on Task Manager, then launch it again. If the issue occurs again, you can also try to fix it by restarting your PC. The Windows shutdown command can help you power off a laptop only with keyboard.
However, there are occasions when these simple tricks fail to work or at least won't fix it once and for ever. In this case, you may need to troubleshoot the not responding Windows 10 by following the methods below one by one.
Tips: If you lost import works, like unsaved Word documents, please try iReparo Data Recovery Software to get them back first. You will recover unsaved/deleted MS Word documents as well photos, videos and more data with it.
1. Clean Boot Windows 10 PC
When you find the Windows 10 not responding error again after a normal restart, a clean boot may achieve more obvious effect, because it will ensure no startup app or service to avoid any conflicts with the not responding program.
Follow the steps below to clean boot Windows 10:
Step 1. Press Windows + R keys at the same time. The Run dialogue will open.
Step 2. Type msconfig in the box and hit Enter. System Configuration window will open.
Step 3. Open Services tab, tick the checkbox next to Hide all Microsoft services, then click Disable all > OK buttons on the bottom-right corner.
Step 4. Press Ctrl + Shift + Esc to open Task Manager, open Startup tab.
Step 5. Click on each and all options and choose Disable.
Step 6. Restart your PC and check if the problem has been fixed or not.
2. Scan and Remove Viruses
This should be done as soon as possible, especially when you have observed other weird performance on your computer. The hidden viruses could not only cause programs not responding in Windows 10 but also threaten the safety of your data and privacy.
The built-in Windows Defender is good enough to deal with common virus infection. You just need to run a full scan on your computer hard drive, then process the risky items and remove viruses. In case Windows Defender fails to meet your needs, you can also try the top free antivirus tools for Windows, which are the free versions of the famous antivirus brands, like Kaspersky and Bitdefender.
3. Run System File Checker Scan
System File Checker, or SFC, is a command that will scan your computer for the integrity of system files. If a system file is corrupted or missing, it could cause Windows not responding, and the SFC scan will fix it automatically. You need to run it in Command Prompt.
Step 1. Click the Start menu, type CMD, then right-click on Command Prompt and choose Run as administrator.
Step 2. In Command Prompt, type sfc/scannow and hit Enter.
Step 3. Wait the scanning to finish, which could take about 15 minutes.
Step 4. Restart your PC once the automatic fixing is completed.
4. Install Updates of Windows 10
If the above solutions didn't fix the problem, you may install the available updates for Windows 10, which could fix some known bugs, including those for the programs not responding in Windows 10.
Step 1. Go to Settings > Update & Security.
Step 2. Click Check for updates or Install updates if it is already available.
Step 3. Reboot your computer and see if the error disappears.
If you already have the latest build of Windows 10, it is a good choice to check if the faulty program is up to date on its official website. For big and popular games or tools, the developers will find and fix the bugs soon.
5. Update Drivers
Some apps depend on a specific hardware component to run normally. In this case, you need to check if the driver of the component is out of date and install update for it. You should focus on the drivers for display adapters, monitors and other possible hardware. We can do it manually with the Device Manager utility in Windows OS.
Step 1. Right-click on the Start menu in Windows 10, then choose Device Manager.
Step 2. Right-click on the target driver and choose Update driver.
Step 3. Once the update is installed, restart your PC and check if the problem is solved.
6. Consult the App Developer
As we have mentioned, you should make sure to install the latest version apps to avoid some known bugs. However, if none of the above methods helped you fix the problem, it is possibly not known to the developers. Therefore, you'd better contact the app developers and report the issue. They may provide you with the solutions or fix the problem in their next updates.
Final Thought
We hope one of the solutions above has helped you fix programs not responding Windows 10 issue. If not, please leave your cases in the comment below so that other people could join and share some proven solutions. Basically, as long as your computer meets the specifications required by the program, the problem is very likely a compatibility issue and the methods mentioned in this guide should be able to deal with it.