How to Repair USB Flash Drive Not Recognized without Losing Data
Though there are a few drawbacks, such as the 4GB limit for FAT32, USB flash drive is one of the most commonly used electronic devices in study and work for transferring important documents and multimedia files among computers. However, those portable drives could be corrupted or unresponsive due to various accidents or mistaken operation, causing the stored data inaccessible. If you're suffering the worry of losing precious photos or just want to prepare for such a situation, please read through this flash drive repair tutorial to make your USB drive or pen drive work again and recover the hidden files.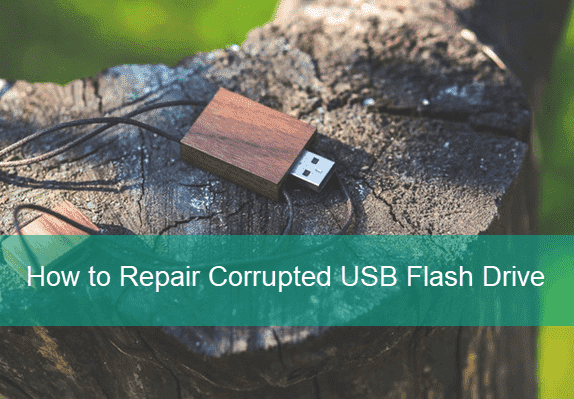 Fix 1. Recover Data from Corrupted USB Flash Drive without Data Loss
When your USB drive is inaccessible through computer, the files are still there. In this case, you should not format the USB drive. As long as the USB drive is detectable by your computer, it is possible to extract the data inside.
iReparo Flash Drive Recovery is the best software for Windows & Mac users to retrieve lost photos, videos, documents and more files. The data recovery software can recover deleted files from SD card, USB flash stick, hard disk drive and computer. It also works great for rescuing hidden files in a corrupted USB drive.
Main Features of iReparo
Recover over 150 types of files.
Support internal & external hard drive, SD card, USB flash stick etc.
Multiple filtering options help you find desired data quickly.
Full preview before recovery to avoid money wasting in case of data overwriting.
Straightforward and friendly user interface.
How to Recover Data from Corrupted Flash Drive
Connect your USB flash drive to computer, then follow the steps below to get back the inaccessible files.
Step 1. Run the USB Recovery software and choose Recover File.

Step 2. Select the partition of the USB drive and click Scan Now.

Step 3. Preview and Recover hidden files in the USB.

After the recovery is finished, you will be guided to the output folder to check and move the recovered files. Make sure to make backup(s) for your important data in time.
Fix 2. Repair USB Flash Drive with Windows Utility without Formatting
Whether your data has been restored in Fix 1 or not, this method will help you try to fix the possible errors on the corrupted USB drive without formatting.
Step 1. Connect the USB drive to a computer.
Step 2. Open Windows File Explorer, go to My Computer and locate the USB drive.
Step 3. Right-click on the flash drive and choose Properties.
Step 4. Open the Tools tab, click Check button under Error checking.

Step 5. Wait the scanning program to finish, then safely eject the USB drive.
Step 6. Restart the computer and check if your USB flash drive is fixed.
Fix 3. How to Fix Corrupted Flash Drive with CHKDSK Command
CHKDSK command basically does the same thing as the Error Checking Utility, but at the system level. The command is for fixing errors on removable disks, like SD card and USB drive. An automatic process will run to check and fix errors on the corrupted USB flash drive and make it readable.
Please connect your USB drive to a computer, then follow the steps below:
Step 1. Press Windows + R shortcut, then type CMD and press Ctrl + Shift + Enter to Run command prompt as administrator.
Step 2. In Command Prompt, type chkdsk E: /f /r /x and hit Enter.

Step 3. Restart your PC and check if your USB drive is working normally.
Note: Please replace E with the drive letter of your corrupted flash drive.
Fix 4. Apply Flash Drive Repair with DISKPART Command
Warning: Don't choose this method unless you have tried all the solutions above. By following this method, you will format the corrupted USB flash drive and set it up again. All the files will be wiped during the process.
Command Prompt is a tool for Windows users to execute various commands to modify the file system. DISKPART is a more powerful command than CHKDSK that you can try in Command Prompt.
Step 1. Run Command Prompt as administrator as shown in Fix 3.
Step 2. In Command Prompt, type the commands as below one by one:

diskpart
list disk
select disk #

Step 3. Click Start menu, type create and format disk partitions and open it.
Step 4. Locate the disk of your USB drive. It should be marked with Unallocated.
Step 5. Right click on the disk and choose New Simple Volume…
Step 6. Follow the wizard to complete the setup.
Note: # is the letter of the corrupted flash drive.
Final Thought
In this article, we have learnt 4 methods for fixing corrupted USB flash drive which is inaccessible or unresponsive so that you can restore the hidden files before repairing the pen drive. It should be noted again that formatting the USB drive in any way is only the last resort, because you may lose the files permanently. Don't forget to share this tutorial if you find it useful. You can also share your experience in the comment section.