How to Download the Latest DirectX for Windows 10 64bit
When I tried to install a game on my Windows 10 computer, a message appeared saying that d3dx9_43.dll is missing. I tried to
search for the mentioned file on Google and downloaded it to my computer, then another error message appeared. It took me quite a lot of time to install the first one and many websites are full of ads and suspicious pop-ups. What should I do to fix the endless errors and be able to play the game on my PC?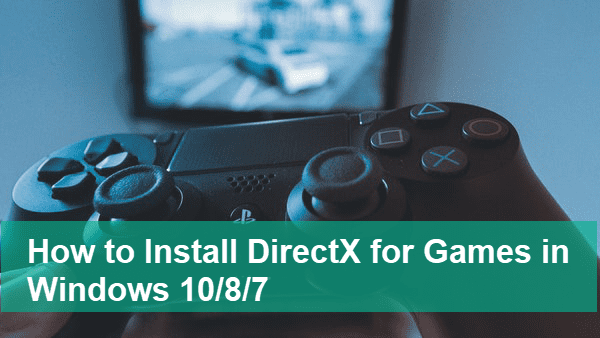 The same problem has been reported by many new players of various PC games. After downloading the huge-size game files, it is frustrated to find the game is not playable. Actually, senior players know that the problem can be easily fixed as long as the right version of DirectX is installed in a computer. Keep reading if you want to know more about DirectX and how to install DirectX for Windows 10 64/32 bit.
What is DirectX and Why to Install DirectX?
DirectX is nothing but a collection of application programming interfaces (APUs), which are for handling multimedia-related tasks on Microsoft platforms, especially game programming and video. All Windows operating systems today have DirectX included. However, Microsoft has been continually releasing updated versions of DirectX. As a result, if the game was programmed with higher version or far lower version of DirectX, you will likely encounter with the error shown at the beginning of this article. To solve the problem, you need to install the right version of DirectX for your computer.
Tips: There are usually many files important for us, such as photos, videos, Office documents, compressed files. iReparo Data Recovery is the best software you shall use in case you deleted or lost those files. Give it a try and recover permanently deleted files from PC.
What Version of DirectX Do I Have in My PC?
As mentioned above, DirectX is pre-installed in modern Windows OS. It is convenient to check the version of DirectX installed on your computer before deciding which version of DirectX do you need to download.
The following is how you can do it in Windows 10:
Step 1. Click Start menu, type dxdiag, then hit Enter.
Step 2. In DirectX Diagnostic Tool, you should find the detailed system information, among which there is a line titled DirectX Version.
Tips: Feature Level, another important parameter for games, can be found under Drivers section in Display tab.
How to Download and Install DirectX for Windows 10/8/7
A lot of game players are looking for the answer to this question. However, DirectX has been included in Windows OS. In this section, we are going to tell you how fix the error messages that keep popping up and make the game run successfully.
Many games use D3DX9, D3DX10, D3DX11, XAudio 2.7, XInput 1.3, XACT, and/or Managed DirectX 1.1. By installing DirectX End-User Runtime, a number of runtime libraries from the legacy DirectX SDK are downloaded to support the games.
Step 1. Go to the DirectX download page on Microsoft official website.
Step 2. Scroll down until you see the section below DirectX End-User Runtime Web Installer.
Step 3. Check for the language and then click Download button.
Step 4. Double-click on the downloaded dxwebsetup.exe file and finish the setup wizard.
Step 5. Restart your computer, and then check if the error appears again or not.
It has been proven that the error messages disappear in many cases after installing the program above. Nevertheless, it should be noted that the version of DirectX in your PC is not changed. It just installed a number of optional technologies used by some older games.
How to Update DirectX in Windows 10/8/7
Windows 10 computers usually come with the latest DirectX 12. For people who are still using Windows 7/8, you will also find how to update DirectX below.
For Windows 10
DirectX 11.3 and 12 are included in Windows 10 and there is no standalone package for updates. You will need to update DirectX in Windows 10 through updating the system. If you have disabled Windows Automatic Update, just turn it on again, or check for available updates manually.
For Windows 8/8.1
DirectX 11.1 is included in Windows 8 and DirectX 11.2 included in Windows 8.1. Similarly, you can only DirectX for Windows 8 and 8.1 through Windows Update.
For Windows 7
DirectX 11.0 is included in Windows 7 and DirectX 11.1 included in Windows 7 SP1. You can update DirectX in Windows 7 by installing the service pack.
Note: The previous versions of DirectX, such as DirectX 9/10/11 are supported in Windows 7/8/10. If a game or program requires DirectX 9 for running, just install the DirectX End-User Runtime Web Installer above, the problem shall be solved.
Alternatively, you may download each and every DLL file mentioned in the pop-up error window, then see if the game or program will work, though the list of needed DLL files could be long. Check out other solutions to fix DLL is missing problem.
Bottom Line
In this tutorial, we have talked about how to install DirectX for Windows 10/8/7 and fix the error of DLL file is missing while trying to run a game or program in PC. Feel free to let us know if you have any questions or opinions so that more people will have their problems solved. Don't hesitate to share this tutorial to your friends if you find it useful.