Solved – How to Fix USB Port Not Working in Windows 10
My HP laptop has four USB ports, two on the left side and two on the right. The left-side ports work fine, but as of last week neither of the right-side ports work with any device. How can two ports fail at the same time, and how can I fix it?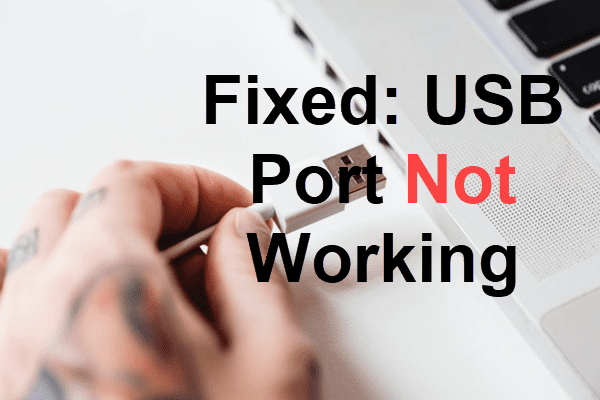 A USB port is a cable connection interface through which personal computers communicate with electronic devices, like USB flash sticks, memory cards, mobile phones, etc. Nowadays, USB ports have become indispensable for both home and work use. Unfortunately, many people are facing with the USB port not working issue similar to the case above, which makes it is hard to transfer photos from camera to computer. In this article, we are going to look into the problem and introduce several methods to fix it.
Symptoms & Possible Causes
When a USB port is not working, the connected USB storage device won't be recognized by the computer and you can't transfer move files between a mobile phone and the computer. Though there are solutions allowing you to share files from Windows 10 without USB or transfer large files over the internet, you will feel everything unformattable and inconvenient.
The following are some of the possible causes of the problem. They cannot explain why the USB port is not working technologically but may remind you of the recent changes that have happened on your computer so that you won't be at a complete loss.
Frequently insert and remove a USB device in a short time
Upgraded to Windows 10 & new builds recently
Quick Tricks to Fix USB Port Not Working
Due to the intermittent nature of the problem, there is not a conclusive solution to fix USB port not working issue in Windows OS. Please have a try with the following quick tricks to rule out hardware issue and temporary glitch so as to save your time.
Restart your computer
For laptops, remove the battery, then hold down the power button for 30 seconds
Try another USB cable
Try another USB port
Try the USB storage device on another computer
Try another USB storage device
A simple rebooting could fix a lot of computer issues without wasting time, so it is the first trick recommended for this case. If it doesn't work, then you should follow the second trick, which will discharge the capacitors and get it to work. The other 4 tricks mean to check if there is any hardware error on the computer, USB device or USB cable.
If it is a hardware issue, like a broken USB port or power only USB cable, there is not much we can do other than getting the hardware repaired physically. However, if the problem doesn't appear occasionally, then the following methods may help you fix USB port not working in Windows 10/8/7 permanently.
Method 1. Scan for Hardware Changes with Device Manager
According to Microsoft, the problem may occur because of a timing issue that prevents the computer from detecting the USB device. Therefore, we need to ask the computer to detect the USB device manually, which should be performed in Device Manager.
Step 1. Press Windows + R shortcut, then type devmgmt.msc and hit Enter to open Device Manager.
Step 2. In Device Manager, right-click on Computer and choose Scan for hardware changes.

Step 3. The scanning will last either a second if everything is fine or a while if it is necessary to fix any errors.
If you find nothing changed and the USB port is still not working, then please keep reading the solution below.
Method 2. Disable and Re-enable USB Controller
The USB ports present as USB controllers in Device Manager, so we can try to fix USB port not working issue by switching off/on USB controllers to recover the USB ports from unresponsive condition.
Step 1. Open Device Manager as described on Method 1.
Step 2. Expand Universal Serial Bus controllers on the end of the list.
Step 3. Right-click on the first USB controller, then click Uninstall.

Step 4. Repeat the Step 3 for every USB controllers under the category.
Step 5. Restart your computer, then Windows will automatically install the USB controllers.
Step 6. Check if USB port is working now.
In case you lose important files during the process of fixing the USB port, don't hesitate to use iReparo Data Recovery software to get them back. It is the best file recovery software for restoring files from Windows and Mac.
Bottom Line
In this tutorial, we have learnt several quick fixes and two major methods for solving the USB port not working problem. In case none of the solutions work for you, you should now consider if a hardware issue exists in your computer, USB cable or USB storage device. Don't forget to let us know which method worked for you in the comment so that more people will get rid of the headache.