How to Fix DPC Watchdog Violation Blue Screen in Windows 10
If you are among the users who are facing the issue of error code: DPC_Watchdog_Violation, then this article is probably of your interest. DPC Watchdog Violation is a common issue for the majority of the Windows users which occurs due to several reasons like system files corruption, hardware incompatibility and various other software issues. The error is seen majorly in Windows 8/8.1/ and Window 10, creating a lot of troubles for the users, like rebooting of PC very frequently, overheating issues and many more.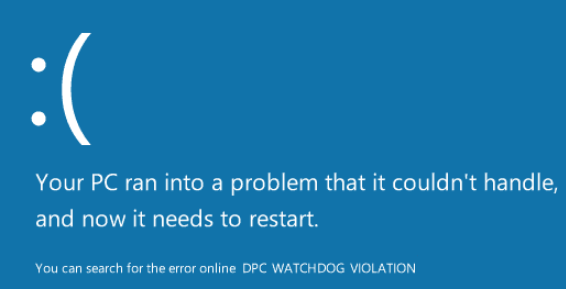 What Is DPC Watchdog Violation
DPC is the abbreviation of Deferred Procedure Call and Watchdog refers to the bug checker for tracking Windows programs and PC performance. Therefore, when the Violation error occurs, it means that your system gets stuck due to a DPC request. The error is usually displayed as a message by the blue screen saying that "Your PC ran into a problem that it couldn't handle, and now it needs to restart". Just like Automatic Repair loop, the problem often won't disappear after restarting.
The DPC Watchdog Violation is generally caused due to two factors. In some cases, the hardware connected to your computer may be conflicting with the operating system due to incompatibility issue. Software conflict could also cause the error.
Bonus tips: When critical errors happen on Windows computer, special attention should be given to the important data. In case any photo, video or document is lost, don't hesitate to use the best data recovery software to get them back.
Method 1. Remove Connected External Devices
An external hardware, like memory card, USB stick or hard drive, connected to your PC may be responsible for this issue. So, removing the external hardware parts of PC may fix this it. There are lots of users who have fixed this issue after removing the hardware parts on which they have a doubt.
Step 1. Remove all connected external devices.
Step 2. Reboot your computer and check if the error disappears. Proceed if yes.
Step 3. Connect the external devices one by one and reboot the PC each time.
Step 4. Find out the one that causes DPC Watchdog Violation issue.
Method 2. Fix Corrupted System Files
Presence of corrupted system files is another one of the main reasons of DPC Watchdog Violation. There is an in-built system present in the Windows OS which will automatically remove the corrupted and replaces with new files. For this purpose, you need to give some commands. So, kindly follow the steps below:
Step 1. Press Windows + R and type cmd, then hit Enter. Command Prompt will pop up.
Step 2. Type the command CHKDSK C: /F /R. You need to press the Enter key after typing the command.
Step 3. Command Prompt may warn that the volume is in use by another process and you need to type Y to proceed further.
Step 4. The command will be performed when your computer is booted next time.
After rebooting, you need to check that still this issue is creating troubles for you or not.
Method 3. Scan Windows System Files to Fix DPC Watchdog Violation
Sometimes the system files are not corrupted but some other issues present in the Windows OS files like minor bugs or something of that sort can result in the DPC Watchdog violation issue. So, you need to scan the whole system files followed by fixing the issues which are creating troubles.
Step 1. Open Command Prompt again.
Step 2. Type SFC /scannow command and hit the Enter key.
Step 3. The PC manager will automatically run the search process to scan the overall Windows files.
Step 4. If there are some issues with the window files, then it will automatically fix them to resolve the issue.
Method 4. Fix DPC Watchdog Violation with BlueScreenView
DPC Watchdog Violation is a Blue Screen of Death bug. To detect the cause of DPC Watchdog Violation issue, you can take the help of BlueScreenView by Nirsoft. This software is specially designed to scan the minidump files created during the Blue Screen of Death crashes. It is very easy to use and you can easily troubleshoot the issue with this tool. So, just download and install this software on your PC and detect the real cause of DPC Watchdog Violation issue.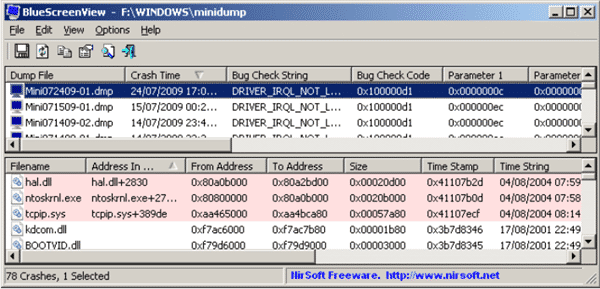 The program will show you all the basic information displayed on the blue screen and more details of the driver or module that possibly caused the crash. This software will be very helpful for users to identify the real cause of DPC Watchdog Violation issue.
How to Boot up PC When DPC Watchdog Violation Blue Screen Occur
Many people get panic when the BSOD (Blue Screen of Death) error stops the PC to boot properly. Every time you switch on the power and turn your CPU on, it will display a blue screen and then restart and then blue screen display and this cycle continue again and again. That's why users are not been able to apply the fixes which we have mentioned above. So, we want to let you know that there is a separate solution available for this. You need to access the safe mode of the Windows in order to boot up the computer when DPC Watchdog Violation BSOD error appears. The method to enter into Safe Mode varies on different laptop/desktop computers, so you need to search it online with the information of your PC and OS version.
Conclusion
In a nutshell, you can find that all these methods are really very easy to understand and to implement as well. You can share your personal experience with us regarding the troubleshooting of this error in the comment section below. And till then, please read our new related hot technology-based articles on our official website.