How to Convert Excel and CSV to VCF & vCards for Free
There are times when people need to import contacts from an Excel worksheet into a mobile phone, but VCF or vCard is the bridge that enables the mobile phone to recognize and save the contacts. "How do I convert Excel to contacts?" That's not a difficult question. In this tutorial, we will show you how to save Excel document as CSV format and convert CSV to VCF in several methods.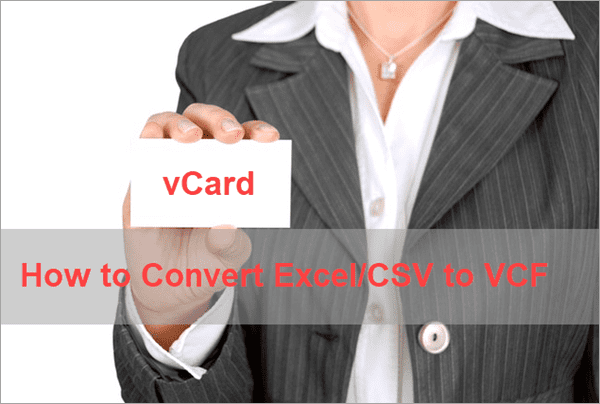 Part 1. Save Excel Document as CSV
The solutions for Excel to VCF conversion in this tutorial will only detect CSV format. Excel documents come as XLS or XLSX format, so you need to save your excel document as CSV format first.
Step 1. Open the target Excel document.
Step 2. On the upper-left corner, click File > Save as.
Step 3. Locate a folder for the file, then click the drop-down list next to Save as type.
Step 4. Select CSV (Comma delimited) and click Save.
You may have noticed that there are several options titled by CSV. Here is the difference:
CSV (Comma delimited): save the Excel file as a comma-separated text that can be recognized by another Windows program or another version of Windows operating system.
CSV (Macintosh): save the Excel file as a comma-separated file for use on Mac operating system.
CSV (MS-DOS): save the Excel file as a comma-separated file for use on the MS-DOS operating system.
Note: If your Excel file contains data in a foreign language, then you need to save it in the Unicode Text (*txt) format first, which is supported by almost all operating systems, and then convert it to CSV UTF-8 or UTF-16.
Warm tips: A common application of Excel to VCF conversion is when people recover lost contacts with Android Recovery Software.
Save the CSV file at a location where you will be able to find easily, then check the solutions below.
Part 2. Convert CSV to vCard in Windows 10/8/7 with Free Tool
In this part, we are going to introduce a method that suits most people. There are no obvious limits or special requirements from all aspects.
Step 1. Download free CSV to vCard software and install it on a computer (Windows only).
Step 2. Run the freeware, click the Browse button, and locate your CSV file.
Step 3. Tick vCard File (all contacts in one VCF file).
Step 4. On the box under Properties, match the vCard Property column with the CSV Field with the Select button.
Step 5. Tick Source CSV file may contain multi-line field data.
Step 6. VCF Encoding is usually by default, but you may also change it according to the encoding of your CSV document.
Step 7. Click Convert button to finish.

CSV Filed: The entries are automatically extracted from the top row of the CSV file.
vCard Property: The entries will be detected by your mobile phone or Contact apps. Manual correction is usually required to match the data with that in CSV Filed.
You may check the converted VCF file with Windows Contacts on your computer. It will show you each contact one by one, and you can only end the process in Task Manager. A better choice is to import it into your mobile photo.
Part 3. Convert CSV to VCF in Windows 7 with System Utility
The CSV to VCF conversion in Windows 7 is different from that in Windows 10 only in the tool involved. Windows 7 comes with the Contacts utility which can import contacts from CSV file and convert the data as vCards. The utility is removed in Windows 10, but it is not really a pity because many more steps must be followed comparing with the above method. Nevertheless, in case you want to convert CSV to VCF without any third-party software, Windows Contacts will serve the purpose.
Step 1. Press Windows key, type Contacts in the search box and select it on Programs list.
Step 2. On Contacts app, click Import tab.
contacts-import.png
Step 3. Select CSV (Comma Separated Values) and click Import.

Step 4. Click Browse button to locate the CSV file, and click Open > Next to proceed.
Step 5. You will see all the text and contacts fields. Map them properly with Change Mapping option.

Step 6. Once all the fields are mapped, click Finish to import the data.
Step 7. On the Contacts window, select all the contacts that you want to convert, and click Export tab.
Step 8. On the pop-up window, select vCards (folder of .vcf files) and click Export.

Step 9. Set a location to save the VCF file, and then click OK.
Now you can move the VCF file to your mobile phone or email.
Part 4. Convert CSV to vCards Online with Google Contacts
Google account is usually used to sync contacts, calendar and more data among all kinds of devices, but it is also able to convert CSV to vCards. In this way, you will not need any software.
Step 1. Log in Google Contacts with your Google account.
Step 2. On the left pane, click More > Import.
Step 3. Click Select file, locate your CSV file and click Open to proceed.

Step 4. Click Import button to start the process. It should be done in seconds.
Step 5. Click Export on the left pane.
Step 6. On the pop-up window, select the contacts imported just now, and tick vCard (for iOS Contacts), then click Export button to finish.

Step 7. Locate the exported contacts.vcf file for future use.
About vCard (for iOS Contacts): vCard is surely not exclusive for iOS devices. Android smartphone, tablet and computer can easily recognize VCF files from the local storage. However, to import vCard contacts to iPhone, we have to utilize iCloud Contacts.
Conclusion
In this article, we have learnt how to convert Excel worksheets to vCards so that you can import contacts to your smartphone or attach it in email for business purpose. You may choose any of the solutions according to your case. Don't forget to share your experience with us in the comment.