"Reopen Closed Tab" Missing in Google Chrome – How to Restore
Google removed the "reopen closed tab" menu option on Chrome. That's terrible! How do we reopen an accidentally closed tab with one click in the future? Is the option gone forever?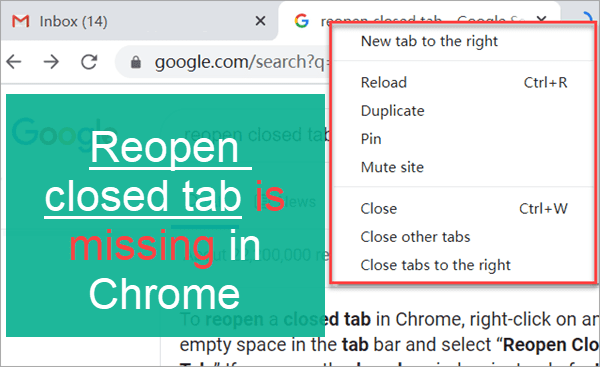 A lot of users have reported the issue mentioned above since the October of 2019. When they mistakenly closed a tab or the entire window and naturally right clicked on a tab, but only to find the familiar option of "Reopen closed tab" is missing from the menu. Understandably, most people are angry at the change in Chrome version 78. If you have been too busy to investigate further, we are here to tell you that it is not true. Keep reading to find out why.
Is "Reopen Closed Tab" Gone in Chrome?
No, it is still in Chrome but just moved to somewhere else in the app. We don't understand why Google made the change when every body is used to the way in which the option has been working. Anyway, "Reopen closed tab" is not gone in Chrome.
Thought Chrome has been reported for many problems, such as "why Chrome is so slow" and high disk usage caused by Chrome Software Reporter, it is still the top choice of millions of internet users. So, don't give up Chrome just for the missing of "Reopen closed tab". As we have said, it is not gone.
Where Is Reopen Closed Tab in New Chrome?
In the previous versions of Chrome, when it is necessary to reopen a closed tab, people will right click on the head of an opening tab. In the latest Chrome, however, the operation is only slightly different.
Follow the steps below to restore "Reopen closed tab" in Chrome:
Step 1. In Chrome, move your mouse to the empty spot (not over any open tab) on the tab pane.
Step 2. Right-click your mouse, then you will see "Reopen closed tab" from the menu list.

Step 3. Click the option, then the mistakenly closed tab will be opened again.
Note: If you accidentally closed the entire Chrome window, then you will see "Reopen closed window" in Step 2.
It actually still takes 3 steps to reopen a closed tab in the new Chrome, the same as the previous operation. However,
More Methods to Reopen Closed Tab in Google Chrome
Google reserves the right to modify the features of its product regardless of complaints from users, but there are other ways for us to achieve the same purpose, which won't be likely altered. The following are more methods to reopen closed tab in Google Chrome. You may find they even more handy than the right-click trick.
Option 1. Use Shortcut: Ctrl + Shift + T
The screenshot actually works quicker and more convenient.
Option 2. From History
With the exception of incognito mode, Chrome records all of your browsing history. Therefore, you can check the history and reopen the closed tabs. To open Chrome History, there are two paths:
Use shortcut: Ctrl + H. It only works on Chrome interface of course.
Click the three-dot icon from the upper-right corner of Chrome, then move your mouse over History and open it from the sub-menu.
Tips: If you still want to get back the browsing history and files downloaded through, don't clear the history data. In case you did, check out the 3 methods to recover deleted history and files on Google Chrome. The data recovery software involved in the tutorial can also recover lost files from SD card, computer, external hard drive, USB stick and more storage devices.
Final Thought
In addition to the nature of easy-to-use, Chrome is also featured with thousands of useful extensions. For example, you can find a lot of YouTube video downloader extensions in Google Web Store and third-party websites. If you are facing with the same issue of "Reopen closed tab missing" or other problems related to Chrome, don't hesitate to tell us in the comment.