How to Check and Repair Bad Sectors on Hard Drive in Windows 10/8/7
Bad sector is one of the deadly factors that threaten the data safety of hard drives. Can we repair bad sectors on a hard drive and not lose files on it? Since you have opened this article, the answer is yes. In this tutorial, you'll learn causes and symptoms of bad sectors, how to repair bad sectors of HDD/SSD hard drives, and rescue data when bad sectors appear.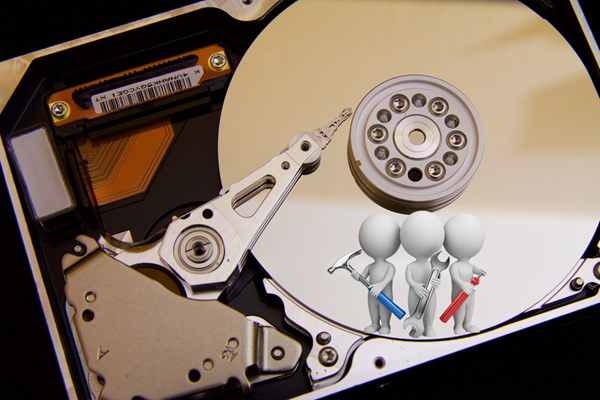 Part 1. Possible Causes of Bad Sectors
A hard disk drive can run smoothly for storing and transferring data and files when it is new, but when one or more bad sectors appear, it will get affected. What are the possible causes of bad sectors?
Turning off computer without a proper shutdown
A malicious virus or malware
Dust pollution
Over-aging hardware
Static electricity influence
Bad sectors may not be created each time a factor is triggered, but will eventually cause the problem if it keeps happening.
Part 2. Common Symptoms of Bad Sectors
No matter you use a hard disk as computer system internal or external drive, if by any chance a particular section of the disk gets corrupted with bad sectors, it would result in a lot of troubles. These symptoms are reminding you that you should take some measures to repair bad sectors.
Poor Performance
If there are a few bad sectors on your hard drive, your computer might face performance issues. It may be stuck if you open multiple files or programs at once, which is a common practice. Or, while you move files from one place to another, it may take a decade.
File Corruption
When a bad sector appears on a hard drive, the data on that sector may be inaccessible, which will cause a file corrupted. In this case, you will be able to open a video, photo or other files because they are incomplete.
Blue Screen
Though bad sector is not the only cause, but blue screen does happen when bad sectors appear in computer system drive. If you don't do bad sector repair timely it may cause your system to crash, or turn your monitor screen all blue which would definitely leave a bad taste for you.
There are more symptoms or troubles that you can see when there are bad sectors on the hard drive in your Windows computer, like "Windows cannot access the specified device, path, or file". In order to keep your data safe, urgent actions should be taken to repair bad sectors.
Part 3. How to Check and Repair Bad Sectors in Windows
Depending on the quality and design of the hard drive, bad sectors will cause problems in different levels. Some can be repaired, but cannot. It is suggested backup existing data on the hard drive, then follow steps below to check and repair bad sectors. The steps match best on Windows 10 computer, but can also direct you to the destination on Windows 8/7 PC.
Step 1. Open File Explorer (My computer), then right-click the hard drive with bad sectors.
Step 2. Click Properties, then choose Tools tab in the new window.
Step 3. Under Error checking section, click Check button.

Step 4. Click Scan and repair drive when you're asked to choose, then choose when to fix file system.
Step 5. Reboot your computer when bad sector repairing is completed.
Now repeat the steps above to check if bad sectors are fixed. If not, please replace the hard drive with a new one and move the files safely.
Bad sectors are repaired but find important data already lost? Don't worry. You can try a powerful data recovery software to get lost files back.
Part 4. How to Restore Data from Bad Sector Hard Drive
iReparo for PC is an excellent data recovery tool for Windows and Mac users. It is able to scan your computer hard drive, then reconnect the pieces and restore lost files back.
The hard drive recovery program can recover photos, videos, office documents, compressed files, etc. from HDD and SDD internal and external hard drives.
More features:
Support all kinds of hard drives made by Seagate, Samsung, Toshiba, Western Digital, etc.
Highest recovery rate for documents, photos, videos and more.
Recover photos and videos in original quality.
Freely choose the file format that you need to restore.
Allow full preview before recovery, including playing videos within the program.
Steps of data recovery from hard drive with bad sectors
Step 1. Run the data recovery program and choose Recover File.
Step 2. Select the hard drive partition, then click Scan Now. You can also choose Advance Scan to choose file types and formats first.
Step 3. Once scanning is finished, preview the files and find what you need.

Step 4. Select the files you need, then click Recover button to get them out.
You will be asked to choose a folder on your PC to save the recovered files. After the recovery, you will be able to check the restored data in folders.
Feel free to tell us if the bad sectors on your hard drive have been repaired or not. You can also discuss with us about the data recovery from bad sector hard drive.