How to Password Protect USB Flash Drive on Windows 10
Protecting your data from any security breach is the foremost thing that should be considered while saving it in any external device. If not protected, it could be used by any one for wrong purpose, and you might eventually need to recover lost files. In this tutorial, you will learn 2 methods to password protect USB drive on Windows 10 with or without Bitlocker.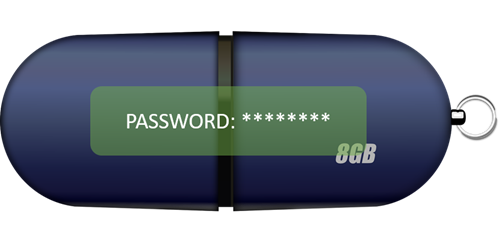 How Does USB Drive Password Protection Work
The most extensively used external device for saving data are the USB disk drives. However, USB drives are actually very vulnerable when facing the threat of data losing and privacy leaking. Using the password for protection of data in USB disk drive is a reliable way to avoid the problems.
On Windows 10, there are number of ways with which one can run the encryption process on the USB disk drive. This process can be completed by using the inbuilt software or third-party utilities. The main objective is to protect the USB disk drive from the security threat even after losing the gadget.
Here mentioned are two of the potential solutions/methods via which people can password protect USB drive and avoid the security breach for the data that is valuable in any pursuit.
Method 1: Password Protect USB Drive with Windows 10 Bitlocker
When it comes to protecting the USD disk drive or any external hard drive via Windows 10, the foremost and easiest way to do so is by using the inbuilt Bitlocker. Follow easy steps below and any one can password protect USB drive and secure the data of concern.
Step 1. Connect your USB flash to Windows 10.
Step 2. Now navigate to This PC, right-click on USB drive, then choose Turn on BitLocker option.

Step 3. Tick Use a password to unlock the drive check box, and enter a password, then click Next.

Step 4. Now choose a method to back up your recovery key in case you forget the password. Depending on the different versions of Windows 10, the options may vary. Just choose the best way for you, then click Next.

Step 5. Choose how much of your USB drive to encrypt. Here you will see two options on the screen, either to Encrypt used disk space or to Encrypt entire drive.

Step 6. Next, choose which encryption mode you are going to use. For USB drive, select Compatible mode (best for drives that can be moved from this device). Click Next button to proceed.
Step 7. Now click Start encrypting button to begin the process of encrypting the drive. It may take a few minutes to hours depending on what you have chosen in Step 5. Once done with encryption process. You will get the notification.
Theoretically, this USB drive password protection method can apply to any USB drives, including but not limited to SanDisk, Lexar, Samsung, Kingston, Toshiba, etc.
If there is no Turn on BitLocker option when you follow Step 2, then you should follow these steps first.
Click Start menu on Windows 10
Type Manage BitLocker and hit Enter
Click the Turn on BitLocker button next to the drive you want to encrypt.
Method 2: Password Protect SanDisk USB Drive with SecureAccess
In addition to BitLocker, another way to password protect USB drive is using manufacturer tool. As one of the giant manufacturers, SanDisk provides its users with an excellent password protection solution.
Most SanDisk USB drives come with a built-in app, aka. SecureAccess, which can help people protect their data even after losing the physical device. Nevertheless, SanDisk doesn't offer "forget password" option to reset password. Once you don't remember the password, the files on the USB drive are gone.
If your SanDisk USB drive doesn't have SecureAccess preinstalled, then download it now.
Step 1. Install and set up SecureAccess by following the wizard.
Step 2. Enter your desired password and reassure it by reentering. Select the option of Next. It would redirect you to the SanDisk SecureAccess vault.
Step 3. Move all of your important files present on the USB disk drive to the password protected vault.
Step 4. Once done with moving and copying important files, now every time you have to enter the password for accessing the files.
Now we have learnt two methods to password protect USB drive. You can start USB drive password protection now with or without BitLocker. It is still suggested make one or more backups of your data elsewhere, otherwise you may need to recover lost files if the USB drive files are not accessible.
Feel free to talk with us if you get any problem when using your USB drives, like "the format did not complete successfully" error, or any other troubles.