WiFi Direct Windows 10 – How to Send Files on Laptop Faster Offline
WiFi Direct is a connection between two devices for transferring files in a fast way. It is not necessarily better than USB 3.0 in speed, but the advantages of WiFi Direct drive a lot of people to wonder "How to use WiFi Direct on laptop running in Windows 10?" After a long-time search, however, most people are still at a loss and can't even where the switch of WiFi Direct is on the devices. Don't worry. In this article, we are going to introduce one of the best methods to send files in Windows 10.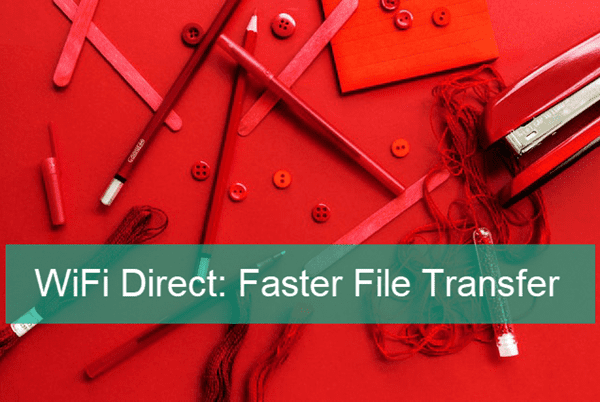 Why A Better File Transfer Method Is Required?
When it comes to file transfer from or to a Windows computer, using USB flash drive is the best answer in several years ago. However, there is a limit of files too large (over 4GB) for USB in FAT32 format, and it has been so long a time since people suffer from the unstable yet tedious performance of pen drives, there are actually many more methods to share files in Windows 10 without USB.
Furthermore, the need of file transfer has generally moved to Windows to mobile phone and in reverse, or to be more specific and realistic, people mostly want to transfer files between Android devices and Windows computers.
Given the conditions above, Bluetooth and MTP (through USB cable) are still two candidates for moving data between laptop and mobile phone. A lot of people love Bluetooth, but Bluetooth is not satisfying enough in many cases, such as large file or massive transfer. As for MPT, just have a search and see how many people are stuck at Android USB device not recognized but charging only.
Tips: These methods are still widely used by many people. In addition to the problems mentioned above, there is also risk of losing important files during the transfer. In case you also lose the original copies, don't hesitate to recover permanently deleted files from your laptop with the best data recovery software – iReparo for PC.
WiFi Direct Introduction
WiFi Direct has been introduced since over a decade ago, only a few years later Bluetooth. However, it is apparently not as famous as Bluetooth. WiFi Direct can be regarded as a sort of Bluetooth over WiFi.
Is WiFi Direct the perfect choice? WiFi Direct exceeds the above options in transfer speed, wireless connection, no need of internet connection. However, WiFi Direct is not as obvious as it should be.
How to Check If WiFi Direct Is Available on Laptop Windows 10
WiFi Direct is supported in various electronic devices, like computers, smartphones and TVs. As long as your computer is not 10 years old, it is very likely compatible with WiFi Direct. In case you want to confirm it, here is how to check it out.
Step 1. On Windows 10, press Windows + R, type CMD and hit Enter.
Step 2. In the pop-up Command Prompt window, type ipconfig/all and hit Enter.
Step 3. Scroll up or down to find an entry labeled Microsoft Wi-Fi Direct Virtual Adapter.
If you find the entry mentioned above, your computer hardware should be compatible with WiFi Direct. Android devices support WiFi Direct since Android 2.3 and Apple devices have had it since iOS 7 (existing as AirDrop and Airplay). As for entertainment devices, like Smart TV, you need to confirm it with the manufacturer or seller.
How to Use WiFi Direct on Laptop Windows 10 to Send Files
To use WiFi Direct, you need to turn on the option on both devices before building a connection. It should be noted that WiFi Direct could be altered in mobile phones running on aftermarket OS, such as Xiaomi, Samsung, Huawei, etc. The option may be either invisible or changed to another name.
Step 1. On Windows 10, click Start menu, type Connect and open it.
Step 2. On your Android phone, go to Settings > WiFi, switch on WiFi Direct.
Step 3. On the available list found by your phone, tap and connect to your laptop.
Step 4. Send files between the two devices by following the onscreen instruction.
Unless the manufacturers have made specific improvement, the files transferred through WiFi Direct are not properly organized. You may find all photos or videos in one folder. A few third-party tools allow users to transfer files from point to point without internet access basing on the feature of WiFi Direct, such as Shareit and Feem, but some of the functions are exclusive for paid users.
Final Thought
Again, WiFi Direct is far from being the best method to transfer files between two devices. It is worth of considering when you have problem transferring files by USB cable or the USB driver transfer speed is super slow. There is no universal way for file transfer, for example, you will need a special way to copy files without changing date stamp. Check out the tutorials for file transfer and share them to your friends if you find them useful.