How to Personalize and Customize Windows 10
Microsoft has been polishing its operating system by releasing auto updates for Windows 10, and one of the greatest progresses is expanding the possibility of personalizing user interface. Now, when you choose a lucky color for your Windows 10 PC, the setting will apply to all system related interfaces, like window frame line, start menu, task bar, notification pane, etc. In this article, you will know more options to personalize Windows 10 in appearance and usability and give you fresh new and immersive experience.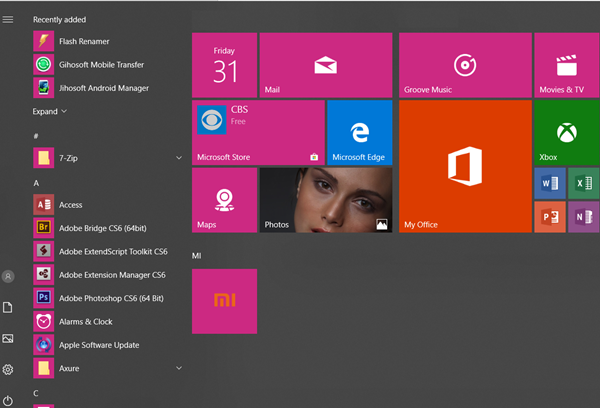 Part 1. Customize Windows 10 Background
If you are not happy with the current background then you can change according to the taste. Following are the steps you should take.
Go to Settings > Personalization > Background.
From Background drop-down box, select an option: Picture, Solid color or Slideshow.
Set up other options: change picture every certain time, layout.
You can even select a theme by clicking Go to Themes, or jump to Part 4.
Part 2. Personalize Windows 10 Colors
If you do not like the colors of your window 10 then you can also personalize it. You can change colors including task bar, title bar, start and linkable text with the following steps.
Go to Settings > Personalization > Colors.
Tick Automatically pick an accent color from my background. You can also choose a fixed color of course.
More options: Transparency effects, show accent color on selected surfaces, default app mode.
Tip: If you do not like the listed colors then you can go for the Custom color option. Here you can create the custom color with the help of palette.
Part 3. Personalize Windows 10 Lock Screen
If you want to change the lock screen then following are the steps that you will follow;
Go to Settings > Personalization > Lock screen.
From Background drop-down box, select an option: Windows spotlight, Picture or Slideshow.
More options: choose apps to show quick status, turn on/off lock screen background on sign-in screen.
In case you lose important photos or videos due to reinstalling a screen-locked Windows computer, try an awesome photo recovery software to scan your computer hard drive for the lost files.
Part 4. Customize Windows 10 Themes
A theme helps you to change a set of items at once including background, sounds, and color. It's a package that allows people to personalize windows 10 on the quick basis. Following are the steps to customize the windows 10 theme.
Go to Settings > Personalization > Themes.
Under the "Apply a theme" heading, click Get more themes in Microsoft Store link.
Microsoft store will open and allow you to select desired theme.
Click the Get button to apply the newly downloaded theme.
Part 5. Customize Windows 10 Start Menu
Some of the above custom settings will affect the appearance of Windows 10 Start menu. This section we will talk about customize the options to show in Start menu.
Go to Settings > Personalization > Start.
In this category, you will find a list of options:

Show more tiles on Start
Show app list in Start Menu
Show recently added apps
Show most used apps
Show suggestions occasionally in Start
Use full screen
Show recently opened items in Jump Lists on Start or the taskbar
Several options may require some time to figure out the exact function. You can freely switch these options according to your habits.
Part 6. Change Windows 10 Taskbar
You can also customize Windows 10 taskbar by following these steps;
Go to Settings > Personalization > Taskbar.
In this category, you will see options including but not limited to:

Lock the taskbar
Automatically hide the taskbar in desktop mode
Automatically hide the taskbar in tablet mode
Use small taskbar buttons
Show budges on taskbar buttons
With all the custom options above, you won't get bored with your Windows 10 computer in a comparatively long-time span. Have a try now, and you will be surprised to see the fresh new Windows 10 computer. Want to keep the lovely settings you just made? Check how to back up Windows computer.