Best Free Antivirus Software to Secure Windows 10/8/7 in 2019
It does not happen to everyone, but when your Windows computer is unluckily attacked by ransomware or virus, the loss will be huge. You will not only lose important files but also be charged an amount of money for the lesson. Why not removing the hidden risk with free antivirus software?
Given the available options of famous brands, selecting a good antivirus software is not very difficult. However, today we are going to introduce top 6 antivirus for Windows that will not charge you at all.
Note: If you lose important files due to virus attack, you can try an excellent data recovery software to get them back.
Top 1. Kaspersky Free Antivirus
Kaspersky is no doubt the top antivirus software which can secure your computer system from most kind of malware and viruses. However, we put it on the first position of our list mainly because of its rarely-known free version.
Yes, it is not a trial version, but a free yet basic version. Kaspersky Free Antivirus was designed with merely the core protection feature. It is able to defend against common viruses, suspicious websites and more. Based on sophisticated and powerful Kaspersky Lab, this free antivirus software can easily take the responsibility of defending our Windows computer against virus attack.
Top 2. Bitdefender Antivirus Free Edition
Bitdefender is an excellent antivirus system just like Kaspersky, and it also provides a free edition antivirus tool for Windows, which has the same kind of anti-malware technology as paid ones.
Unlike Kaspersky, Bitdefender is much lighter and it provides excellent security as well. Bitdefender Antivirus Free Edition provides more basic functions, including intelligent antivirus, advanced threat defense, web attach prevention, and anti-phishing. It can be the best free antivirus software for Windows if you want to protect both home and work computers.
Top 3. Avast Free Antivirus
Comparing with the top 2 antivirus software, Avast is at an average level, though that is good enough for most users. The advantages of Avast Free Antivirus are: packed with the largest threat-detection network, machine-learning protection, easy password management and home network security that won't slow down your PC.
However, no matter how much effort that antivirus software put, Windows computer still slows down gradually. If you find that it takes a long time to load a game or app, it is time to free up space Windows and speed up your computer.
Top 4. Microsoft Windows Defender Antivirus
You may don't trust it, but Windows Defender, the antivirus tool comes with Windows 10 system, is actually very good. Windows Defender Security Center provides overall protection for system, device, network, and app & browser control.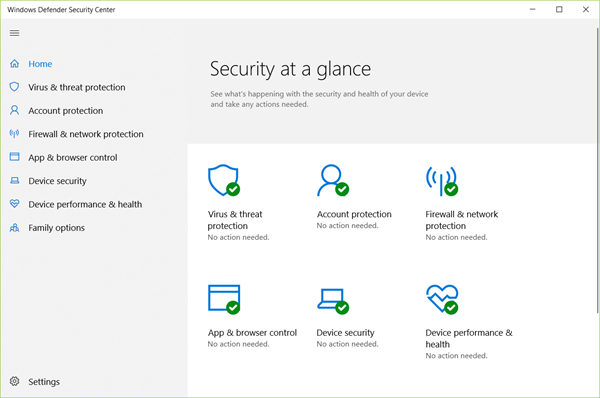 It is not as great as Kaspersky or Bit Defender antivirus system, but still, it gives you an excellent experience as well as security against dangerous spyware and malicious virus. It will turn itself off when you install another antivirus software, and only alert you when all other security tools are removed from your Windows computer.
Top 5. AVG AntiVirus Free
AVG is another notable antivirus software, a subsidiary antivirus system of Avast antivirus. AVG AntiVirus Free gives you an excellent protection against malicious spyware and viruses. It does not provide as many useful features as Avast, but also impact lighter to your computer system performance.
The basic version of AVG AntiVirus has all the necessary things in it that you need to keep your system protected from unknown interference. It can also be used as the best 2nd layer of security for your computer system since it is so light and reliable to use with any other antivirus program.
Top 6. Avira Free Antivirus
Avira antivirus was known as the best antivirus system in the past and it won many awards for it as well, but then more powerful antivirus software, like Kaspersky, came in game and ranked high in the race. Anyway, Avira Free Antivirus is still worth a try.
The free antivirus software gives you protection and security that your computer system needs for defending malicious viruses. It also prevents the attacks from spyware and acts as a shield of fire for Trojan horses. In addition, Avira Free Antivirus provides damaged file repair service. Nevertheless, more features are only accessible for paid users.
Bottom Line
Any one of the above free antivirus software is good enough for protecting Windows computer, but it is up to you to choose which one since it is not necessary that Kaspersky suits for your taste and habits. Surely, you can choose to upgrade to a pro version anytime, which will give you safer protection and encourage the developers to improve their products. Kindly tell us your choice and find someone with the same taste.