How to Fix Desktop Icons Missing or Disappeared in Windows 10
It is well-known that Microsoft releases new updates to Windows 10 every now and then. Some users are eager to get the updates as soon as possible, while others are desperately trying to disable Windows Home/Pro automatic update. No matter which group you are in, there are always some unknown issues happening and causing troubles. Desktop icons missing is one of the most common one. In this tutorial, we are going to introduce 5 solutions to fix the desktop icons disappeared problem on Windows 10 as well as Windows 7.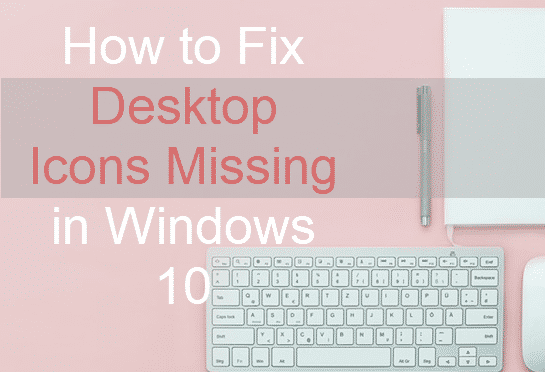 Why Do the Desktop Icons Disappear?
Possibly no one can name all the causes, but they are usually due to mistaken settings, a system glitch or the error on third-party apps. The methods in this tutorial are designed accordingly. Therefore, don't worry when the desktop not showing in Windows 10 all of a sudden.
Nevertheless, the following instructions can only fix the issue when the icons were missing. If the icons or files were deleted, you will need the best data recovery software to recover lost photos, videos and documents from Windows 10.
Method 1. Fix Desktop Icons Disappeared Windows 7/10 on Right-click Menu
If you have all of your icons missing, then it is highly likely that you may have triggered an option that hides all desktop icons. Fixing this is easy.
Step 1. Right click on the space on the desktop.
Step 2. Move your mouse cursor over View.
Step 3. Make sure to tick Show desktop icons if it is not.

Step 4. If nothing happens, then repeat the steps but click Auto arrange icons instead.
The solution is straightforward. If it did work for your case, then the problem was possibly caused due to an unconscious mistake or a naughty trick.
Method 2. Fix Desktop Icons Missing in Windows 10 Settings
If only the default desktop icons, like Recycle Bin or Computer, disappeared, then there is possibly a visible issue on desktop icon settings.
Step 1. Open Start menu, then click the gear icon to open Settings.
Step 2. Go to Personalization > Themes, scroll down, then click Desktop icon settings.

Step 3. Tick those icons that you want to show on the desktop, then click Apply > OK.

Method 3. Disable Tablet Mode to Fix Desktop Icons Missing in Windows 10
Tablet mode is a very cool feature in Windows 10 providing a touch-friendly experience as long as the hardware is qualified. In case the above methods do not work, please try to recall if you have enabled the Tablet mode in Windows 10.
Step 1. Navigate to Settings as described in Method 2.
Step 2. Go to System, scroll down on the left pane and click Tablet mode.
Step 3. Click the box under When I sign in, then choose Use desktop mode.

Step 4. Restart your computer to apply the change.
Method 4. Check If You Have Installed Third-party Desktop Managers
Third-party desktop utilities, like Fences by Stardock, enable many possibilities to customize Windows computer. When there is a glitch or a wrong operation, the apps may hide the desktop shortcuts. Most of the apps are set to run along with the operating system, so it may be hard to identify in the normal situation.
Step 1. Right-click on the Taskbar and choose Task Manager.
Step 2. Navigate to the Startup tab from the top menu.
Step 3. Locate the third-party app, right-click on it and choose Disable.

Step 4. Restart your computer to see if it works.
Method 5. Fix Desktop Icons Disappeared in Windows 10 by SFC Scan
SFC, short for System File Checker, is a utility allowing users to scan for malfunctions or corruptions in the operating system. If none of the above methods works for you, you can try the steps below.
Step 1. Click the Start button on the bottom left corner.
Step 2. Type CMD, then right-click on Command Prompt and choose Run as administrator. Click Yes when User Account Control pops up.
Step 3. Type SFC /scannow in Command Prompt, then hit Enter.
Step 4. The command will either fix the issue automatically or instruct the next steps.
Conclusion
We have learnt how to fix desktop icons missing on Windows 10/7 with up to 5 methods. Each of them has been proven working for some users, so you're suggested try with them one by one until your missing desktop shortcuts come back. Feel free to share your experience or question with us in the comment so that more people will benefit.