How to Fix 100% Disk Usage in Windows 10
Nowadays, with the help of computers and laptops, it is easy for people to handle multiple works in a short span of time. However, we often face annoying problems that make it less efficient, one of which is 100 disk usage Windows 10 issue. In this case, you will find your computer running extremely slow and your disk usage is almost 100 % in task manager. Ending running processes one by one can reduce the usage, but it is only a one-time solution and may cause unsaved file loss. How to effectively fix Windows 10 100% disk usage?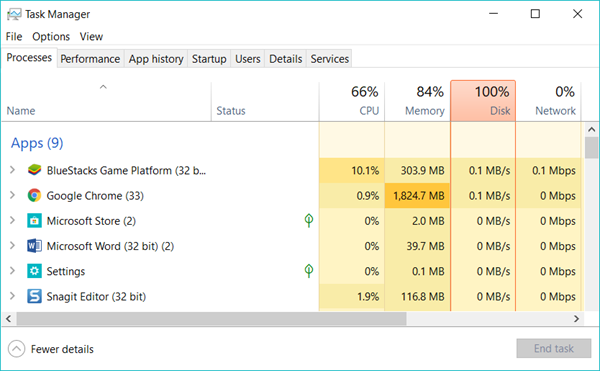 Don't worry. We are going to sort out the problem and tell you how to fix Windows 10 100% disk usage problem easily. We will introduce different methods to solve your problem and give the answer to the question that "why is my disk always at 100".
Method 1. Disable Window Search Service
Windows Search features incremental search (also known as "search as you type"). It begins searching as soon as characters are entered in the search box, and keeps on refining and filtering the search results as more characters are typed in. (Wikipedia)
Windows Search index is very useful when you want to find a document or photo fast. However, the amount of processor time the indexing service uses is huge, which increases the disk usage of your Windows 10 computer.
If the problem prevents you from doing other works smoothly, then disabling Windows Search service might be a good choice to fix Windows 10 100% disk usage.
Step1. Press Window key + R at the same time, then type services.msc in the box and hit Enter.
Step 2. In the new window, scroll down to find Window Search.

Step 3. Double click and open Windows Search, then set Startup type as Disabled.

Step 4. Click Apply > OK. If you want to apply the change immediately, remember to click the Stop button under the box.
When Windows Search is disabled, Windows 10 will remind you that the search is slow because the index is not running in File Explorer. If you want to turn it back on, just click the notification to enable index, or reverse the settings above.
In case you have problem finding hidden or deleted files in Windows 10, please resort to Windows 10 Recovery software.
Method 2. Optimize Windows 10 Virtual Memory
Besides RAM and hard drive memory, Windows 10 computer also has virtual memory, which can compensate the shortage of physical memory when the system is handling multiple tasks. Briefly speaking, with virtual memory, your Windows 10 computer is able to do many works at the same time smoothly.
However, when 100 disk usage occurs in Windows 10 task manager, it means that virtual memory should be optimized for more space.
Following steps are included in this method to fix Windows 10 100% disk usage:
Step 1. Click Start menu, then type "Control panel" and click the matched result.
Step 2. Go to System and Security > System, click Advanced system settings.
Step 3. Open Advanced tab, click Settings… button in Performance box.
Step 4. In Performance Options window, click Advanced > Change…
Step 5. Untick Automatically manage paging file size for all drives.
Step 6. Select the system drive, usually C:, then tick Custom size.

Step 7. Set Initial size and Maximum size. Initial size is one and a half (1.5) x the amount of RAM. Maximum size is three (3) x the initial size. You can find RAM size in Step 2.
Step 8. Click OK to apply.
These are the methods that will help you to sort out your window 10 100% disk usage problem.
In addition to disabling Windows Search service and optimizing Virtual memory, Windows 10 100% disk usage can also be fixed by upgrading to better hardware, like RAM chip. It costs money, but you will get much better result.