How to Disable or Enable Chrome Adblocker for Specific or All Sites
Ever since February 2018, the home-baked web browser of Google has started to block ads on its own by using its own inbuilt ad-blocking tool. Chrome would automatically block all the annoying ads that continually pop out from websites where it doesn't even stick to the advertisement standards.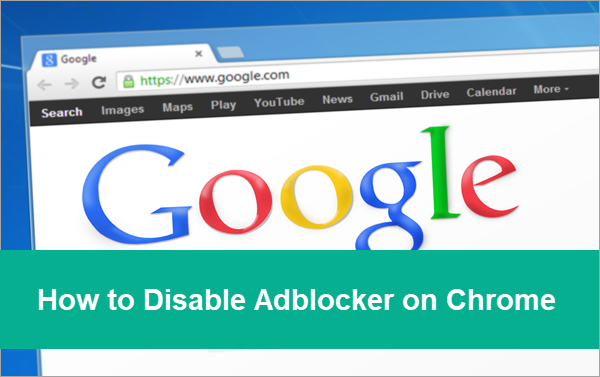 The inbuilt ad-blocker of Chrome is an obvious competitor to the current leader, AdBlock. Nevertheless, it actually gives its users an ease of use as they don't even have to use it. The blocker doesn't even have to be installed, it is also turned on by default, and the blocking of ads happens without even having an interaction with the user.
However, there is also a catch to it. There would be times that the browser's ad-blocker might interfere with the loading speed of some sites, which is actually a common side-effect of ad blocking tools. It may lead to a poor user experience and can possibly show errors on certain sites. In this case, you would have to disable Chrome's inbuilt ad-blocker.
Warm tip:
If you lose precious files due to cybercrime, don't hesitate to try iReparo Data Recovery to get back your lost data immediately.
How to Disable Adblocker on Chrome for Specific Site
When it comes to browsers, Google Chrome is the most used browser in the whole world. Therefore, a lot of sites these days runs a revenue generated by ads to attract customers and visitors.
But thankfully, Chrome has an inbuilt ad-blocker to block all the violated ads, but not all the ads. The browser is automatically set to kick out all the intrusive ads from a website that doesn't pass to the Better Ads Standards. However, if you want to disable the automatic ad-blocker, you can freely disable it with several easy steps.
Here's how you can enable or disable the advertisements on a per-site basis. If you want to enable or disable all of the site's ad-blocker, then you can also have the option of blocking the ads of all sites, which we will, later on, teach you how to do it:
Open the site that you want to disable adblocker for in Google Chrome.
Then, in the site's address bar, click on the padlock image or the info button.

Once the options are open, click on the Site Settings.
After that, scroll down slowly on the menu until you find the Ads option.

In the Ad's drop-down menu, you can either click on the Block (default), Allow, or Block options. Now that you want to disable the ad-blocker so you need to click the Allow.
And there you have it, you can now close Chrome's Settings tab and get on with your business.
Following this step-by-step guide will allow you to disable the site's ad-blocker. If you want to enable the ad-blocker again, you can follow the guide again, but this time you would be clicking on the Block to turn on the ad-blocker.
How to Turn off Adblocker on Chrome for All Sites
There would be times where you would want to disable the ad-block on all sites. Disabling it on a per-site basis can be quite a chore, so having the option to disable the ad-blocker for all of the sites is very helpful.
Here is an easy step-by-step guide that you can follow to enable or disable the inbuilt ad-blocker:
Open Google Chrome and click on the three dots on the upper right corner, then choose Settings at the bottom.

On the settings menu, scroll all the way to its bottom and then click on Advanced.

After that, scroll down until you reach the Privacy and Security Section, and then look for the Content Settings and click on it.

There are quite a lot of options at this point, but you only have to look for the Ads and then give a click.

At this point, the section looks quite interesting as the ad-blocker is On by default, but because of its toggle button, it makes it look like it is turned Off. Therefore, instead of disabling the ad-blocker by turning it off, you have to actually toggle it to "allow the advertisements". For us, this is kind of counter-intuitive.

It is not really recommended to disable Chrome's ad-blocker unless it is completely necessary. Advertisements are the bread and butter for many entrepreneurs, especially for those who are making their company's services or products in public. However, many sites exceed their limits and go for the pop-ups and intrusive ads options.
Therefore, as a counter for those kinds of cases, Google Chrome's inbuilt ad-blocker is created to help you manage those ads. And in case you are wondering, this site actually follows the Better Ads Standards, and it only displays ads which are naturally non-intrusive. In order to enjoy the benefits of internet with your family pleasantly, you could also take more measures, like blocking porn sites when necessary.