How to Block Porn Sites on Computer and Mobile Phone
As internet is source of all the information, this world has to offer such as knowledge about anything, news, current happenings or any other information related to anything. But just like every coin has two sides, internet can be harmful as it is full of some contents like porn which are inappropriate for certain people or anyone.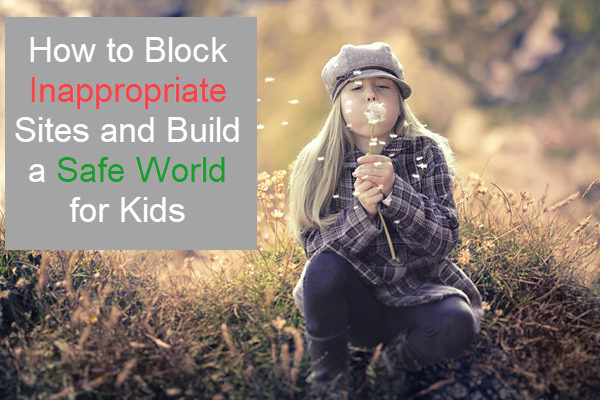 As you are here to find out how to block porn websites and porn ad popup on all web browser and devices, you might know how porn can be proved bad for your kids and their lifestyle. So, if you want to keep an eye on what your kids are watching online and want to make sure they don't come across by any explicit content online. Don't worry, in this article we are giving you methods to block porn sites and inappropriate content on computer and mobile phone.
Pro tips: If you delete important photos or videos of your children from computer hard drive, don't hesitate to try a photo recovery software to get them back.
Method #1. How to Block Porn Sites Using Safe Search Mode
You can block explicit search results, like pornography, on Google Chrome with the Safe Search Mode. It is a free and easy to use feature provided by Google. The result will not be 100% accurate, but it would help you filter most violent and adult content from the search result on computers, mobile phones, and tablets. When Safe Search Mode is turned on, it blocks explicit and violent images, videos, and Webpages in Google Search Results.
#For Computer – How to turn on Safe Search on Chrome for computer
Step 1. Navigate to Chrome Search Settings.
Step 2. Under SafeSearch Filters, check the square box besides Turn on SafeSearch.
Step 3. Scroll to the bottom of the settings page and click on Save.
Step 4. On the other side of Turn on SafeSearch, Lock SafeSearch will upgrade the safe mode to Strict grade, which cannot be altered without your Google account password once enabled.

#For Mobile – How to block inappropriate websites on phone
Step 1. Go to Search Settings by selecting Setting > SafeSearch Filters.
Step 2. Select Filter explicit results to turn on SafeSearch.
Step 3. Tap on Save button shown in the bottom and save the settings.
Method 2. How to Block Porn Sites Using DNS Configuration
You can block explicit and adult porn sites by using DNS Configuration on your Windows, Mac and Android devices.
#For Windows – How to block porn sites using DNS Configuration on Windows
Step 1. Open Network and Sharing Center in Control Panel.
Step 2. Click Change Adapter Settings on top left. All network connections will appear, including the currently connected one.
Step 3. Right Click on the connected network and select Properties, then click on Internet Protocol Version 4 (TCP/IPV4) > Properties.
Step 4. Choose "Use the following DNS server addresses" and put new DNS IP as shown below to filter inappropriate contents.

Step 5. Click on OK to save the changes.
#For Mac – How to block porn sites using DNS Configuration on Mac
Step 1. Navigate to "System Preferences".
Step 2. Click and open "Network".
Step 3. Now choose "Active Connection" from the left bar and put the new DNS Server as shown in the below pictures.

Step 4. To save these changes, click on "Apply".
#For Android – How to block porn sites using DNS Configuration on Android
Note: Due to the vast Android aftermarket and various manufacturers, the following procedure may not work for some smartphones.
Step 1. Open "Settings".
Step 2. Select WiFi, then touch and hold on Network you are connected to.
Step 3. Select "Modify network config" (shown under "Forget network").
Step 4. Select "Show Advanced Options" and replace the IP settings "DHPC" with "Static".
Step 5. Put the new DNS Servers in the DNS1 and DNS2 boxes as shown in the picture.

Step 6. Now close the settings and it is done.
Method 3. How to Block Porn Sites Using DNS Filtering Services
You can also filter the adult and explicit contents on your devices by using DNS Filtering Services. Here we will show you best 2 free DNS Filtering Services.
1. OpenDNS
OpenDNS is a security company that offers features like content filtering and phishing protection, if we use its DNS servers. It provides a service called FamilyShield for personal and home usage, which is very reliable in filtering and block violent and adult contents.
You got to use the below-listed DNS servers on your WiFi router or in any device, if you wish to use the OpenDNS FamilyShield service for your protection.
1) 208.67.222.123
2) 208.67.220.123
2. CleanBrowsing
CleanBrowsing is a free and public DNS service operator with content filtering. It is fast and easy to use. It is considered to be one of the fastest Public DNS. It blocks not only adult content but it also blocks other malicious domains also.
You got to use the below-listed DNS servers on your WiFi router or in any device to block porn websites.
1) 185.228.168.168
2) 185.228.169.168
Method 4. How to Block Inappropriate Websites on Phone with FamiSafe
If you wish to make sure that your kids can not access any inappropriate contents on their mobile phones and tablets, then FamiSafe is one of the best options. Let's see how to use it.
Step 1. Install FamiSafe app on Parent's and kids' phone (Both phones).
Step 2. Now create your Parental account if you are a parent and Child account for your children (in their phone) and connect your phone with your children's phones.
Step 3. Open the app dashboard and tap on the Web Filter and select the Add Exception.
Step 4. Now you can write down the names of porn sites or any other sites that you want to block in the devices.

In addition to site blocking, this app is also featured with real-time-location tracking, suspicious SMS alerting, and app monitoring. However, it is a quite new app and has to prove it is able to withstand users' test.
Bottom Line
You can use any of the methods to block porn sites on your Windows, Mac, Android and iOS devices. There are several other tools and methods available in the market which can help you to block or adult contents, but these are the typical and easy ones which are trusted by users.
If you wish to share any other helpful methods with the users, you are always welcome. Share your feedback about the article in the comment box. If you are unable to understand any of the methods, you can always ask us, we are happy to help.