How to Get Windows 10 Latest Update Earlier than 90% Users 2019
Windows 10 October update (version 1809) has been rolled out for months and it is available for downloading officially on most PCs. However, if you still remember it, it has taken a long time for the latest Windows 10 update to be available for all users. Do you want to be the missed one again in the future updates?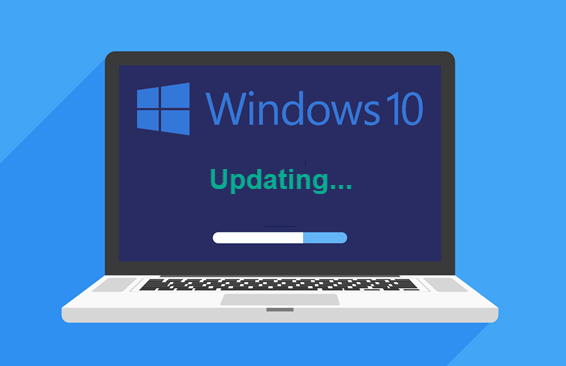 There may be some reasons behind it, but we want to say that there is no reason to delay Windows 10 update for anyone. In this tutorial, we are going to learn how to check for Windows 10 update, how to download latest Windows 10 updates manually without waiting for the automatic updates to be available. At the end of this article, you'll also know that it is possible to take a look at Windows 10 new features before a new update is released.
Why to Update Windows 10 to Latest Version
The new and latest updates will bring you to the world of more exciting features as compared to the previous version for sure. The user-interface is improved very much and the security features are also pretty appealing. Along with security features, minor bugs are also fixed for the smooth functioning of the system. If you are not satisfied with the current version of the Windows 10 on your PC, then our recommendation to you is that update you Windows to the latest version as soon as possible. You can follow the guide we are mentioning in this article and by following this, you can accomplish your task. There is no complexity involved in the update process.
Even if you can't stand with the new version after updating, it is also very convenient to go back to earlier build on Windows 10.
Alert: Whether it is during the process of upgrading Windows or normal daily using, you may lose important photos, videos or documents due to various accidents. In case it has happened to you recently, don't hesitate to recover data from Windows 10 as soon as possible with iReparo Data Recovery.
How to Know the Current Windows 10 Version
Click the Search box next to the Start button
Type winver and then hit Enter.
A window will pop up with detailed info about the current OS version and build.

You may apply this trick to check the current Windows 10 version before or after trying the instructions below.
Method 1. Check for Windows 10 Auto Update on Settings
If you have disabled auto update on Windows 10 Home or Pro, then the operating system won't notify you for available updates. There are also other reasons which may cause delayed or missed update alerts, but the solution is easy.
Click Windows Start button, go to Settings > Update & Security.
On Windows Update tab, click Check for updates.

Wait for the checking.
If there is any update available, the system will automatically start downloading and installing.
Some updates may require rebooting, while others will be installed silently.
Method 2. Download Windows 10 Latest Update with Update Assistant
In case Windows 10 hasn't push latest update to your computer, then the following steps will guide you through the process of updating Windows 10 with Update Assistant.
Step 1. Download Windows 10 Update Assistant
Visit Microsoft Windows Download page, and you will see a Download tool now button under Create Windows 10 installation media. That's what we call Windows 10 Update Assistant.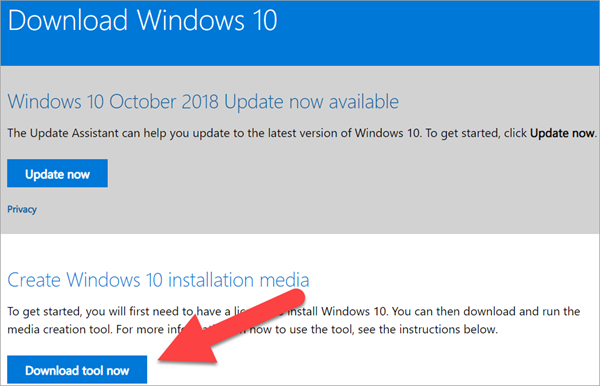 Interestingly, if Microsoft is promoting a latest update, like Windows 10 October 2018 Update, you'll find an extra update option on the top of that page, which is a more direct method for updating Windows 10.
Step 2. Install Windows 10 Update Assistant
Once the MediaCreationToolxxxx.exe is downloaded, double-click on it to initiate the setup wizard, then you need to click Accept on notices and terms screen to proceed. Wait for the loading of upgrade guide.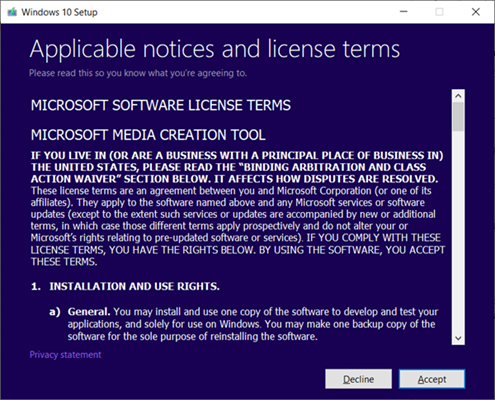 Step 3. Update to Latest Windows 10 with Update Assistant
When the guide is successfully loaded, you will need to do a few clicks to start the updating. The exact steps may vary on different OS version, but usually you just need to follow the normal instinct.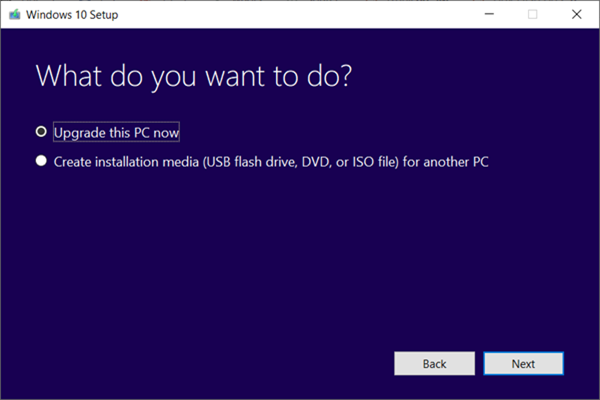 Click Upgrade this PC now
Click Accept to agree to the terms
Click Accept again
Select the option to keep files and apps (otherwise your data may lose)
Click Install button
Many of the users are encountered with some problems during the update process. That's why, we appeal you to read the complete guide which is mentioned above. This is a very efficient method if you don't want to wait any longer for automatic update push. The Windows personal assistant Cortana will also get updated in the latest version. This will ensure that your tasks will be assisted in a right manner. The better Graphic user-interface provides you a better gaming experience if you are a professional gamer. The data transfer rate will also get improved and with the next update it will become even faster.
Method 3. Update Windows 10 to Preview Build
Will you consider to join the development of Windows pre-release features? Windows Insider Program was announced along Windows 10 on September 30, 2014. It is a testing program by Microsoft that allows users to register for pre-release builds of Windows 10. By this way, you will be able to update Windows 10 to pre-release build before it is accessible to your friends.
Note: You will need a Microsoft account to register for Windows Insider Program.
Go to Settings > Update & Security.
Scroll down on the left panel, then open Windows Insider Program tab.
Click Get Started button, and wait a minute for loading a popup window.
update-windows-10-pre-release.png
Just follow the step-by-step guide to finish the process. You'll be presented with the links of Agreement and Privacy Statement.
Conclusion
To sum the things, Microsoft has been trying to bring new exciting and awesome features with every new update. Though it is impossible to satisfy every user, the latest Windows 10 version is always worthy for upgrading. Moreover, you can even join the Windows Insider Program to test pre-release features and feedback your opinions. Isn't it cool?
Please share your experience and in case you're encountered with any problem, then you can share that in the comments section. We will look out the solution and reply to you as soon as possible. Please share this on the social media platforms too.