How to Convert PDF to Editable Word with Best 4 Free PDF to Word Converters
Before you come to this article, you might have tried a lot of PDF to Word converter software, OCR or online tool. However, you're not satisfied with them, are you? We understand that you need the best PDF to Word utility that converts PDF to editable Word document, which allows free and easy editing for any purpose. Congratulations! In this article, we are exactly going to introduce several best PDF to Word converters that really works.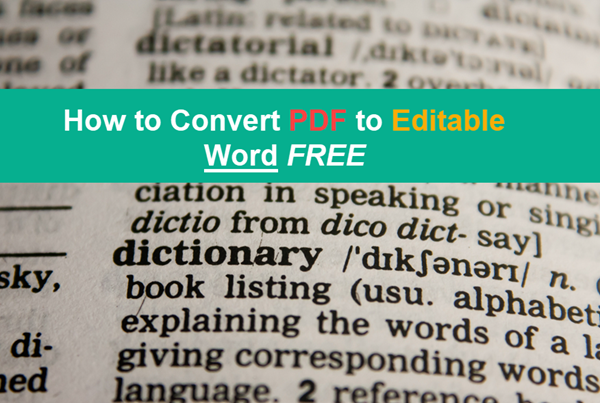 Most Concerned Features of PDF to Word Converter
It is only convincible to list the most concerned features that most users would need for the best PDF to Word converter.
Editable. If the converted document is uneditable, then it is almost useless.
Keep original format. It would be best just like the original PDF document.
Free.
Free of charge should never be the only standard of best PDF to Word converter. However, if there is such a free and excellent tool existing, then why not choosing it? Anyway, at least, all of the PDF to Word converters in this article allow free use, though some of them with limits.
Pro tips: If you frequently deal with documents, like Word, PDF, or Excel, then you might have taken the lesson of data loss, which could happen at any time and anywhere due to various reasons. Don't be sad. Next time, you can use iReparo File Recovery software to recover deleted PDF file even after emptying Recycle bin.
Foreseeable Drawbacks of PDF to Word Converter
The conversion of automatic tools is not perfect, maybe still won't be in the near future. Therefore, unless you are willing to pay someone to do the whole work for you, you have to accept the imperfections even on the following hand-picked PDF to Word converter. However, hopefully they will help you reduce the manual work afterwards as much as possible.
Besides, there are surely more limits for the free version PDF to Word converter, like maximum file size and total pages.
One last alert: the quality may vary between scanned PDF and Text PDF, and between English and other languages.
All of the PDF to Word converters below allow free try, so we have tested all of them and list the pros and cons one by one.
Top 1. Free File Convert – Best Free Online PDF to Word Converter
As its name indicates, this is not only a PDF to Word converter, but also a tool for the conversion between other files, like audio, video, image, etc. Nevertheless, Free File Convert is fully qualified as one of the best PDF to Word converters from all aspects. There are even some exclusive features, like URL and Cloud importing.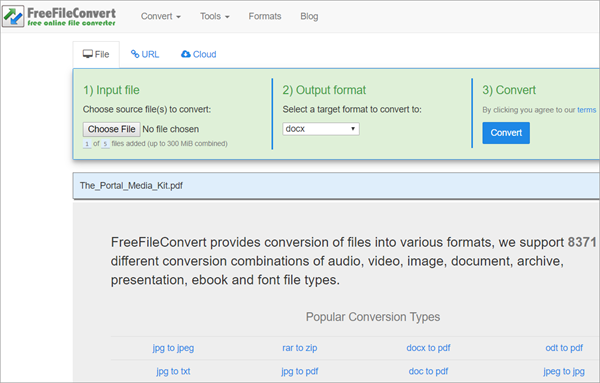 Pros:
Free and online
3 sources of importing files: upload file, URL, and Cloud (Google Drive/Dropbox)
Up to 5 files and 300 MB combined for one conversion
No need of signup or payment
Cons:
Take time to process
The texts are editable, but the layout is partially reformatted.
The cons of this tool are really minor. If you have to find a trouble, then users should concern about the privacy and safety since it is an online file converter.
Top 2. Nitro – Best PDF to Word Converter for Short-Term Use
A funny thing is that the online version of Nitro is the worst one among our test, but the desktop version gave us the best quality. The online version is free but sets hard limit on file size. The desktop version allows free use of 14 days. Within the short period, this program shows you its full feature and powerful ability.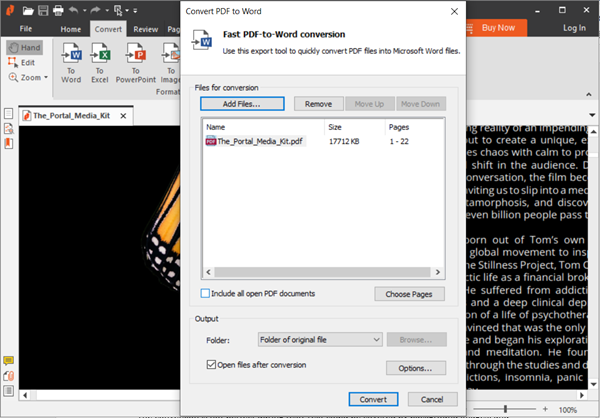 Pros:
Perfect conversion of PDF to Word
Toolkits on all most all platforms: online browser, Office addon, desktop, etc.
Free for 14 days, honestly, not a short term
Conversion between PDF, Word, Excel, and PowerPoint (online version)
Fast processing and operation in the desktop program
Cons:
The price is really high for home user.
Make sure to try with the desktop program so that you would know what it could do for you before deciding whether to invest the amount.
Top 3. WPS – Best PDF to Word Converter for Long-Term Use
WPS is a famous software provider dedicated in Office and document industry. If we ignore the truth that the premium features are only available for paid users, WPS PDF to Word converter is perfect. Unlike the top 1 too, this converter is a desktop program, which means the processing speed and safety issue are more satisfying.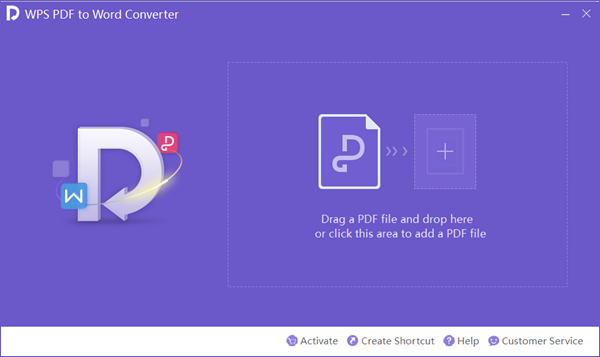 Pros:
All-in-one tools kit (PDF Split & Merge)
Almost perfectly keep original format and layout (the most important factor for this purpose)
Cons:
5 pages of free conversion is not enough for daily use
Page range is only available for paid users.
Note: WPS has its own Office toolkit, so the default format of the converted document is in .doc. Make sure to select Ms Word-Docx if necessary.
Actually, you're a heavy user of all kinds of Office tools, WPS toolkit is definitely your best choice.
Top 4. Free Online OCR – PDF to Word OCR without Installing
Free Online OCR is ranked last mainly according to its conversion quality. It does great job in converting PDF to editable Word, with only some background images condensed or slightly damaged. Users need to sign up an account in order to try full features, and get 50 pages of free conversion. After that, users need to purchase more pages, though the price is acceptable.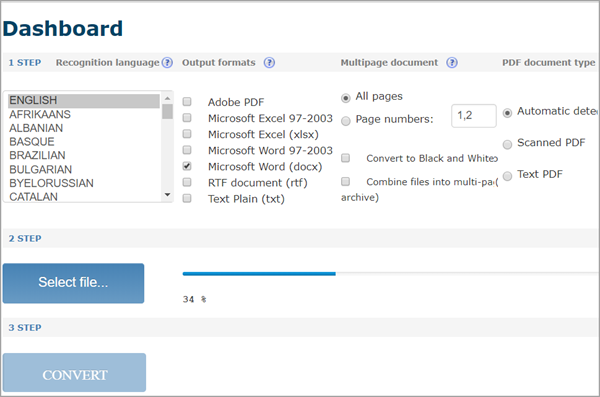 Pros:
Free for first 50 pages
Online, without installation
Multiple output formats: Word, Excel, RTF, Text, Adobe PDF
Basically, keep the original format, though background images may be twisted
Maximum 200 MB each time, so almost no limit for size. Multiple files could be included in a ZIP archive before conversion.
Cons:
Signup is required for full features
Need to purchase for extra pages. ($4.95 for 50 pages; The more, the cheaper)
Take time to process (including upload and download)
Free Online OCR is a good choice for one-time use, especially before you run out all of the 50 pages. If you like it, just purchase extra pages.
Bottom Line
The above PDF to Word converter tools are hand-picked according to our personal experience, so you can rest assured that they won't waste your time when you want to convert PDF to editable Word document. We have to rank these tools, but it is not necessarily that the top 1 will satisfy you. Have a try with them now, then share your feelings with us in the comment area!