Top 8 Best Free Keylogger Software for Computer and Smartphone in 2019
The internet is a useful tool, but it can be just as harmful. If you have children at home, you know that most of their time is spent using their computer or other smart devices for browsing through social media or chatting with other people online. While these may sound harmless, it is essential to keep track of what your kids are doing and saying online. Of course, it is also important to handle it properly if you really find something inappropriate.
Tip: How to Block Porn Sites on Computer and Mobile Phone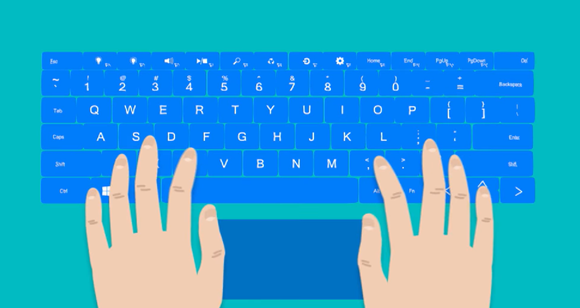 With the help of keylogger software, you will be able to track your children's online activities. It will help you learn which sites your children are using, and how much time they are spending on it. This kind of software will also give you a list of the most used applications as well as contacts so that you know who your child is talking to the most.
While you can keep track of your child's activities by asking them to surrender their phone or password for a weekly check, it is easy for them to delete messages, and even to have a secret account which you will not know anything about, and thus will not be able to track easily. A keylogger software will show you every message which is being typed on your child's phone, so that you are always on the loop.
Also Read: How to Hide Private Photos on Any Android Phone
Top 8 Best Keylogger Tools
Now that you know what a keylogger software is, and why you need it, let us talk about some of the best keylogger software available in the market:
This software is free for most functions and it works on your computer without being seen. With the help of this software you can track your children's activity, or see what your employee is doing on their computer while they are at work. It helps you track internet activities, chat logs, what they are copying on their clipboard, what files they are accessing, etc. You can even monitor screenshots and the texts which are being copied by your children onto their phones and mobile phones and track their moves.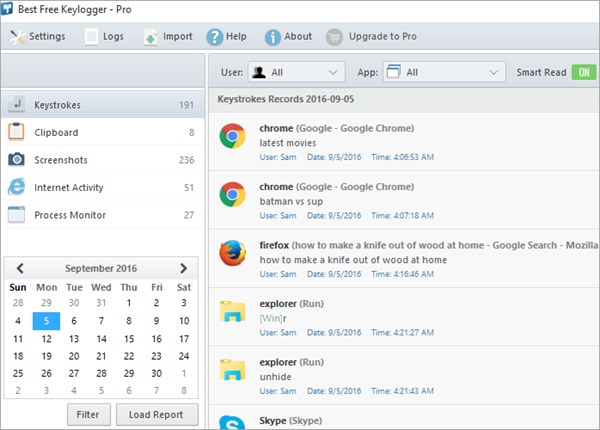 After you have finished installing this keylogger onto your computer, it will require you to set a password at the first launch. Once you have set a password, you will need the password every time that you use it to view logs or change any settings. Thus, you can ensure that no one but you are able to tweak how the application runs. You can activate the stealth mode feature on this application by pressing the Ctrl + Alt + X group key, and this software will start running in the background without anybody's knowledge.
3. KidLogger (Windows/Mac/Android/iOS)
This software is primarily aimed at parents who want to monitor what their child is doing online; however, it can be used by other people as well. This software not only monitors keystrokes and internet activities, but it also tracks files, folders, and USB drive usage as well. You can set up keyword alerts, and when these words are being used, the software will automatically capture a screenshot of the computer. Apart from that, the software monitors internet activity, as well as application usage and captures screenshots from time to time. With the help of this software you can get a comprehensive picture of your child's online activities.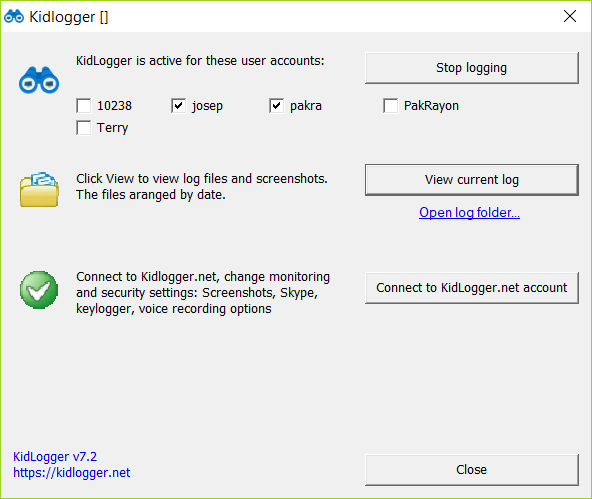 This free keylogger software allows you to monitor as well as capture all keystrokes on a computer. It makes a list of the applications that are being used on a computer, and it also captures screenshots of the applications being used at specific time intervals. Hence, you will be able to get frequent update on what your child is using their computer for.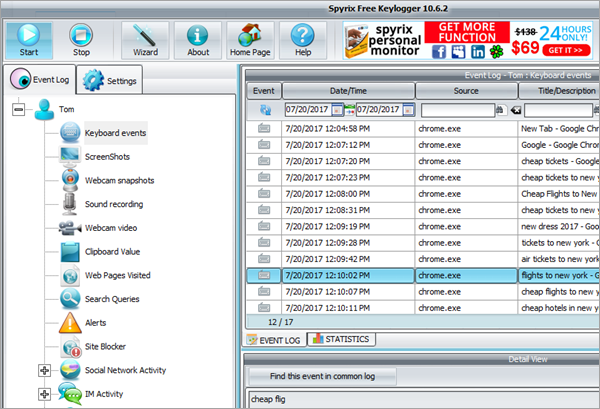 The free version of this key logging software lacks some of the features of the paid version; however, it has sufficient features for you to track the computer usage of your child. The program starts running the moment that the computer is turned on, and can hide itself from the user. The application is password protected, and hence, you can be sure that no one can later change the settings of this application. It monitors and records keystrokes as well as the applications being used, and hence, you get a general idea of what the computer is mostly being used for.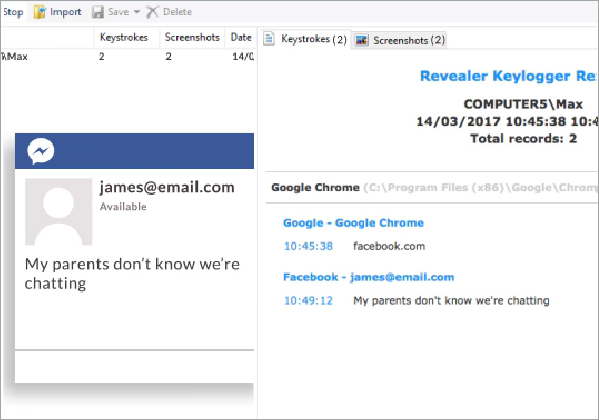 This software is free as well as easy to use. It does not have any unnecessary features, and it works in a simple way. This software captures what is being displayed on screen records what is being typed in the window, records chats as well as voice conversations and makes a list of all of the applications which are being used. The software also makes a note of the received as well as sent messages, captures Skype chats, and also makes a record of the websites which are being accessed by your child.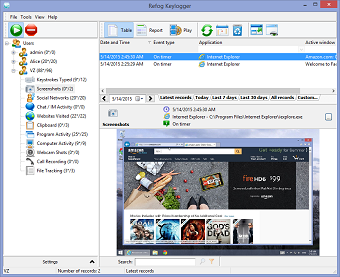 This software can not only track one computer, but it can also track up to 200 other computers that are being used in the same network. Hence, this software is perfect for employers who wish to monitor their employee's computer activities while they are at work. This software offers all of the essential features of a keylogger software, that is, monitoring keystrokes, making not of applications being used, screen capture and even the ability to view instant messaging. Thus, parents and employers alike are able to benefit from the use of this application.
This free keylogger software for windows offers you the ability to track keystrokes as well as capture what application is currently being used on screen. With this application, you can take note of the most used apps, as well as visited websites, and check how much time your child is spending on their computer.
Verdict
Computers, as well as the internet, are no doubt useful tools. However, what your child is doing on the internet, and who they are talking to on the internet is something which you should be aware of. Not all people using the internet are safe, and hence it is up to you to make sure your child is protected at all times. Let us know in the comment if you like any of the keyloggers in this article.