How to Fix "An Error Occurred, Please Try Again Later" Error YouTube
While watching videos on YouTube, many people get an error message or pop-up like "An error occurred, please try again later." The Learn More link after the message doesn't help at all, and refreshing the page works for some cases but not others. How can we fix YouTube "An error occurred" error permanently? In this article, you will learn multiple solutions that have been proved working.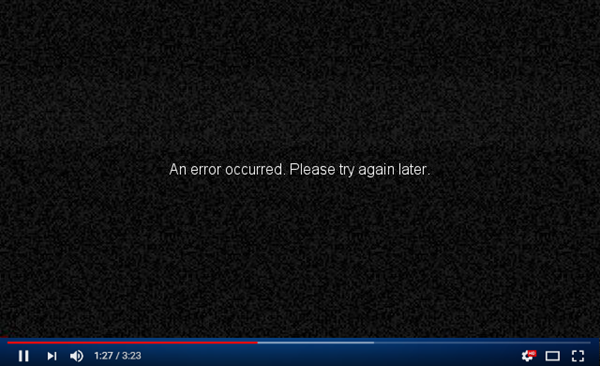 An Error Occurred, Please Try Again Later
Just like most YouTube not working problems, this error is also common to see for the users of almost all browsers on Windows 10/8/7, MacOS and other platforms. It could be a temporary glitch of the browser or a critical error of your computer. Anyway, the first thing you should try is to restart the browser and computer.
If a rebooting does not fix the issue, then you can try the following methods which may work for YouTube "An error occurred" problem under various scenarios, including but not limited to flash player, script, driver, network issue, etc.
Solutions for "An Error Occurred, Please Try Again Later"
Many Youtubers and the experts have spent a lot of time to resolve this issue. We have collected all useful information and now share with you. Before moving forward, however, it is recommended have a full scan of your computer with free antivirus software. The YouTube error itself seems to be minor, but it is better to confirm that the operating system is malware-free and not hacked.
Now, if you are facing with the "An error occurred" issue on Chrome, Firefox, Microsoft Edge and all other browsers, the following solutions can help you.
Solution 1. Fix YouTube "An error occurred" by Restarting ISP Router
If the YouTube video failed to play but worked after refreshing, then it might be a temporary network issue. In this case, you just need to restart the ISP (Internet Service Provider) device to resolve it. When you again connect the router or device to your PC, the video should work again.
Solution 2. Disable and Re-enable Flash Player on Browser
The error can also be caused by Adobe Flash Player (labelled as Shockwave Flash in Firefox and Internet Explorer) which is in-built on most PC browsers for using content created on the Adobe Flash platform, including videos.
Follow the instruction below to disable and re-enable Flash on Chrome.
Open the YouTube page that failed to play.
Click the lock icon on the URL address bar.
On the box after Flash, select Block, then refresh the page to apply the change.
Repeat the above step but choose Allow instead.

Now, see if YouTube "An error occurred" issue has been fixed.
Solution 3. Fix YouTube "An error occurred" by Clear Browsing Data
Browsing history and cache can help users watch YouTube videos quicker, but it sometimes could be the troublemaker. This solution works like a charm for a lot of people, and it does not involve much work.
Here we take the latest version of Chrome as an example.
Click on the three-dot menu button on the top right corner.
Move your mouse over More tools, then click Clear browsing data…
On the new page, tick Browsing history, Cookies and other site data Cached images and files. There are more options on Advanced tab, but you should select with caution.
Choose a value on Time range box. It is suggested choose a recent period first.
Confirm your operation by clicking Clear data button.

Tyr your best to make sure that there is no important file selected. In case you lose some precious data, make sure to use a data recovery software to get them back.
Solution 4. Fix YouTube "An error occurred" by Adjusting DNS settings
DNS (domain name service) is totally in the control of your ISP router. They convert the DNS to the encrypted form so that it can't be accessed by any bad guy. If you are facing the "An Error Occurred, Please Try Again Later" message while playing the video on YouTube, then you can resolve it by changing the numeric of your domain name. The DNS is different for each router, so search about changing the domain name before altering the name.
Solution 5. Fix YouTube "An error occurred" on Firefox
Firefox browser is built with a feature "Forget about this site" which allows you to delete the caches, cookies, saved logins of the particular sites. Follow these guidelines to use this option:
Launch Firefox, and go to History. The shortcut is Ctrl + H for Windows and Command + Y for Mac.
Search for YouTube history, right click on it to forget the site to which they are linked.
Now restart the browser and the problem should be fixed.
It is impossible to list all causes of "An Error Occurred, Please Try Again Later" here, but the above solutions should work for most cases. If you have experienced different or similar conditions, please kindly share with us.