How to Check If You Have Bluetooth on PC or Add Bluetooth to PC
Most of the times you won't be aware of the existence or necessity of Bluetooth for laptops. However, when a new feature or a game requires Bluetooth to start working, you may wonder, does my computer have Bluetooth? Read this article thoroughly to know the ways to check Bluetooth on PC.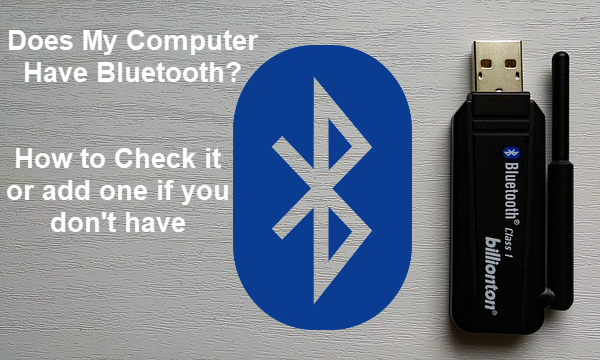 Bluetooth helps people connect their laptop or computer to peripherals and devices that also support Bluetooth. You can easily set up a wireless network between your devices using Bluetooth. However, not all laptops come with internal Bluetooth module. In this tutorial, we also going to show you how to check Bluetooth on your computer and how to add Bluetooth to your PC if it is not built in.
What is Bluetooth
Bluetooth is a powerful wireless technology protocol which allows users to create a link between computer and other Bluetooth supported devices. With Bluetooth enabled on both devices, users can transfer files, play media and perform other tasks without bringing a cable in use. It is the first form of wireless technology and a great aid for sharing files through all types of devices.
Nowadays, there are many Bluetooth supported devices, like mouse, handset, music system and many more. You can make your life cable-free by pairing these devices to laptop via Bluetooth. You can listen to music, play games, share files and do many other exciting things using Bluetooth. Bluetooth is compatible with most Windows, Android, Mac and iOS devices. You can pair and unpaid devices anytime as per your choice and convenience.
Pro tips: Files could be lost whichever methods you use to transfer data between devices. You're always suggested keep a copy as backup and avoid using cut and paste. In case of accidental data loss, don't worry, just use iReparo Data Recovery or Photo Recovery Software to get your files or photos and videos back.
Applications of Bluetooth Technology
1. Transfer files wirelessly
It is not convenient to carry a USB cable anywhere. You can export and import files from PC to smartphone or tablet. It is the best alternative to transfer music and images.
For sending files, turn on the Bluetooth of both the devices and make it discoverable to each other. Pair them with each other and then select the file to send or receive any file wirelessly.
You can also send and receive files between two PC through Bluetooth connection. It works in a similar way as the smartphone and computer. There are also several other ways for Windows 10 file sharing with USB, but Bluetooth is indeed easy and handy.
2. Bluetooth tethering
If you want to share your device's network connection with another device which is already connected to the Internet. You can easily access the internet on your computer through the data of your smartphone via tethering. It is more efficient than WiFi and consumes less battery while in use. You can find Bluetooth tethering ideal to use in many situations.
3. Connect external peripheral devices wirelessly
Nowadays, Bluetooth network is widely used for connecting the PC to peripherals like headsets, speakers, microphone, mouse, keyboards, gamepads, printers and many more. You can pair your device easily and enjoy playing audio, make calls, receive calls, send commands, play games and perform many other tasks.
How to Check if You Have Bluetooth on Your PC
Bluetooth is not strange to people when it is used on smartphones, but it will take several steps in order to verify Bluetooth on laptop. There are two ways to check if you have Bluetooth on your computer.
1. Check on Device Manager
This is the easiest way to check the Bluetooth on PC. You need to follow a few steps to use the Device Manager for the determination of Bluetooth on the device.
Press Win + "X" shortcut simultaneously.
Click Device Manager to open it.
On Device Manager window, try to locate Bluetooth category.
Alternatively, you can scroll down and expand Network adapters category to locate Bluetooth Radio.
As the name suggests, Device Manager presents all the internal and connected devices on your PC, so you will surely find Bluetooth if it really exists. Actually, this method can also help us identify the version of the Bluetooth, which is critical for certain functions. For example, the Nearby sharing of Windows 10 requires the minimum of Bluetooth 4.0.
Here is how to check Bluetooth version:
Expand Bluetooth category on Device Manager.
Locate and right click on the Bluetooth radio, then choose Properties.
Open Advanced tab, check the Firmware info, and remember the number next to LMP.

Bluetooth 4.0 and above should start with at least 6. For detailed information, you may search the corresponding Bluetooth version with the LMP number.
2. Check on Control Panel
Checking the Control Panel is another simplest method to locate the Bluetooth on PC after Device Manager option. You can easily look for Bluetooth using this method by going for a few simple steps. These steps are given below.
Click Start menu, type Control Panel, then open it from the result.
Navigate to Network and Internet > Network and Sharing Center.
Click Change adapter settings.
Look for Bluetooth Network Connection there.

If you have located Bluetooth Network Connection there in the list of network connections then you can start using Bluetooth service on your PC. If not, then that means your PC is not having an option for Bluetooth. For using Bluetooth on it, you can go for external options and add this versatile technology on it.
How to Add Bluetooth to PC
If you don't have Bluetooth on your PC but really need it, then you may add this feature by spending an affordable amount. For the very purpose, you will need a USB Bluetooth dongle for your laptop, and of course a free USB port.
After buying the USB Bluetooth dongle, you need to install it on your PC. For this, you can easily plug into the USB port of the PC and it will automatically determine the device and start working. If you are having the earlier version of Windows 10, then you will have to install Bluetooth drivers to start using USB Bluetooth port on the PC.
After the installation of the driver, you can start pairing your PC to other Bluetooth-based devices and enjoy using it. You can find the Bluetooth icon on the PC's screen immediately after the insertion of USB dongle in the port. Now, right click on that icon and select "Add a Bluetooth Device". Now, start paring other devices to your computer by following the commands prompted on the screen.
Final Verdict
In this article, we have learnt how to check Bluetooth on PC and how to add Bluetooth to PC if it is not in-built. Despite of several limitations, for example, if you need to send large files, Bluetooth is still very useful for laptop users. Now, you can start using Bluetooth on your PC for various purposes. In case of queries, write to us through comments.