How to Download Instagram Videos on PC for Free
So many times, we browser Instagram on computer happily, but find it difficult to download Instagram videos to PC. Is there any way to download Instagram videos on PC for free? Of course, you will learn up to 3 easy methods in this article, basically covering all your needs. Warmly remind: don't miss the third one.
Notes:
1. Though some of the following methods may work on more than one browser, it is suggested download Instagram videos on PC with Chrome.
2. In case you lose important videos permanently, you can actually get them back with video recovery software.
Method 1. Download Instagram Videos on PC via Source
As a matter of fact, the download link of Instagram video is embedded in the source code of the page. In other words, we can easily download Instagram videos by copying the links from source code.
Step 1. Open the Instagram video on Chrome. Make sure to open the play window.
Step 2. Right click on blank area (not over the video), then click View page source.
Step 3. On the source page, press Ctrl + F to activate search box, then type ".mp4". It is possible that you'll get several results, but the links before the string should be identical.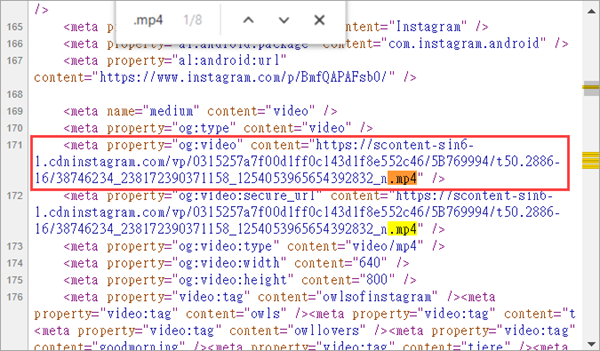 Step 4. Copy the full link and open it in the new tab. You should be able to play the video now.
Step 5. Click the three-dot menu on the bottom-right corner, then click Download. Alternatively, you can right click on the video and choose Save video as…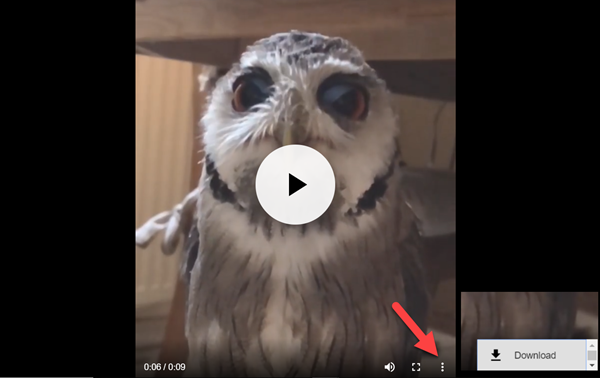 Downloading Instagram videos to PC from source code is a totally free and Do-it-Yourself method. However, it is not very convenient to use. If you want to download Instagram videos on PC with several clicks, then keep reading the following solutions.
Method 2. Download Instagram Videos Online
Instagram is so popular that there are many online downloaders for Instagram videos. Instagram video online downloaders can recognize Instagram links and allow users to download the videos with one click. Here we recommend Download-Ins.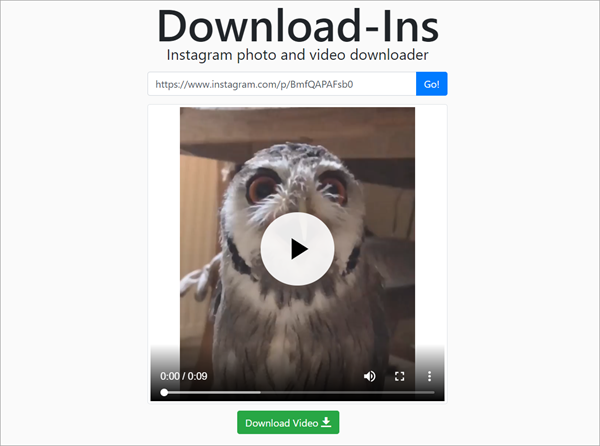 Benefits of Download-Ins:

* No ads & clean interface
* As easy as ABC: paste link, preview video, download to PC.
* Save the tool as bookmark and use whenever you need.

The main problem of Download-Ins is that you can only download one Instagram video each time. If you're expecting better choice, here comes the last one.

Method 3. Batch Download Instagram Videos to PC with Extension

Instagram video online downloader is still difficult to use? Try Chrome extension. Downloader for InstagramTM (+ Upload photo) is a free all-in-one extension that can help users download Instagram videos and photos on PC, simulate Instagram for mobile on PC, and upload photo (JPEG only currently) to Instagram from desktop.

1. Download Instagram videos on PC as well as Instagram photos

* Detect all photos and videos on current Instagram page and provide for downloading separately with the button on Chrome status bar.

* Download all photos and videos from current Instagram page as zip file by one click with the button on Instagram top menu. It is optional to choose a range of photos for downloading.

* Download Instagram videos and photos that are embedded on other websites as iframe.
The second and the third features are actually out of the scope of this article, but they are really worth recommendation.

2. Simulate Instagram for mobile on PC

This extension can display a simulator of mobile phone or tablet, allowing users to operate just like they do on real mobile devices, but with a mouse. You can even freely change the color of the frame. Though smooth experience may rely on high network speed.

3. Upload photo to Instagram from desktop

Ready to use Instagram on desktop frequently. This extension provides an option to upload photos (JPEG only currently) to Instagram as stories or profile. The developer is working on video uploading, too.

Now we know all three methods for downloading Instagram videos on PC. For long term use, the third one is surely the best. However, it is up to you. If you have better solutions, feel free to share with us!