How to Find and Delete Temporary Files in Windows 10 and 7
The temporary file is the first option in people's mind when it comes to freeing up space in Windows computers. Though it is not true that all temporary files are useless, there is really a considerable amount of space available for reclaiming. In this article, we are going to show you where to find temporary files and how to delete temporary files in Windows 7 and Windows 10.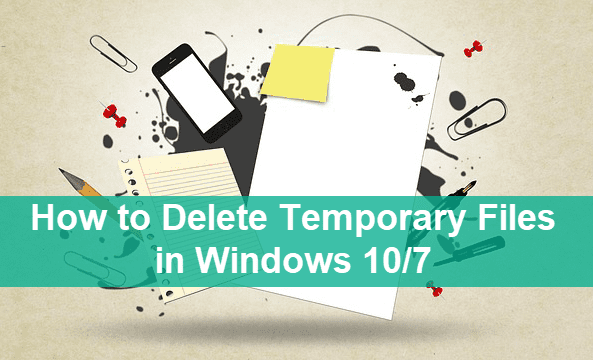 Where to Find Temporary Files in Windows 7/10?
A significant difference between Windows 7 and 10 is that Storage management is included as a handy feature in the new OS. In Windows 7, users can clean up temporary files in Windows Explorer, Disk Cleanup and Recycle Bin.
In Windows 10, those entries are still there, but the functions are integrated into Storage. In other words, you can find and delete temporary files, such as Downloads folder, Recycle Bin, previous version of Windows, in this one place. Besides, it is also much easier for any newbies to complete temporary files deletion in Windows 10.
Surely, you can also find temporary or useless files with third-party tools, like duplicate photo finder, and even free Mac cleaner software.
Is It Safe to Delete Temporary Files?
Temporary files usually mean useless, but it is not always true. The photos that you have opened or previewed in Skype could be temporary files, the video clips that you thought poorly edited might be in the Recycle Bin, and the Windows.old folder would be useful if you want to restore back to a previous version of Windows.
The importance of tem files greatly varies for every individual. You're highly suggested check every items carefully before following the steps. Once a temporary file or folder is confirmed as useless, you can remove it resolutely. If necessary, you can force delete files or folders.
Warm tips: Make sure you know what you're doing. In case you mistakenly delete important files, please use iReparo Data Recovery Software to get them back immediately.
For Windows 10 users, please read through Part 1. If you're still running on Windows 7, please go straight to Part 2.
Part 1. How to Delete Temporary Files in Windows 10 Efficiently
Before heading to clearing temp files in Windows 10, it is important to know what are defined as temporary files. You will find some of the following items listed as temporary files:
Windows upgrade log files
System created Windows Error Reporting Files
Windows Defender Antivirus
Windows Update Cleanup
Downloads
Thumbnails
Temporary files
Recycle Bin
Temporary Internet Files
Delivery Optimization Files
DirectX Shader Cache
You can easily delete all these files in Windows 10. However, it is not always a benefit. You should check the options before proceeding, otherwise, you may need to recover files after emptying Recycle bin.
Step 1. Press Windows key, click the gear icon to open Settings.
Step 2. Go to System > Storage.

Step 3. On the right pane, choose the system drive which is labelled with Windows 10 icon.
Step 4. Click Temporary files. Here you will see the total size of temporary files.

Step 5. Tick the items you want to permanently delete, then click Remove files.

Note: You will also find temporary files in other local drives and removable disks.
As you can see, there are many more categories on the list other than Temporary files. You may explore them one by one to free up space in Windows 10 with more methods.
Part 2. How to Delete Temporary Files in Windows 7
Since the storage management feature is not available in Windows 7, we have to find the temporary files manually.
Option 1. Delete App Temporary Files
Press Windows + R shortcut, then type %temp% in the box and hit Enter.
In the Temp folder, you will find a long list of files and subfolders.
Option 2. Delete Windows System Tem Files
Open Windows Explorer, navigate to the system drive, then open Windows > Temp.
You will be asked to authorize administrator permission to enter the Temp folder.
Option 3. Delete Temporary Files with Disk Cleanup
On Start menu, search for Disk Cleanup, then select the drive you want to free up space.
Conclusion
In this tutorial, we have learnt how to delete temporary files in Windows 7 and 10. The steps are easy to follow, but you need to decide whether the temporary files are really redundant. We hope that you have recycled a large amount of free space now, then don't hesitate to share this article to your friends. Feel free to tell us if you have any questions in the comment.