Best 5 Free Music Player Download for Windows 10/8/7 PC
Is it even necessary to find the best music player for PC? Nowadays most people listen to music, audio books, and various voice content with their mobile phones, tablet or other portable devices. Listening to music with computer seems to be a minor need. However, a computer is undoubtedly the perfect choice to manage a huge music collection. Besides, freelancers, students and fanatic music-lovers tend to use a computer as their best music player. Most importantly, computers with soundcards and high-end speakers can deliver the best sound quality. If you agree to these, the following list of top free music players for Windows is just for you.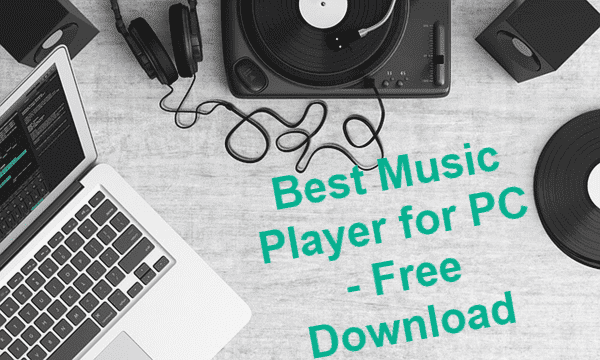 MusicBee is an all-in-one music player for Windows PC, but the first thing we'd like mention is that switching to MusicBee is easy. You can easily import audio files from Windows Media Player, iTunes or local folders and manage the tracks by categories so that everything will be in order. Its superb tagging tool allows users to tag libraries or search missing meta data online for the local music files. This free music player is also available in Microsoft Store as a Universal Windows Platform (UWP), though its installation package is already lightweight. As a powerful music player, users can batch rename MP3 files with MusicBee.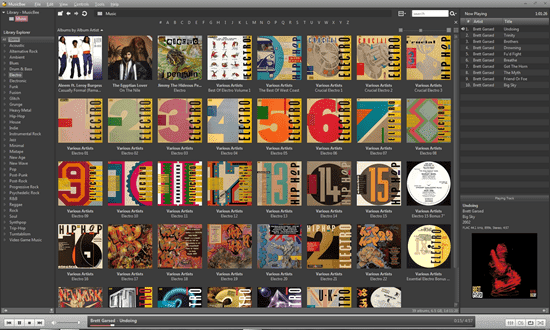 When you get hand on MusicBee, you will find that customization is the most prominent feature. There are hundreds of skins, plugins, visualizer, theater mode and icons making your music player more interesting. If you're a fanatic music lover, the Forum on the website is your home to share opinions with the like-minded.
As we are looking for the best music player for PC, sound quality surely matters, which is the last thing you need to worry about if you choose MusicBee. It is designed to make the most of your computer hardware if you have the top-end soundcard and surround-sound setup. For advanced music lovers, there are versatile options to maximize your listening experience, like fine-tune, WASAPI and ASIO support, gapless playback, logarithmic volume scaling, etc.
2. MediaMonkey
Despite of the outdated interface on the website, MediaMonkey provides a long list of free features for managing and playing your songs. It is able to manage a music/video library up to 100,000+ files and playlists of Rock, Classical, Audiobooks or Podcasts as well as Movies, Videos or TV shows. As long as your files are on the hard drive, CD, or a network, MediaMonkey will show it in front of you.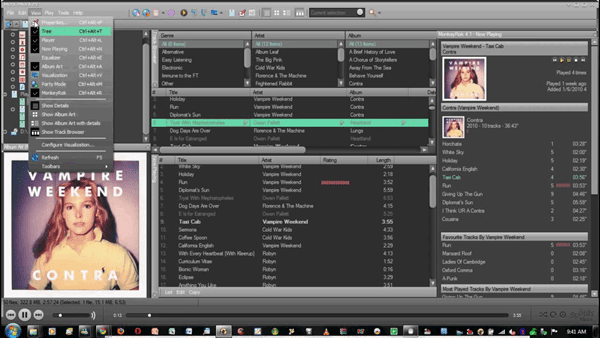 You can download audio content with the integrated Podcatcher or media files with the web downloader from any website. This free music player will automatically identify the tracks and fix the tags that are missing or not synchronized.
MediaMonkey organizes music files into a logical hierarchy instead of messing them up. You can also specify your preferences on attributes, like artist, album, title, etc. If you connect a portable device, such as an Android, iPhone or iPod, MediaMonkey can help you sync or backup the audio and video content to your PC.
3. foobar2000
foobar2000 is an old-branded audio player for the Windows platform. The developers are still upgrading this freeware almost monthly, so the user interface is still eye-pleasing, which is rare to see for most free music players for PC.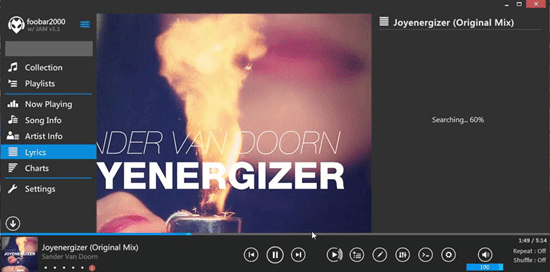 Unlike the two options above, foobar2000 stands as a local music player without network connection, in which sense it is the real music player. This free music player is featured with a powerful detection ability. You can even open and read archive folders, such as RAR and ZIP.
4. VLC Media Player
VLC Media Player is widely known as one of the best video players, but it is also an excellent free music player that supports almost all formats with no need of extra codecs. You can also listen to stream music from local networks or the internet with VLC.
Just drag and drop your audio files into the Media Library and the player will sort them into folders. You can organize the songs by album, genre or album. VLC also supports addons, but only a few of them are for audio playback. Another great feature of this open-source music player is that you can use it on Windows and Mac computers as well as Android and iOS platforms.
Tips: If you have a video corrupted, VLC could be one of the free tools to fix corrupted videos.
5. AIMP
AIMP is a free music player available for download on Windows and Android platforms. It supports a huge number of formats and extra encoders are available as addons. The YouTube extension allows you to build playlists from several videos. This free music player supports advanced sound cards, so you can trust the sound performance.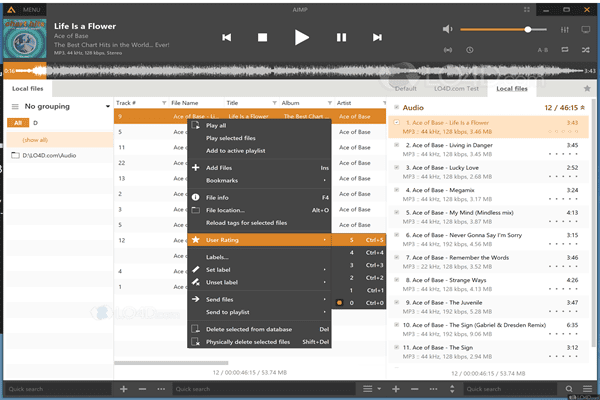 Bonus Tips: It is inevitable to mistakenly delete important photos, videos or audio files while using your storage devices. Fortunately, it is still possible to recover lost photos from pen drive, SD card, PC or external hard drive as long as you use Jihosoft Photo Recovery as soon as possible.
Conclusion
In this article, we have listed the top 5 free music players for PC. You may have heard or used some of them, but we hope the content above will help you decide whether to stick to your own or move to a new and better music player on your laptop. Feel free to share your favorite choices in the comment.