Best Free Audio Editing Software for Windows/Mac/Online 2020
There are many wonderful video editing tools, such as free video cutter, but we can hardly find a handful of easy-to-use audio editors for Windows & Mac computers. Sadly, a lot of people need a good tool to trim, edit or even convert sound files in a convenient way. In this article, we are going to introduce 6 best free audio editing software for Windows/Mac in 2020.
1. Audacity – Best Audio Editor for Windows/Mac/Linux
Audacity is a multi-track audio editor and recorder for Windows, Mac and Linux users. This free music editing software is developed by a group of volunteers as an open source program, which has been translated into dozen languages and it is still open to contribute in translation, code and other aspects.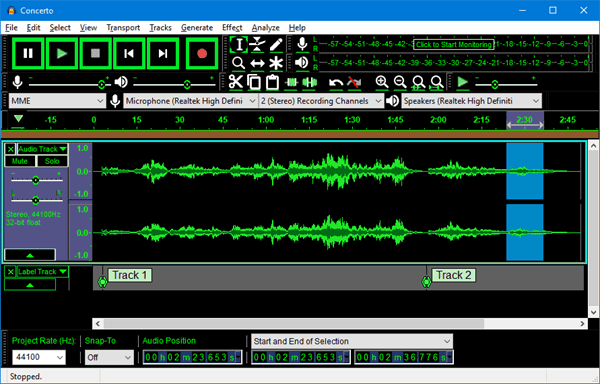 As one of the best audio editing software, Audacity can import, edit and combine various sound files, and export your sound files in different formats. It supports 16-bit, 24-bit and 32-bit, which allows users to edit music files in high quality. There are also many plugins, like LADSPA, LV2, Nyquist, VST and Audio Unit effect plug-ins, as well as other options enabling more possibilities for audio editing.
2. Ocenaudio – Cross-platform Free Audio Editor
Similar to Audacity, Ocenaudio is also a cross-platform audio editing software available for Windows, Mac and Linux. Therefore, you can rely on this one app for audio editing on any computer without extra learning cost. This powerful program sets no limit to the length nor the quantity of audio files for edition. With it, you can edit all sound files and preview a lot of effects in real time.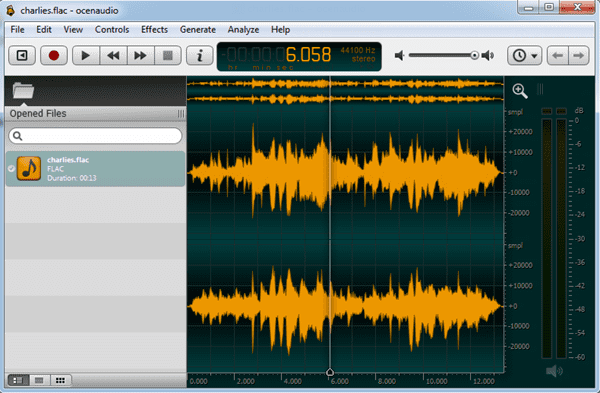 Fluency is one of the most notable features of Ocenaudio. When you are handling multiple files in this audio editor, the time-consuming tasks, such as opening and saving audio files, run in background to ensure high response on other operations. It might not be as perfect as Audacity, but most users will have a pleasant experience while creating high-quality projects.
Tips: In case you mistakenly deleted or lost important sound files, don't hesitate to use Jihosoft Photo Recovery to get them back.
3. Audiotool – All-in-one Free Online Audio Editor
If you don't want to install local clients on your computer, a good online audio editing tool will sync your tracks across different devices with a browser. Audiotool is such a free online audio editor available in Chrome. You can record 30-second clips with it, but what's more fun is that your recordings can be mixed with existing music samples on the website. All your audio assets are stored on Audiotool servers, which means you can access the projects from any browser. You can expect more frequent updates in function and UI in this online tool.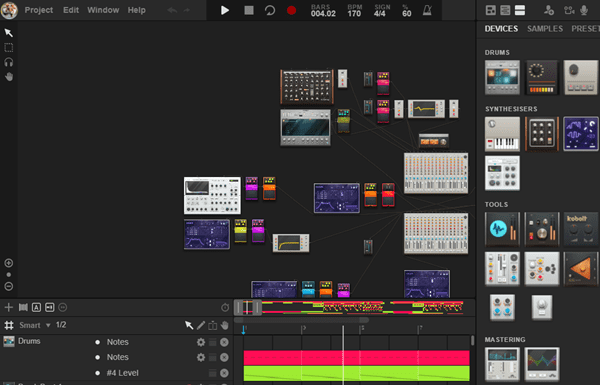 In addition to the advantages mentioned above, there are also disadvantages in this online audio editor. First of all, you need to sign up an account to access your personal studio on different devices. Besides, the smoothness of audio editing highly depends on your network quality.
4. MP3Cut – Easy Audio Editor Online
If you prefer an online audio editor but one as complicated as Audiotool, then MP3Cut audio cutter is a good option. You will be impressed by its intuitive and minimalist interface where audio files can be imported and trimmed within seconds. This online tool even allows users to import video files and extract the soundtrack as sound files. The output files can be saved as MP3, M4A, M4R, FLAC or WAV according to the needs of different users. Though the developers make it a user-friendly tool at the expense of extra functions, there are many individual utilities on this website, such as audio joiner and converter. You will surely enjoy the entire process of editing your recordings on this website.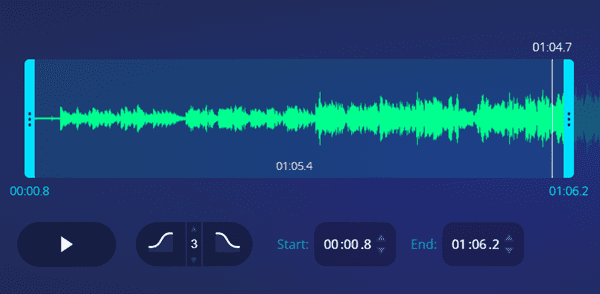 5. Garageband – Best Audio Editor for Mac
Garageband is a built-in audio editor in macOS computers, so Apple fans may find this program suiting their taste. In addition to the intuitive and modern design, it is also easy to learn, play, record, create and share sound recordings. Besides, the ecosystem platform of Apple products is an apparent advantage over other available choices. Music lovers will enjoy a massive collection of sounds and instruments in its library.
6. DVDVideoSoft – User-Friendly Free Audio Editor for Windows
This free audio editor by DVDVideoSoft is featured with a straightforward interface. Any new users can trim audio files easily and convert them into the formats they want. On the lower-half of its main interface, there are a list of tuning options, most of which are for accurate selection for target clips. You can also set tags averagely on the entire track, then split the audio by tags or selections. The output formats include MP3, OGG, WAV, etc., but M4A and WMA are exclusive for premium users.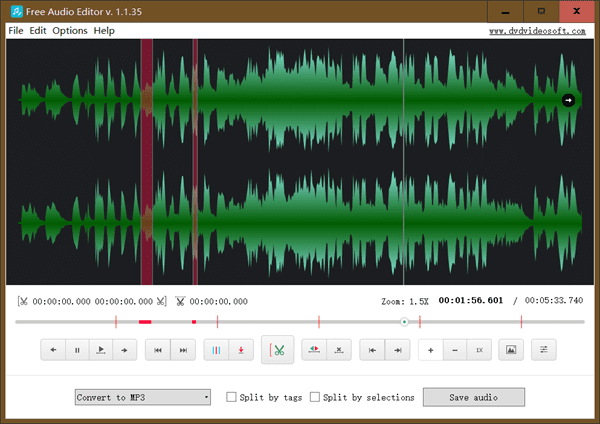 Bottom Line
There are actually quite a lot of audio editing tools available for computer, but the options listed in this article are best in specific aspects. We hope the free music editing software will help you handle all kinds of tasks efficiently. Don't forget to let us know your favorite program in the comment.