Top Free ID Photo Maker to Create Passport Photos in Windows 10
Adobe Photoshop is absolutely the Swiss Army Knife in photo editing, but a new beginner won't want to spend days or weeks in learning the advanced skills only to make a perfect ID photo, which is usually for urgent use. It is a smart choice to adopt a small yet specialized tool for such a task. In this article, we are going to introduce the top free passport photo apps for PC.
What to Expect for the Best Passport Photo App for PC
Ease of use
Preset sizes (9×13/10×13/10x/15) in multiple units (cm/mm/inch)
Availability of templates for different countries
Application for all common ID photos
Last but not least, the best passport photo app is the one that fits you best. It is not necessary to have all of the above merits as such an app would possibly charge users for a certain amount of fee.
This passport photo maker is available in Microsoft Store as a UWP app. With it, you can edit, print or email passport photos in seconds. The developer claims that the app covers templates for 100 countries, so it won't waste you any time in trial and error. Besides, you will also find more than 10 popular formats of photo for job application.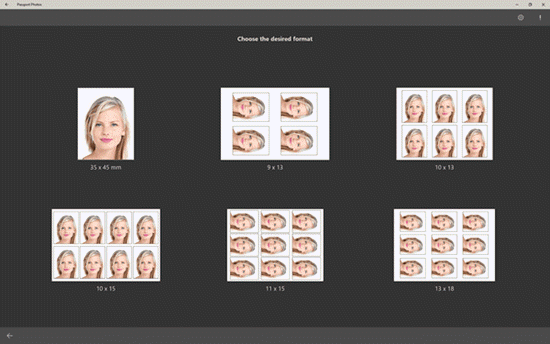 To make an idea passport photo, you can either take photos from the camera or import from the gallery. After that, just resize the picture with multiple toggle options and fit the photo for required size. You can feel free to experience the trial version before upgrading to the pro version at the cost of $2.99.
This is one of the best passport photo makers with all kinds of merits that we listed at the beginning. You can make perfect ID photos in a minute with a few clicks thanks to the straightforward user interface as well as templates for up to 130+ countries. The available options for printing are also diversified, which allow users to have the output exactly as they want.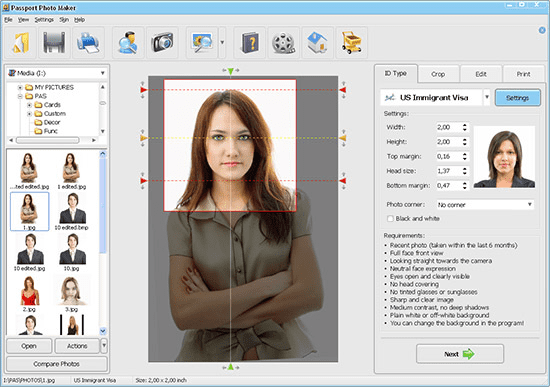 If your basic picture has an unqualified background, this app can help you change background automatically, such as fill it with any color. You can even replace clothes inside the program by using the large templates kit with 100+ items. Nevertheless, as warned early, to access the full functions, you will need to spend extra money to upgrade to the premium editions.
Tips: To make more precise editing in image background, you're suggested to use Jihosoft Photo Eraser, which is an easy-to-use alternative to Photoshop.
If you know clearly the size required for your passport photo and only need a good photo editing tool to make it perfect, then PhotoScape is just for you. This free photo editing software is favored by thousands of users, especially newbies, for its ease of use and versatile functions.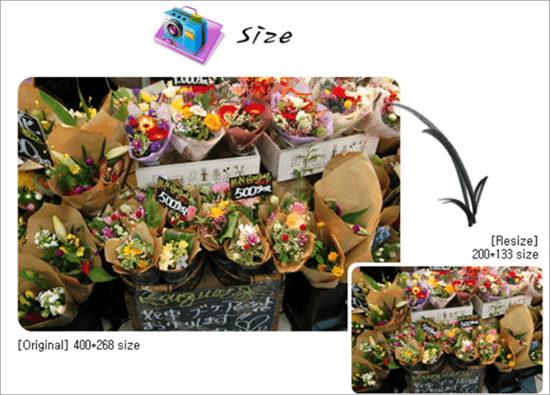 With PhotoScape, you can easily polish your ID photos by resizing, brightness and color adjustment, white balance, red eye removal, etc. If you need multiple copies, just merge the same photos on the page frame before printing the final photo out. It is also able to convert RAW to JPG format if you shoot portraits with a digital camera.
The developer of this free passport photo app for PC has stopped releasing updates for years. Frequent updating doesn't have to be a must for small utilities, but for ID photo tools, it is necessary to make their templates and preset sizes qualified for the latest requirements in different countries. That's why we don't rank this free-of-charge app high. Anyway, you can use this software to make and print passport photos through your printer or save as JEPG files and print them later.
If you have a favorite photo editing app in mobile platform which is not available in PC, the workaround is using emulators. For example, Passport Photo – ID Photo App is an app developed for smartphones, but we can use it to edit passport photos in computer, just like we can download and install PUBG in PC. The key is to install a desktop app emulator. If you're interested in this solution, keep reading to know more about this passport photo maker.
As one of the best passport photo editor apps, this tool can perfectly erase the background from your photo and resize photos in a single sheet of 3×4, 4×4, 4×6, 5×7 or A4 paper. It contains all standard printing paper sizes for free.
Final Verdict
We have reviewed the top 5 passport photo makers for PC from multiple aspects. There are surely many more options over the market, but the apps above are worth a try under different conditions. Feel free let us know your opinions and choices in the comment.