5 Best Video to GIF Converters to Convert Video to GIF Free
Emoji has been popular in social software for the past decade and there is even emoji for Windows, but now GIF is the trend in WhatsApp, Facebook Messenger, and WeChat. Many people have sent and received motion graphs in their mobile phones, most of which are pre-made from films, TV series, and cartoons. However, do you want to have your own GIFs converted from videos? In this article, we will introduce the top 5 video-to-GIF converters to assist you for video to GIF free conversion.
Top 1. Giphy – Best Free Video to GIF Converter Online
Giphy is the source of stock GIFs in many social apps, like WhatsApp. Actually, most of the GIFs are made by users through the GIF maker of Giphy, which allows people to create GIFs from multiples photos, videos or even a URL of YouTube, Vimeo and GIPHY. Everyone can upload and share the GIFs with captions or stickers on GIPHY.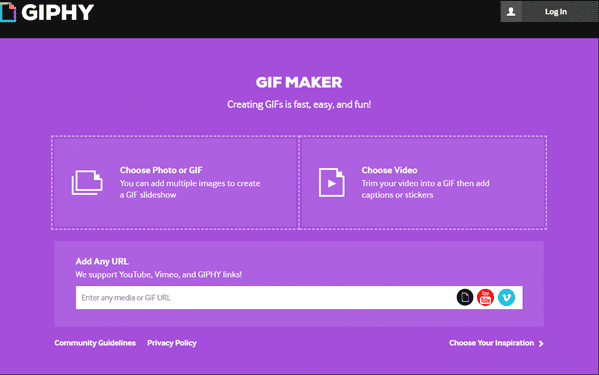 The best part of Giphy is that you can convert video to GIF online for free. You don't need to install any extra apps on your computer or mobile phone. A moderate internet condition will ensure a satisfying experience in converting GIFs from videos whenever and wherever you are. It could be the best free Video to GIF converter software in almost all aspects but for the requirement for network access.
Top 2. Video to GIF Maker by Swisspix
If you prefer to install a video to GIF maker for better control and offline operation, the Video to GIF Maker developed by Swisspix is your best choice with its advantages in light weight and eye-pleasing UI design. This app is featured with several functions, including Camera to Gif, Video to Gif and Image to Gif. Apparently, you can use it to edit your own materials easily, but not films or TV series.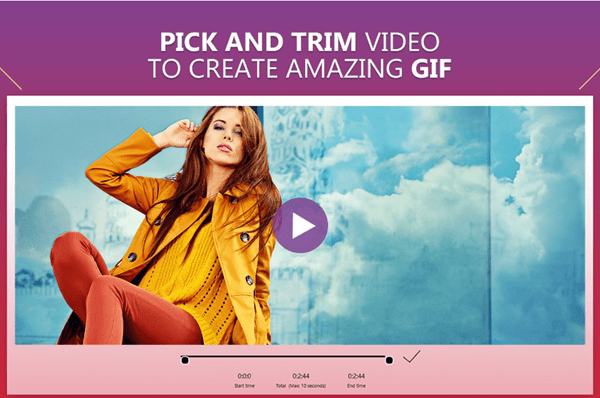 The Video to GIF Maker is available in Microsoft Store, so you can download it to your Windows 10 safely. The video formats supported by this app are WMV, MP4, WMA, MOV and AVI, with the maximum length of a GIF 10 seconds. It is really a shame that you cannot import videos by links.
Top 3. Instagriffer – Best Free Video to GIF Converter with Caption and Filters
Instagriffer was one of the top-rated video to GIF converters. It is free, easy to use and powerful but no longer release updates, which is understandable and common to see in recent years. Instagriffer can do most things that Giphy is capable of, and even better in the number of supported online video sites. In addition to existing videos, Instagriffer even includes screen recording in the light-weighted program.
This free video to GIF software has a plain interface but plentiful adjusting options to ensure the GIFs are created as you wish. For example, smoothness (fps), frame size, quality, brightness, playback rate (slow/fast), caption and filters are available on the main interface. For caption and filters, there are more custom settings to help you produce desired GIFs with text. Beginners may need some time to get used to them.
KickMyGraphics has the smallest size (3.7MB) but allows you to capture the imported videos frame by frame so that you won't miss any moment. In addition, there are also a few tuning options and auxiliary functions, such as screen recorder, to help you convert videos to GIF for free with this program.
The moderate UI of KickMyGraphics won't attract people by the first glance, but it is undoubtedly a great freeware for advanced users. It supports MPG, AVI, MP4, ASF and other common video formats, so videos recorded by yourself or downloaded online are your raw materials.
This is a classic Video to GIF Converter designed in the age of Windows. It is on the end of this list mainly because the program is going to be outdated, while the functions are still solid. Furthermore, Cute Video to GIF Converter is 100% free.
With this tool, you can share GIFs immediately after conversion. It is integrated with various animation effects to enable users to convert videos from MP4, AVI, MPEG, RMVB, WMV, VOB, SWF, and M2TS and the audio track formats are MP3, AC3, and WMA formats to be converted into the GIFs.
Tips: Some of the video to GIF converters don't support online resource. In case you mistakenly deleted an important video or photo without backup, make sure to try Jihosoft Photo Recovery. It will help you recover deleted photos and videos from SD card, USB flash stick and hard driver.
Final Thought
Among the top 5 free video to GIF converters, Giphy has a sustainable business circle to ensure quick updates and good compatibility in all platforms. Nevertheless, the other options are worth a try if you need create a refined GIF from video. In addition to graphics downloaded from the internet, you can also make your own images with free vector graphics software. Don't hesitate to share this article to your friends if you find it useful. Let us know your thoughts and tips in the comments!