Top 6 Free Vector Software for Graphics Editing & Creating
CorelDRAW is the most famous if not the best vector graphics software, but the subscription fee is a heavy burden for many designers, especially new beginners. Though we have to forget the powerful but expensive Adobe suites, there are quite a lot of alternatives which are able to process at least certain tasks separately. When it comes to creating vector graphics, we have listed the best free vector graphics software for all common platforms, including vector editor online options.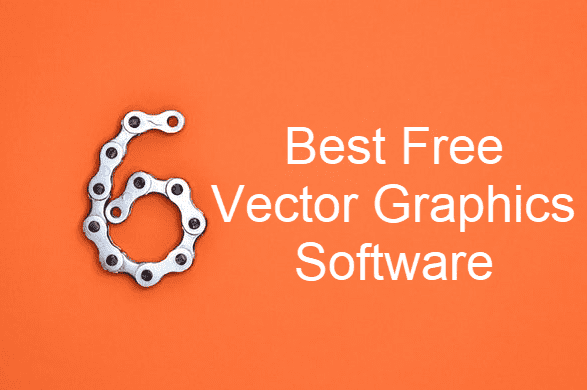 Description of Vector Graphics
Vector graphics is a kind of digital images created through a sequence of commands or mathematical statements. Simply speaking, it comprises of lines and shapes in a given two-dimensional or three-dimensional space. As a result, vector graphics usually have much smaller size than pictures taken on real life.
More importantly, vector images can be scaled up without lose of resolution. Though there are methods to increase the resolution of JPEG images to the utmost, the quality is often not that perfect. Additionally, designers can edit individual parts of vector images as discrete objects and save the vector source files in other formats for further use, like logos, icons, ads, etc.
Most displays and printers today are raster devices, so vector graphics have to be converted to raster formats before they can be displayed or printed. For example, the QR code images are in raster formats which can be created with free QR Code Generators online.
The above description explains the pros and cons of vector graphics. Now, if you want to create or edit vector images, like SVG (Scalable Vector Graphics), EPS, PDF or AI graphic files, you may consider the top free vector software listed below.
1. Lunacy – Free Vector Software for Beginners
Lunacy is previously known as an excellent Sketch viewer for Windows when the app of such kind was rare on the market. Now, it is also one of the best free vector graphics software for designers. This free vector editor is characterized in an eye-pleasing interface with various preset resolutions for iOS, Android, Web and even Wearable devices. The UI kit is provided with a lot of handy tools to help beginners to start the designing work quickly. However, professional designers may find the editing features not enough to support advanced requirements. Besides, Lunacy supports the export in only PNG and SVG.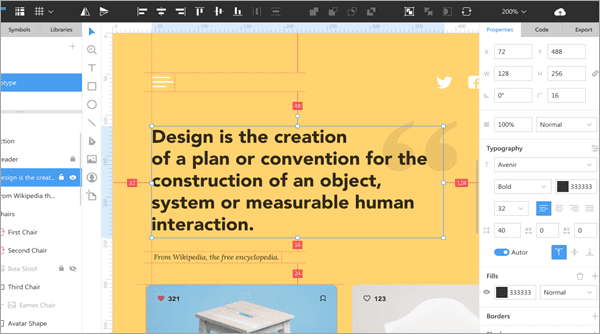 2. Inkscape – Free Vector Software Alternative to Adobe Illustrator
Inkscape is a big name in vector graphics software just like GIMP in general photo editing software. It is an open-source program with a lot of features better than most paid apps on the market. Inkscape supports all common formats, such as SVG, EPS, JPG, PNG and PostScript. Other than its undisputable editing ability, Inkscape is available in 90 languages and across platforms like Windows, macOS and Linux, which means there is basically no requirements for all possible users.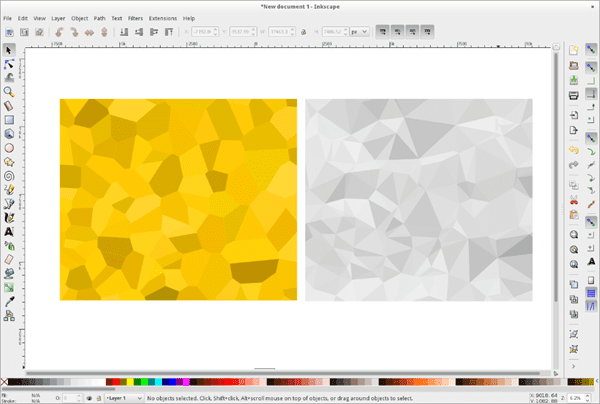 Inkscape shares a similar workflow as Adobe Illustrator. If you're used to Adobe Illustrator, you would make the switch easily. If not, there are a variety of tutorials on its website to cultivate a beginner to a pro user. Nevertheless, it takes time cost to get hand on this free vector software.
Pro tips: It is vital to save your vector artwork properly. In case you accidentally lost important image files, don't hesitate to use Jihosoft Photo Recovery to get them back. The program will help you recover deleted photos and videos from pen drive, SD card, hard drive and computer without backup.
3. Vectr – Free Vector Software with Intuitive UI
Similar to Lunacy, Vectr is a new vector software which enables its straightforward and easy-to-use interface while the functions are still powerful. You can use this free vector graphics software on the web or download to your desktop. With a registered account, your work will be automatically saved and synced in real-time and across all platforms. Vectr supports vector formats in AI, EPS, SVG, PNG and JPEG.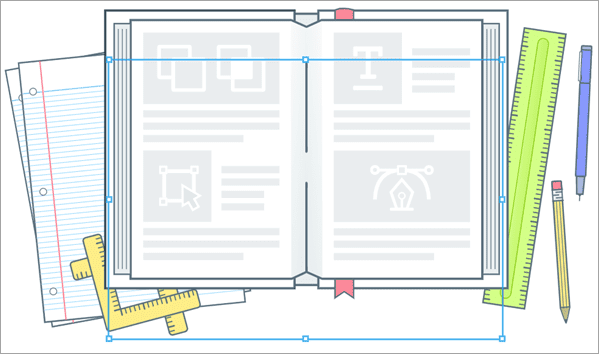 The developer team claims that Vectr's basic graphics editor is free forever. When you have built your own business and the basic functions no longer satisfies you, then you may choose to upgrade to a pro account.
4. BoxySVG – Best Vector Editor Online
BoxySVG is a browser-based vector software for editing scalable vector graphics, but it is also available in Windows, macOS and Linux platforms. It allows users to import and export SVG and SVGZ as well as JPEG, PNG and more types of files. The photos library connects to Pixabay to provide over a million free photos. You can also utilize a good range of tools, including pens, text, shapes, Bezier curves and layers, to create your artwork.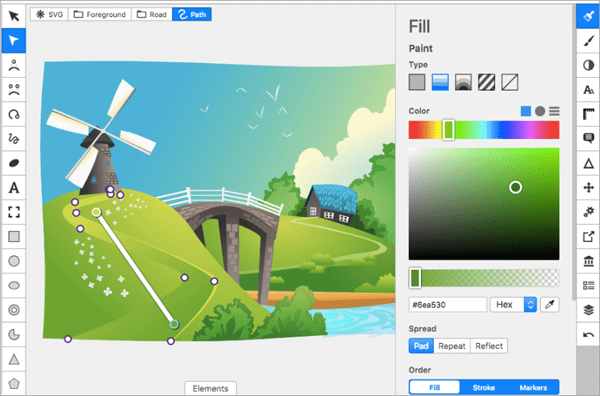 Note: BoxySVG is no longer free. A subscription fee is required before you can export vector files.
5. Vecteezy – Free Vector Editor Online
Vecteezy is another free vector editor online. Its interface looks like a traditional desktop program, but it is not. This free vector software is easy to understand for any new users. It is designed to allow users to import and edit vector graphics or create their own designs from scratch. Since Vecteezy is totally browser-based, a free account is required to save work. Besides, the editing or creating process may be unstable if the file is particularly large which is a understandable disadvantage of online vector editors.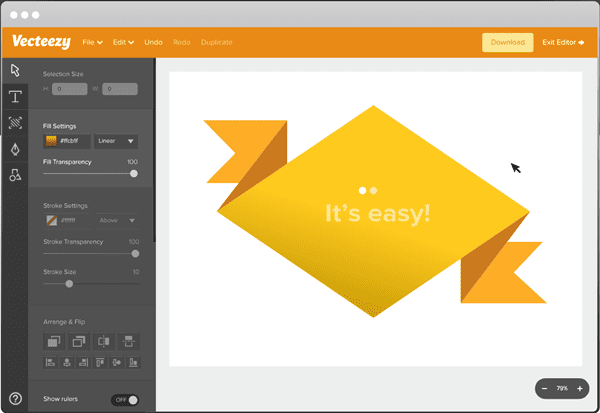 6. SVG-Edit – Open-source Vector Editor for Developers
SVG-Edit is another free vector editor online which is also browser-based. For beginners, SCG-Edit might be very difficult to use. For web developers, however, this free vector software is a treasury. It works in popular browsers, with basic editing features, like hand-drawing tools, shape and path tools. This program is open source, so you can download and modify the code to customize your own version if you wish.
Bottom Line
In this article, we have reviewed the top 6 free vector software for editing and creating vector graphics on desktop platform or web browser. If you're looking for free alternatives to Adobe Illustrattor or CorelDRAW, one or more of the above options may suit your taste. Don't hesitate to show your favorite one whether it is on the list or not.