5 Best Download Managers for Windows 10/7 in 2020
Download manager software are super useful when it comes to downloading a large file or multiple projects in a batch. If you need to download many documents or files every day, then a good download manager is exactly for you. In this article, we are going to introduce the top 5 download managers for Windows 7/8/10 in 2020.
Benefits of Download Manager
Now that we can download files from the Internet through web browsers and apps, why we need an extra download manager? For common users, browsers, like Chrome, Firefox or any built-in one, are good enough to download files in small or medium size. However, a lot of game lovers or people involved in specific businesses have suffered the pain of unstable downloading for large files, such as a system image or game package. Therefore, the top download manager tools are for everyone but mostly for people in the following needs:
Fast and stable downloading speed
Stable connection and resume broken downloading
Better organization & classification
Preview videos & audio files before downloading finishes
Moreover, we can transfer large files online with free tools, but the default downloading method could drive people crazy and the best download managers could relieve you from the worries.
FDM, as its name suggests, is a free and open-source download manager available on Windows, macOS, Android and Linux platforms. It has been translated into 30 languages. Even if we ignore that it is a freeware, FDM is still one of the best download managers in all aspects.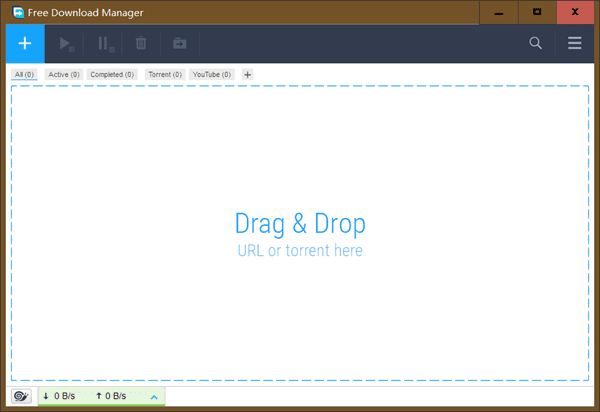 With Free Download Manager, you can download all kinds of files at high speed, preview audio/video files before downloading completes, resume broken downloads, etc. It can work seamlessly with web browsers, including Chrome, Firefox, and Edge. If you want to use it on multiple computers, the portable
This is another free download manager featured with high speed, resuming broken downloads, and management of downloaded files. As we can guess from its name, IDA supports downloading acceleration by splitting a file being downloaded into several parts, which are downloaded at the same time from the Internet using HTTP, HTTPS and FTP protocols.
Internet Download Accelerator integrates with Chrome, Firefox, Internet Explorer, Opera, Netscape, Safari, etc. Besides, it monitors the system clipboard and detects URLs for quick downloading. This program will make the most use of your bandwidth to download files extremely fast. If you'd like to support the developer team, a lifetime license only costs you $9.95 but enables extra and better services.
Internet Download Manager has been popular for many years, but not many people know that the official version is a paid software. IDM allows a free trial period of 30 days. Though it has been proven to be one of the best and fastest download managers, you may want to experience it by yourself.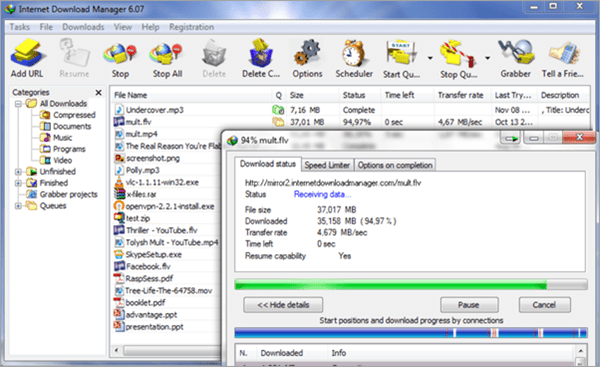 When you download and install Internet Download Manager on your Windows 10/8/7 computer, it will also install a Chrome plugin to include the download option to the right-click menu. This program can accurately intercept all the download links and allow users to easily download all kinds of files. Surely, faster download speeds, pause and resume downloading, and multiple downloads are supported.
If you visit the official website of Ninja Download Manager, the modern UI design will possibly attract your eyes and increase your expectation for the program itself. Actually, this download manager indeed includes the ideas of new technologies. You won't say it is a program from Windows 7 or ten years ago. Everything will run in a way as you could expect on an app developed recently. It might be the best download manager for the young group.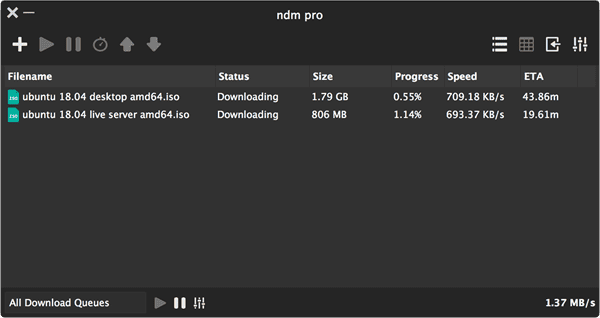 In addition to fast download, pause and resume, and schedule downloading, Ninja Download Manager even introduced Password Manager (for website login), proxy support, and user-friendly settings. However, as a cost, this good download manager charges users a small amount of money based on the number of computers they want to use.
5. EagleGet (Windows/Chrome)
EagleGet is a smart download manager recommended by a few reliable media and websites. It is available as an individual program on users' desktop as well as an extension on Chrome tool bar. With security as one of its notable features, this program enables automatic malware check and file integrity verification to protect you from virus attack. You will also enjoy fast downloading, automatic refreshing expired download address and many more functions.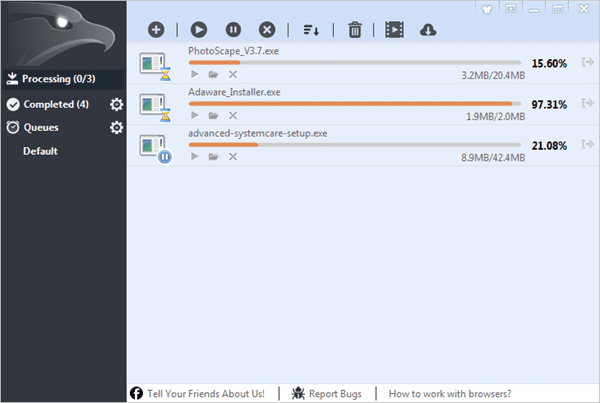 Bottom Line
In this article, we have reviewed the top 5 best download managers for Windows and other platforms. However, you will never know which one is the best for you unless you try them one by one. Let us know your choice in the comment below.