Top 5 Free Video Conferencing Software for Small Business
Video conferencing is not yet widely applied in all industries even though technology is no longer the restriction. It is convenient for companies with branches or teams on different locations to communicate in real time, but it has never been so urgent and collective a need as it is today when people are locked down at home while have to go on studying and working remotely. Besides, to ensure a stable video connection which requires much resource and cost, the service providers usually charge users some money. As a result, it is extremely important to choose the best video conferencing software suitable for small business, schools, and other groups as listed in this article.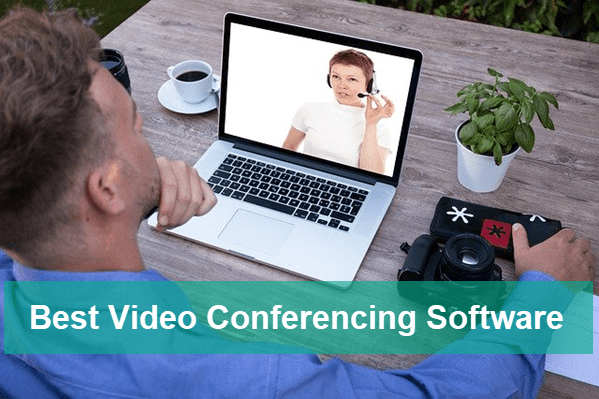 Zoom is one of the best video conferencing apps recommended by many small business companies. Zoom is available for all platforms, ranging from Windows, Android & iOS to plugin and extension for browsers and Microsoft Outlook. Skype users can even install Zoom plugin for business to start meetings and invite contacts directly from Skype.
Zoom provides the desktop and mobile users with a stable and secure video conferencing and messaging solution. It is featured with quick setup and practical functions, allowing up to 1000 employees to join an online meeting or webinar at the same time. The HD video and audio are praised by thousands of team workers for offering a smooth and clear experience.
Additionally, with Zoom, people working at home can also enjoy the features of file sharing, searchable chat history and a ten-year archive, though there are a few free websites for sharing large files. Automated scheduling can be done from Gmail, Outlook and iCal. As for security, which is usually worried by commercial customers, Zoom use 256-bit TLS encryption for both meetings and shared files. The 1:1 and group meetings can be saved to local drive or the cloud along with transcripts that have searchable text.
This video conferencing app has a pricing plan, starting from $14.99 per month, for various users. However, anyone can sign up for a free account to accommodate up to 100 people for up to 40 minutes.
Skype has been widely-known around the world since a decade ago. It is just amazing that this video conferencing software is not yet the real monopoly in this industry. Nevertheless, people from a lot of countries are using Skype for work and study daily. This cross-platform video conferencing tool from Microsoft supports group video calling for up to 50 people.
As one of the eldest players in the market, Skype has unbeatable advantages in high-quality meeting experience and wide compatibility. However, the complaints for Skype, such as the confusing subscription mechanism and disputable customer service.
Anyone can sign in Skype with a Microsoft account to access to free functions, like messaging and calling services. You can also upgrade to Skype for Business by paying a monthly per-user fee and the participants of a meeting will increase to 250 along with stronger security.
Tips: Many people are used to share files through Skype chat box but turn out to find some of the old documents missing because they were deleted mistakenly as "unknown data". In case it happens to you, please have a try with iReparo Data Recovery software. It will help you restore deleted files from Windows 10, Windows 8 and Windows 7.
Hangouts has proven to be not as successful as it was expected to be, but we rank it in the third place as it is made by Google. With the endorsement of the internet giant, users will make video calls via Hangouts without extra accounts nor worries for unstable service. Google hangouts allows up to 10 participants, which makes it the best video conferencing software for small business.
Under the threaten of the novel coronavirus, Google may expect an increase in user number shortly. Hangouts is the best video referencing software that works across desktop and mobile platforms. You can use it in your browsers, Android and iOS phones, or Chrome OS based tablets.
FreeConference is another video conferencing app for small business. It allows up to 5 online video meeting participants, which is surely not enough for online education or webinar in large scale but quite idea among a small team.
FreeConference makes a list of useful features available for anyone with a singed-up account. Screen sharing and document sharing are really helpful for team communication, while moderator control tells you who is running the video conference to keep the meeting on track. If you would like to become a paid user, the plus functions include toll-free & international dial-in numbers starting from 100 minutes/month, audio recording, smart summaries, higher security, YouTube streaming (exclusive for Pro users with highest plan), etc.
Cisco is another big name among the long list of internet service providers, which gives high expectation on its video conferencing software – Webex. Webex Meetings allows users to hold HD video meetings among up to 100 participants. Of course, screen sharing, chat rooms and other advanced options are available in the one of the best video conferencing apps.
Due to the circumstances resulting from COVID-19, Webex presents entries for education and healthcare on its website to show students, teachers, doctors and related persons more details as how to use the video conferencing app. For remote workers in other industries, the straightforward interface is apparent enough for get started.
Tips: Some remote workers may also need free webcam software for computer to record video tutorials or courses in a handy way.
Cisco Webex is a perfect choice for teams which do their works basing on close collaboration. It integrates with other apps, like Microsoft Outlook, Google Drive, GitHub and Office 365, so that your teammates will remain connected for all projects.
Bottom Line
In this article, we have gone through the top 5 video conferencing apps for PC, browser, and Android & iOS smartphones. There are actually no unified standards to rank tools for people in different demands, but we hope you can find the best video conferencing software for yourselves. Don't forget to share this article to your friends and tell us your favorite alternatives.