Top 10 Best Disk Defragmenter Software for Windows 10/8/7 in 2019
To make your Windows PC run smoothly, it is important to boot up the disk drive regularly. In addition to free PC optimizers, the maintenance of disk drive is also very helpful in which defragmentation of hard drive plays an important role. For defragmentation, you may need a defragmenter software and optimizer tool which help you to defrag your drive make it run faster and smoother. If you are facing problem in loading big files, then you may go for a compatible and liable defragmenter software for your Windows PC. Before opening it further, let us know about the defragmentation process.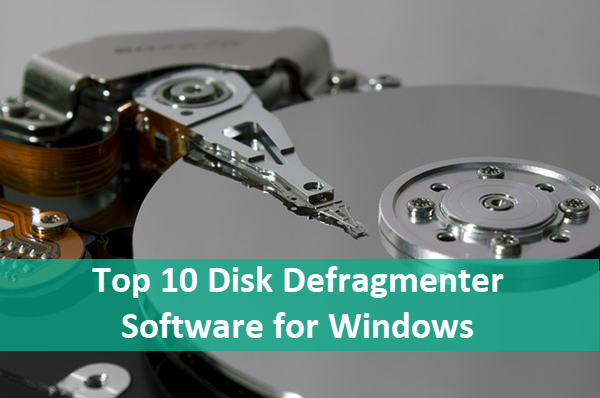 What is Disk Defragmentation
Disk Defragmentation is a utility available for the user of the Windows PC which helps the user to maintain the disk drive and run the PC without any obstruction. It speeds up the loading of the bulky files by breaking and arranging the file into fragments. It reduces the load on the disk drive and reorganizes the tiny pieces of the file together. In this way, it is easy to read and access the file fast without any sluggish behavior shown by the PC. Disk Defragmentation process is very crucial to run the PC more efficiently by making it easy to read the data of big files and load them without troubling up the user. Defragmentation is also helpful to reduce the startup time taken by the PC. Overall, your PC feels lightweight and becomes faster than before. It is an important element provided by the Microsoft for Windows PC.
Advantages of Disk Defragmentation:
It reduces the startup time of the PC.
If you are using the best defragmenter software for your PC, then it will enable you to free up the space of your hard drive and make the system lightweight. However, it somehow depends on the fact that how your disk space is occupied.
You can easily access and play games which are heavier in size. It helps the user for easy access to bulky files.
It reduces the reading and loading time of files taken by the PC.
It also reduces the boot time of the PC and improves performance.
You can easily read and write the files from the disk taking less time than before.
Pro tips: Despite of the advantages of disk defragmentation, there are potential risk of losing important data during defragmenting Windows disk drives. Luckily, we can use iReparo for PC, the best data recovery software, to recover lost files from Windows 10 computer.
So, using a good and efficient disk defragmenter software, you can get your system defragmented and enjoy using it smoothly. The time taken by the disk defragmenter depends on the hardware, processor and types of files stored on your hard drive. If your system is in good and quality state, then you can get your device defragmented in short time. It totally depends on the fact that how your PC runs and at which state it is. Moreover, high-quality defragmenter software also plays a role in the fast completion of the defragmentation process. So, you first need to know about the best disk defragmenter.
In this article, you will find a well-explained list of top 10 disk defragmentation software for your Windows PC. You can use this listed software for your Windows 10, 8, 7 PC and get it defragmented easily. Most of the disk defragmenters below are free or at least with trial version which is usually enough for home users.
Disk Speedup is the most reliable and powerful defrag tool which can help you to defrag your system easily by occupying very less space on your system. It is also capable to free up the hard drive space by arranging the files and installation and uninstalling all the software to organize them properly. So, if you have any junk file stored in your hard drive, it will get cleared by this tool and will make your system light and fast. You can defragment your system and align all the files properly with few clicks using this software.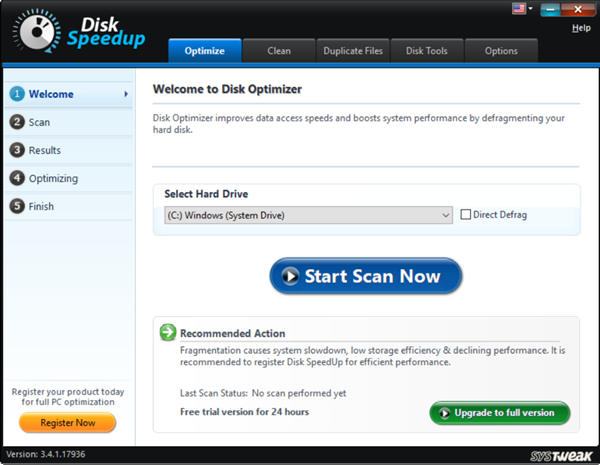 This software provides the most simple and secure way for disk defragmentation. It checks the new data and corrects the overwriting and wrong placements of the files. You can also check the defragmentation status on its dashboard and can pause or resume anytime as per your choice. You can also optimize your disk drive and check its state using this tool. It is a valuable piece available for Windows PC.
Here comes another disk defragmenter which has unique features to carry out the defragmentation process. You can use this software to individually defrag the files or do it all together. If you want to defrag only specific files, then this tool will be of great use. You can also check the health of the disk drive and defrag the bulky files taking very less time. It optimizes the PC and makes the user know about the current status of it with no hassle and complexity.

If you are looking for a free and high-quality defragmenter then O & O Defrag is the best software for you. You can use it easily with its an interactive and intuitive interface. It is helpful in advancing the drive and check the error and another defect present on the disk drive by optimizing it. You can find all the other features which can help you to defrag your system for free in a few clicks. It automatically checks the drive and defrags it regularly every week.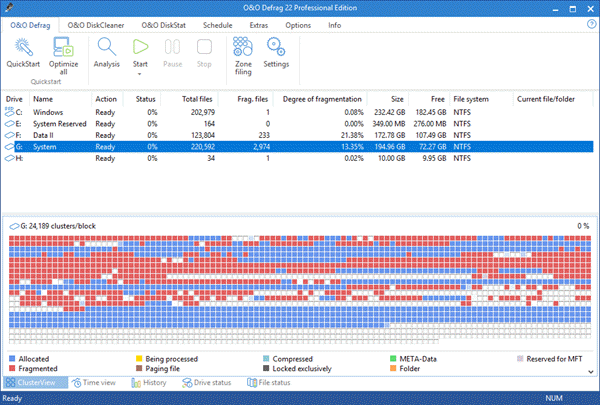 This defragmenter tool is useful for automatic defragmentation and optimization of apps and software present on the PC. As the name suggests, this software provides a smart way of defragmentation and brings back the smoother state of the PC. Moreover, you can use to defrag only the files over a specific size.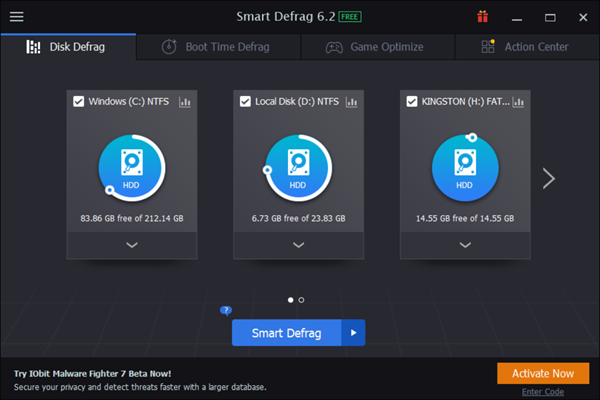 GlarySoft Disk Speedup is featured with many advanced tools which helps the user to run the defragmentation process fast and smoothly on the PC. It is a handy solution for disk defragmentation as there is no hassle in using it and you can easily get to optimize your PC and improve the performance of the PC.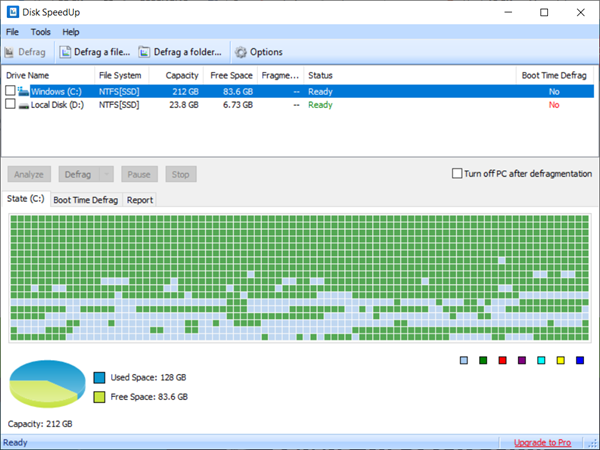 This software comes with a special feature to defrag only the defective file or application. You can defrag the specific file individually which is troubling you. You need not to waste time in complete defragmentation process of the PC with this tool. You can easily get this app for improving the speed and efficiency of PC by optimizing it. You will get a proper list of files which really require to be defragmented which saves the time and data and solves the issue as well.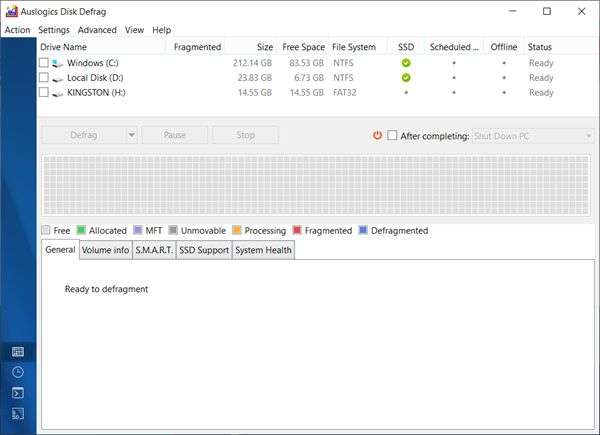 MyDefrag is a very efficient tool for defragmenting your disk drive in quick and simple steps. It is developed with some scripts which make this software acts as a scripting engine and make it solve the issue while loading the files and apps. You can get access to the underpinnings of the tool using this software easily. It has different and unique tools for the defragmentation process.
WinContig is powerful and amazing software which can be used to defrag some files without defragmentation of the whole system. This app is simple and easy to use. It does not create an installation directory or displays the registry files to keep the interface hassle-free. It is good to be used for direct and easy defragmentation of the disk drive.
If you are looking for a defragmentation software for your profession PC or want no risk of loss of data for defragmentation, you must go for Diskeeper 18 Home. It is a high-quality software capable to defrag 3 computers at the same time. You can optimize the PC completely and keep it in its optimum state with the help of this software. You can improve the booting time and enhance the browsing speed of your PC as well using it. It has many advanced tools which make it special and reliable for professionals.
At last but not least, UltraDefrag is an ideal software developed for defragmentation keeping newbies and tech-savvy users in mind. It comprises both general features and advanced tools which can be used to make the performance of PC better and smoother than before. You need to make some specific changed to use its advanced features. Apart from its excellent tools, it also provides exclusive customer and technical support. You can find all the features in this tool and can use it to carry out disk defragmentation process on your PC easily.
Conclusion
Here we have gone through top 10 defragmenter software for Windows which can be easily used for disk defragmentation of the PC to make your disk drive organized. It is also helpful in easy loading of the bulky files, games and applications. You can also free up space of your computer disk drive and make your PC reliable and efficient than before. All the listed tools and software are tested and verified. So, you need not to worry about the safety of the data using it for defragmentation. If you have any question regarding disk defragmentation and the listed software then feel free to drop it in the comments section.