How to Recover Windows 10 Forgotten Password with 3 Methods 2019
Have you ever forgotten your windows password? You sit down in front of your laptop or desktop to log in your Windows machine, then you start think your password and then rethink it and suddenly you realize that you have forgotten your password and bang! Your brain fights with your memory, you continuously try to think that what is the password and try different combinations of numbers and letters but nothing works. Stop laying blame on your bad memory. Here are 3 methods for you to reset and by pass Windows 10 password.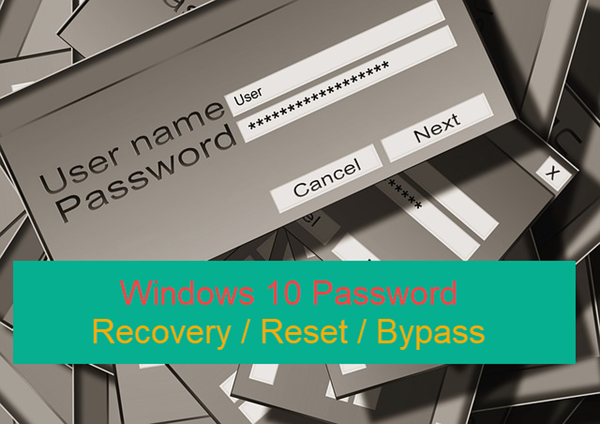 Method 1. Recover Windows 10 Password with Reset USB/Disk
What is Password Reset Disk?
If you use a local account (instead of a Microsoft account) in Windows 10, you can setup a password reset disk with a USB drive. No matter how many times you change the password afterwards, the reset disk will work to help you for Windows 10 password bypass.
How to Create a Password Reset Disk?
It is surely late if you have never heard about it until now. However, if you're not sure, the following steps may remind you whether you or someone else has ever created a password reset USB.
Sign in Windows 10 with your local account.
Plug a USB flash drive into your PC. The process will not format your USB drive, but a backup for the USB drive is always recommended.
Click Start menu, type create a password reset disk, and then choose the matched option from the results.

In Forgotten Password wizard, select Next. Choose your USB flash drive and select Next.
Enter your current password and select Next. When it is done, select Finish.
Remove the USB flash drive and keep it safe.
How to Bypass Windows 10 Password with Reset Disk
Step 1. On the login screen of Windows 10, type a wrong password and hit Enter, then click Reset Password when it appears.

Step 2. Now into the Password Reset Wizard, insert the reset disk and click Next.
Step 3. Choose the password reset disk drive from the box.

Step 4. Once the disk is recognized, you will be able to create a new password, and finish Windows 10 password reset.

A lot of Windows 10 users find their files lost after deleting local accounts created for new users. Actually, it is possible to get back lost data with the help of iReparo Data Recovery Software.
Method 2. Windows 10 Password Reset Online with Microsoft Account
Microsoft Account can be used for login by many of the services and software owned by Microsoft and so for each service there is no need for the creation of a separate account.
If you use a connected Microsoft account in your Windows 10, then you can recover the forgotten password online and login your Windows 10 computer.
Step 1. Visit Windows Live password reset on another device, enter your Microsoft account username, and then click Next.
Step 2. Enter the required information, then click Next.
Step 3. The next screen will be the verification screen. You will need to select that how will you be comfortable in receiving security code, by text message or by e-mail.
Step 4. Enter the code on your locked computer and then click on "Next" button. It will ask you to create a new password.
Now, you can sign in with your new password and enter your Windows 10 PC.
Method 3. Recover Windows 10 Password with Password Recovery Tool
Windows 10 password recovery program may not be the first preference for the users for recovering the password, but we include it here in case none of the above methods work for you. It also works for older versions of Windows OS.
Step 1. Download and install Cain & Abel on another PC. The very next step you will need is to burn the file of ISO on a USB flash drive under the instruction.
Step 2. Insert the USB drive to the locked PC. In a normal way, boot it up but you will need to wait for the interface of Cain & Abel to appear on screen.
Step 3. Now open the boot key option and the drive that possesses Windows installation, locate it. Choose the account name now, whose password is forgotten and click on the right.
Step 4. Select Brute Force Attack. Now go on the NTLM hashes.
The process may take many hours, depending on the complication of the password. You will be shown with the recovered passwords once the process is finished, then you can use the password to unlock your account.
Conclusion
As you have read all the above different methods, so there are many ways by which you can reset or recover the forgotten password of Windows 10. If you possess enough amount of technical knowledge, you will be more comfortable and easier in using other applications like Hash Suit or Cain & Able. While contrary to this, others users who have not enough technical knowledge can also follow other guides above.