How to Recover Photos Deleted or Lost from Your Fujifilm Camera
Your Fujifilm camera is your travel companion for the long memorable holidays. Capturing these candid moments with your Fujifilm camera provides great satisfaction. But what if you deleted your photos accidentally without backup? Or mistakenly formatted your Fuji camera SD card and lost all valuable photos? Of course, these are not the only reasons that may lead to loss of photos. A virus attack can corrupt the images already stored in the memory card of your Fujifilm camera. When this unfortunate loss happens, the most important thing you need to know is how to recover photos from Fujifilm. There are numerous manual steps you can undertake, or opt for third party software.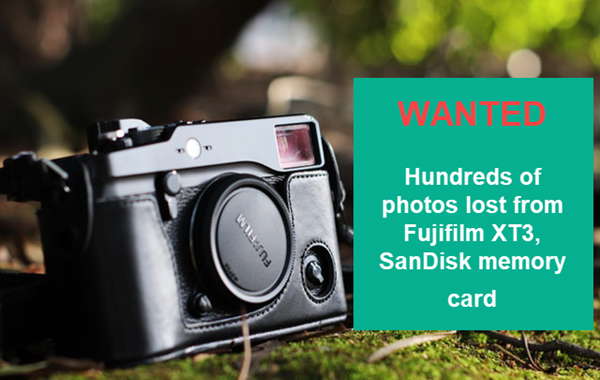 Method 1. Recover Photos from Fujifilm with Command Prompt
In certain situations, you can try a manual recovery method to recover lost photos from your Fujifilm camera by using Command Prompt on Windows computer. This manual recovery method is basically a computer hack for salvaging photos that were accidentally lost due to partition corruption, virus attack or system crash. If you find important files lost after the accidents, you may have a try with the method below.
Please connect the SD card of your camera to your desktop computer using a memory card reader, then follow steps below:
Step 1. Launch command prompt by pressing Win + R, then type cmd into the box and hit Enter.
Step 2. Type chkdsk E:/f in Command Prompt window and press Enter. (Type the Drive Letter of the memory card containing the lost photos)
Step 3. Type letter Y when asked and press Enter. This will confirm to dismount the volume.
Step 4. Type attrib -h -r -s /s /d E:\*.* and press Enter.

Annotation of the command:
–h assigns 'Hidden' attribute to the selected files
–r is read-only attribute: Files are readable and cannot be changed
–s assigns 'System' attribute to the selected files
/s means to search the specified path including subfolders
/d command includes process folders
E is the drive letter of the SD card of your Fujifilm camera
A new folder containing the recovered photos will be created in your SD card. Transfer them to a new location. While this method is easy to follow, it does not promise to give back the same quality of photos or even recover them. The application of Command Prompt can do a lot of things for Windows users. As mentioned above, however, it is mainly for finding hidden files disappearing due to unknown reasons.
To recover photos from Fujifilm camera and SD card after deletion or formatting, it is advisable that you look for a professional photo recovery software.
Method 2. Recover Photos from Fujifilm on Windows/Mac with Recovery Software
When choosing a recovery software, it is important to consider whether the software supports recovery from Fujifilm camera. A Fujifilm recovery software will retrieve photos lost through accidental deletion, formatting, corruption or unexpected camera power failure. A reliable software will allow you to see if you will get your photos back regardless of the situation or cause of the loss.
How to pick the best Fujifilm photo recovery software for you
There are numerous recovery tools online available for you to use in the recovery process. When picking a photo recovery tool, there are certain things you need to look out for. If by any chance you overlook one of these parameters, the whole recovery process may be unsuccessful and a regrettable waste of time and effort. A trusted Fujifilm photo recovery software should support the following
Photo file formats such as JPEG and RAF (Fujifilm RAW format)
Support recovery from a myriad of storage devices such as SD Card, DHC card, UHS-I / UHS-II cards, SDXC card, hard drive, pen drive etc.
Recover high quality images that are similar in quality to the original
Secure and free from virus attack
Easy to use with a simple interface
If you agree to these standards, then Jihosoft Photo Recovery is the best Fujifilm photo recovery software which is trusted by millions of users across the globe. The software is capable of recovering lost photos due to numerous situations such as deletion, corruption of media device, or formatting without losing the original quality of the images. On top of that, it can recover photos seamlessly from all models of the Fujifilm camera.
Here are the key takeaways from Jihosoft Photo Recovery for Fujifilm
Recover deleted photos, videos and audios from any digital camera, including the Fujifilm camera.
The non-technical design and layout of the software means that anyone can recover the photos by themselves
The rapid scan rate and fast processing makes the process brief and effective thereby saving you time
Good reputation based on the software's high success rate when recovering photos from any digital camera
Available for both windows and mac users
Recovers raw files from your Fuji camera
Restores thumbnails just as they were before they were lost
Does this sound too good to be true? Why not try it for yourself? You will be mesmerized by the quality of results that you get from using Jihosoft as your photo recovery software.
The next important thing is to guide you on how to go about the recovery process. While the steps are self-explanatory due to the intuitive user interface of the software, beginners might need a helping hand. So, here we go.
How to retrieve photos from Fujifilm camera with photo recovery software
Connect your Fujifilm camera to your computer. Ensure that it can be detected by the computer. If you are using an SD card, connect using a card reader.
Step 1. Launch Jihosoft Photo Recovery, then click Recover Photos.

Step 2. From the removable disk list, choose the one that contained the deleted photos or one that represents your Fujifilm camera.

Step 3. Click Scan Now for a full scan or choose the Advance Scan option to select the particular type of file that you want to scan.
Step 4. Once the scan is complete, you can preview the recovered photos and then click Recover button to retrieve them.

When the recovery process is finished, you will be guided to the output folder where you can check and move the recover Fujifilm photos. In addition to photo and video recovery, this recovery tool can also recover lost audio files from SD card, external hard drive and other devices.
However, it is important to note that the scan result may not show all lost photos if you have been using the device after losing the previous photos. This is because the files may have been overwritten by new data. To avoid such a catastrophe, it is advisable to not use the memory card when you're aware of the data loss. In other cases, the SD card may be physically damaged which makes it impossible to read and hence recover the photos.
Conclusion
Though facing the furious competition, Fujifilm still stands as one of the most popular brands in digital camera industry. It is necessary to have this tutorial helping Fujifilm users get back lost pictures, no matter how they were lost. You can try both the Command Prompt method and the photo recovery software as long as any of them works. Feel free to tell us if you have any problems.