How to Recover Permanently Deleted Audio Files on Windows and Mac
It can be frustrating to lose your valuable audio files, like voice recordings or valuable music files, from computer or external disk drive due to accidental deletion or from virus corruption. Regardless of the reasons behind the loss of your files, it is possible to recover your deleted files. There are two main ways in which you can recover your deleted audio files on a Windows or Mac computer.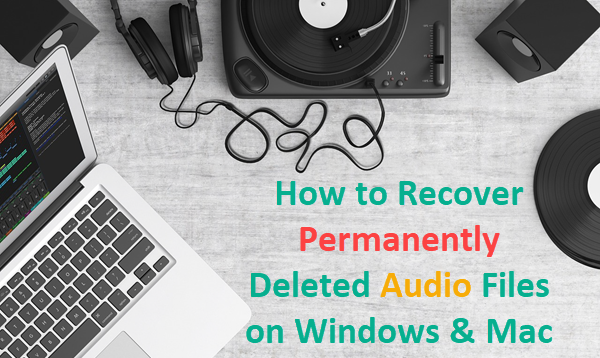 Method 1. Restore Deleted Audio Files from Recycle Bin/Trash
Recycle bin or Trash is the tool that you can use to recover deleted files, including audio, from Windows or Mac computer. The purpose of a Recycle bin is to keep the deleted files before you choose to permanently wipe or restore them. As long as you have not cleared up the Recycle bin, it is possible to restore previously deleted audio files with a few simple steps. To begin with, you will need to locate the Recycle bin icon on your computer.
Here we take Windows Recycle bin as an example. The operation on Mac Trash should be similar.
Step 1. Double-click on the Recycle Bin icon on the desktop of your PC
Step 2. Locate and select the audio file(s) that you want to restore
Step 3. Right-click on the selected files then click 'Restore' to recover the audio files

Step 4. Wait for the restore process to complete
Step 5. Exit the Recycle bin once the restoration is over
Step 6. Locate the recovered audio files in their original location
Normally, all recovered files from the Recycle Bin will be restored to the original location. It is therefore important for you to check the original location of the audio files which is usually shown in Recycle bin. If you encounter difficulty in locating the recovered audio files after restoration, you can simply type the name of the file in the Windows Search bar tool to begin a search.
The Recycle Bin provides a straightforward method of recovering deleted audio files if they have not been permanently deleted. In some cases, the audio files you are looking for may not be recovered by restoring them through the Recycle bin. This means that the files may have been permanently deleted from your computer. In this case, you will need a more advanced method to recover your files.
Common cases of failed audio file recovery from Recycle bin:
Recycle bin is full and automatically remove files to free up space on PC
Manually empty Recycle bin
Remove files with Shift + Delete shortcut
Files deleted from connected USB drive or SD card won't go to Recycle bin
Files lost due to system reinstalling, formatting or factory reset
Method 2. Recover Permanently Deleted Audio Files with Audio File Recovery Tool
Recovery tools are computer programs designed to recover permanently deleted files on your computer. You can find a wide range of recovery tools with free and premium features. When looking for the best recovery tools for your audio files, you may want to know how easy and effective it is to use them.
We highly Jihosoft Photo Recovery tool which allows you to search previously deleted audio files. It is easy to use and also allows you to retrieve other types of files such as audio files, photos and videos. This powerful and reliable recovery tool will retrieve audio files in various storage media such as hard disk, SD card, USB drive and digital camera. The recovery process is a three-step method without loss in quality. Some features of this audio file recovery software include:
A user-friendly interface
Jihosoft Photo Recovery comes with a user-oriented interface that makes it easy for you to restore deleted audio files. No technical knowledge is required to begin using this software. In just a few clicks, you will be able to retrieve your deleted audio files completely.
Only 3 steps
With only 3 steps involved, you can select a disk to scan, preview the deleted audio files and finally recover them.
No risks involved
Since scanning the storage device is via read-only, there's no chance of damage on data or privacy. This makes the whole process safe and risk free to your personal data.
How to recover deleted audio files on Windows and Mac
This recovery tool is a lifesaver when you have lost your audio files for various reasons such as formatting, a virus attack or mistaken deletion. It offers the best data recovery solution for various storage media such as SD card, hard disk and USB drive. To begin the process, just follow these steps.
1. Select the storage device that contains your lost audio files
Run the program on your computer and select the "Recover Photo" option. A list of your storage disks will be displayed and select the one where your deleted audio files were located.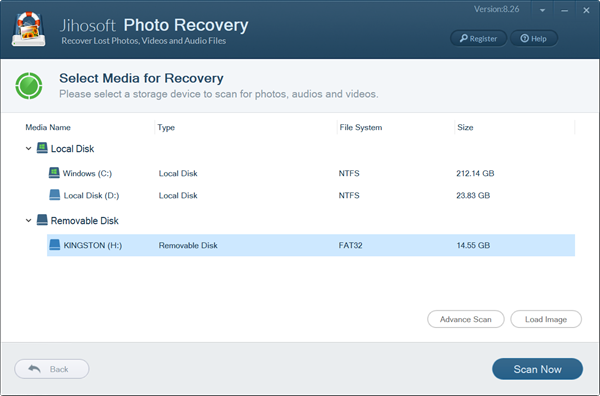 2. Refine the scanning by type of audio
On the "Advance Scan" menu, you can choose the specific audio types that you want to recover. This will make scanning faster and more efficient. Then click 'OK'. If you are not sure about the type of audio that you want to recover, then choose the "Select All" option and all types of audio file will appear.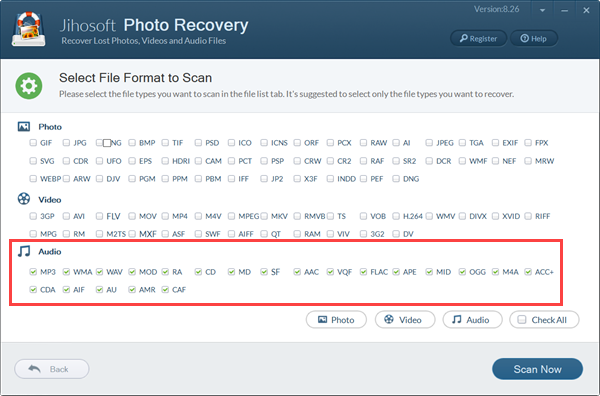 3. Begin the Scanning process
Click the Scan button and the recovery process will begin automatically. The length of time taken to complete the can may vary depending on the size of the storage device of the general condition of the disk. Wait patiently for the process to complete.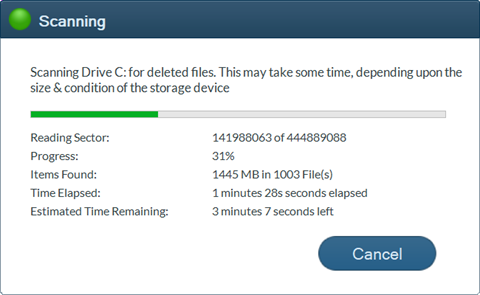 4. Preview and Recover found audio
Once the scanning is complete, the interface will show recoverable audio files. You can choose and play the found audio files for preview, then select those you need and click "Recover" to save them in a location different from the source storage device.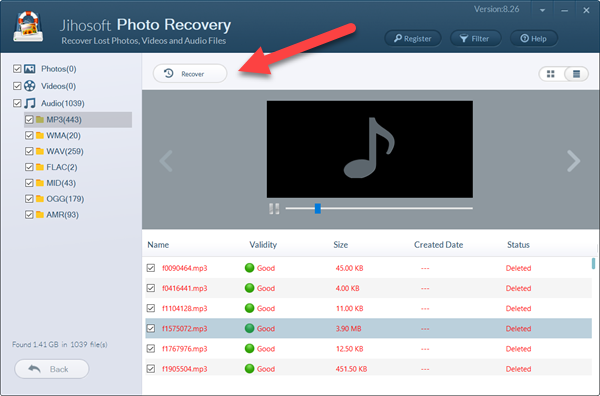 Jihosoft Photo Recovery is a software that promises to restore your deleted audio files and give you the peace of mind that you need. It is not limited to the recovery of audio files alone and can pretty much recover permanently deleted photos and video. This type of versatility makes it a valuable tool for any Windows and Mac computer and you will no longer have to worry about losing your important files for any reason.
Besides the proven capability to restore deleted files, you can get tech-support online in case you encounter a difficult situation by paying a premium price for extended capabilities.
In conclusion, it is highly recommended that you back up your audio files regularly on an external device or through an online platform. By using Recycle Bin or other recovery tools, you will still have some worries until the files are restored.