How to Recover Shift Deleted Files in Windows 7/8/10
When a file is mistakenly deleted from your computer hard drive, you might be able to restore it from the Recycle bin or with Ctrl + Z. What if you used Shift + Delete shortcut? The shift deleted file will bypass the Recycle bin and get wiped permanently. Is it really gone? In this article, we are going to tell the difference between Shift Delete and normal Quick Delete as well as how to recover shift deleted files in Windows 7/8/10.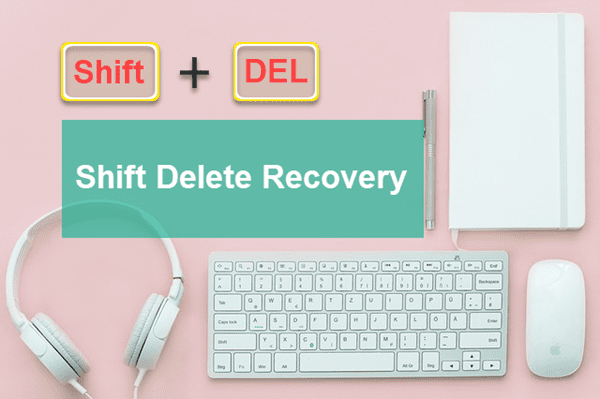 How Is Shift Delete Different from Quick Delete?
A lot of shortcut commands are hidden in Windows OS, including shutdown commands and Shift + Delete. Since you have landed here, you should know that Shift + Delete is a special shortcut different from the quick delete operations, like Ctrl + D or right-click delete. In Windows OS, "Shift + Delete" is a permanent deletion command, which remove files from computer without taking the space on Recycle bin.
Here are the differences between Shift Delete and Quick Delete:
| | | |
| --- | --- | --- |
| | Quick Delete | Shift Delete |
| Function | Delete the file | Permanently delete the file |
| Process | Move the file to the Recycle Bin | Directly remove the file from the computer |
| Cancel | Press Ctrl + Z | Not available |
| Recovery | Restore the file from the Recycle Bin | Use a recovery software to recover the file before it is being overwritten by new data |
A lot of people use "Shift + Del" shortcut to delete the photos or documents that they think no longer useful. Besides, they tend to turn off the confirmation window which should pop up whenever a permanent deletion is requested. Hence, it is common to see people mistakenly remove files with Shift Delete but find them useful later. Is it possible to recover shift deleted data? The answer is YES.
Why Is Shift Delete Recovery Possible?
When we say that Shift Delete directory removes files from the computer, it doesn't mean that the data is wiped instantly. Actually, the file system just removes the headers and pointers to the data and marks the previously occupied space as available for new data. In such case, neither the computer nor users can access the shift deleted files. However, with the help of a reliable data recovery software, it is still possible to rebuild the headers and pointers so as to recover the deleted files. Just make sure to stop using the storage device immediately to avoid data overwriting.
Best Data Recovery Software for Shift Delete
iReparo for PC is the best data recovery software for Windows and Mac. It is able to undelete photos, videos, audio, documents, compressed files, etc., from all kinds of storage devices. Other than Shift Delete recovery, this recovery software can also recover deleted data from SD card where files are removed immediately even with Quick Delete.
Features of iReparo for PC
Recover over 150 types of files.
Support internal & external hard drive, SD card, USB flash stick etc.
Multiple filtering options help you find desired data quickly.
Full preview before recovery to avoid money wasting in case of data overwriting.
Straightforward and friendly user interface.
How to Recover Shift Deleted Files with iReparo for PC
Follow the steps below to recover files with iReparo for PC after Shift + Delete. If you want to recover files from a removable device, like a memory card, please connect it to your PC.
Step 1. Run the Shift Delete Recovery software and choose Recover File.

Step 2. Select a partition and click Scan Now.

Step 3. Preview and Recover shift deleted files.

Hopefully, you have found the lost data you need. Make sure to save the recovered files to another drive different from the one where you lost the data.
Tips to avoid data recovery in the future:
Avoid using Shift + Delete command.
Don't turn off delete confirmation.
Use copy & paste instead of cut & paste.
Always keep a backup for your important files.
Bottom Line
In this tutorial, we have learnt how to recover files lost by Shift + Delete. Feel free to tell us if you have any problem getting back your lost data. For more helpful tutorials, such as how to check if you have Bluetooth on your PC, please take your time looking through on this website.