How to Recover Data from A Dead Hard Drive in 2020
My hard drive (3TB, stores all my games and work) appears to have died. Windows won't see it with File Explore. It's just gone. It made no sounds before it died, so I don't think its a mechanical failure. What's the best way to go about trying to get my data back?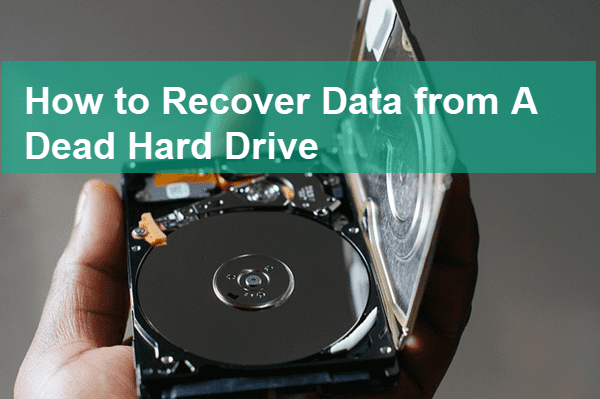 Is it Possible to Recover A Dead Hard Drive?
It really depends on the condition of the corrupted hard drive. Sometimes, the hard drive can be fixed with data recovered or lost; while in other cases, you would lose both the hard drive and the files inside. However, there are some things you can do to avoid problems caused by wrong operation.
How to Maximize the Chance of Dead Hard Drive Recovery?
Stop using the hard drive as soon as you can't access the data. Otherwise, you may make the condition worse due to the lack of correct instruction. Especially, don't try to format the dead hard drive in any method if you don't want to lose the important files.
Don't worry. As a matter of fact, data recovery is possible even after files are deleted manually from storage devices, because the files are not removed immediately. Therefore, as long as your hard disk is not dead or damaged completely, there are chances to restore the files. If you manage to make the disk recognizable, a good hard drive data recovery software will get back your files at minimum cost. If not, you can also resort to data recovery labs for more advanced solutions at higher cost. We will talk about the two options after introducing the method to troubleshoot a dead hard drive.
How to Troubleshoot a Crashed Hard Disk
It is crucial to identify the status of the crashed hard disk before any solutions or attempts shall be applied. The identification can be done with built-in system utilities or third-party tools. Here we are going to demonstrate how to check a hard drive in Windows 10 with Disk Management.
Note: If it is an internal hard drive in trouble, please remove and connect it to another computer.
Step 1. Right-click on Start button, click Disk Management from the pop-up list.
Step 2. Locate the crashed hard drive on Disk Management.
Step 3. Check the status of the hard disk: Online, Offline, Not Initialized, etc.

If the crashed hard disk is still online, you can try a good data recovery software to restore the files. If it is not initialized, please also try the recovery software to restore the data before choosing Initialize Disk from the right-click. If it is offline or not appearing in Disk Management, however, you may need to consult a technical professional and have it checked or repaired.
There are surely many more methods to check and even fix the dead hard drive, but they are not recommended if you don't know much about computer or data rescue, otherwise the situation could become worse. Now, try the two options below according to the status of the crashed hard disk.
Option 1. Recover Data from a Dead Hard Drive with Software
iReparo Data Recovery is one of the best software helping users recover both deleted and existing files on a dead yet recognizable hard drive, SD card, USB flash stick and more storage devices. With it, you can recover deleted Word files as well as other Office documents, photos, videos, audio, and many more data. The user-friendly interface and multiple filtering options will help you find the wanted data fast and accurately.
Why Choose iReparo
Recover over 150 types of files.
Support internal & external hard drive, SD card, USB flash stick, etc.
Multiple filtering options help you find desired data quickly.
Full preview before recovery to avoid money wasting in case of data overwriting.
Straightforward and friendly user interface.
Tips: Full preview the found data so that you will know whether the wanted files can be restored or not.
Now, free download the best data recovery software on your Windows or Mac computer to restore the dead hard drive. Just remember not to install the software or any other program on the same partition where you lose data.
Steps to Recover Deleted Files from a Dead Hard Drive
If it is an internal hard drive, please connect it to another computer, then follow the steps below.
Step 1. Run iReparo Data Recovery and choose Recover File.
Launch the program installed on your computer, then click Recover File to continue.

Step 2. Select a Drive and Scan Now.
You will be shown with all the disk drives detected by the program, including internal or external hard drive and removable drives. Select the crashed hard disk, then click Scan Now to proceed.
Note: The Advance Scan button allows users to specify their wanted file formats so as to make the scanning more accurate.

Step 3. Preview and Recover data from Crashed Hard Disk.
When the scanning is finished, click the categories on the left pane and preview all files on the right. Finally, select only the files you need and click Recover button to get the data back.

Option 2. Recover Data from a Crashed Hard Disk with Professional Service
If your hard disk is seriously damaged physically or in the system, any software won't rescue the data. In this case, the device itself may not work anymore, but you can resort to professional laboratories where advanced equipment and environment like clean rooms are available. However, the expected fee would be very high, so you need to evaluate the cost and gain.
If you're interested in the data recovery service provided by laboratories, the reputation, location, pricing and more factors shall be considered in advance. You know more about the top data recovery services here.
Bottom Line
Depending on how much you value the data, you can choose the specific solutions mentioned in this article. Actually, as long as the crashed hard drive can be detected, Option 1 is recommended. Tell us if you have any questions or opinions in the comment section.