How to Recover Corrupted Hard Drive Disk without Formatting
Many people have to use external hard drives on a daily basis for work or study and some of them have encountered the corruption of hard drive more than once. It is a disaster for those photographers or business owners to lose the access to important photos, videos or documents, which could be equivalent to money, time or more valuable reputation in some cases. No need to worry. In this article, we are going to introduce up to 6 solutions to fix corrupted hard drive and regain access to the files.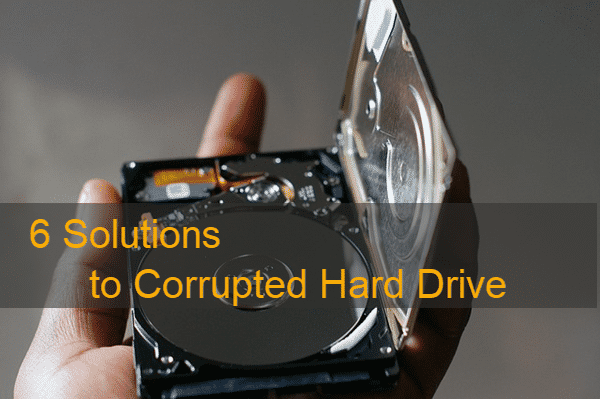 Fix 1. Remove Antivirus
If you doubt the corruption of hard drive is caused due to virus or malware attack, then you're suggested to scan and remove the risk first. There are a lot of free antivirus for Windows computers which are good enough for the basic task.
Fix 2. Check Physical Connection
If your computer doesn't recognize the connected hard drive, then you may need to check the connection status, especially when it is an external hard drive. Make sure the cable and the USB port on your computer are working normally. It is a good choice to try each part on different devices for verification.
Additionally, please also check the power supply. Some external hard drives require separate power supply to work.
Fix 3. Update Driver for the Corrupted Hard Drive
If the hard drive works on another computer, then there is possibly a driver issue, in which case you need to update the driver in Device Manager.
Step 1. Press Windows key + R key at the same time to open Run dialog.
Step 2. Type devmgmt.msc in the box and hit Enter.
Step 3. In Device Manager, expand the categories to find an option marked with yellow exclamation, which is usually under Universal Serial Bus controllers.
Step 4. Right-click on it and choose Update driver.
Step 5. Next, choose Search automatically for updated driver software.
Step 6. Wait for the process to finish, then try to access your hard drive again.
Fix 4. Fix Hard Drive Errors with CHKDSK Command
Step 1. Click Start menu, type CMD, right-click over it and run Command Prompt as administrator.
Step 2. In Command Prompt, type chkdsk /r /f G: (replace G with the corrupted hard drive letter), then hit Enter.
Step 3. Type Y and hit Enter if the checking process doesn't start, which will force a dismount on the volume.
Step 4. Wait for the program to scan for errors and bad clusters on the hard drive and fix them automatically.
Fix 5. Fix Missing System Files with SFC Command
Similar to CHKDSK, SFC (System File Checker) is also a utility in Microsoft Windows that allows users to scan for corruptions in the system files and apply automatic repair.
Step 1. Run Command Prompt as administrator.
Step 2. Type sfc /scannow and hit Enter.
Step 3. Wait the scan to finish and fix the damaged or missing system files.
Note: If it is an external hard drive, please type sfc /SCANNOW /OFFBOOTDIR=c:\ /OFFWINDIR=c:\windows (replace c with the corrupted hard drive letter) in Step 2.
Fix 6. Recover Files from Corrupted Hard Drive without Formatting
Whether the above methods have resolved the corruption of your hard drive or not, you might care more about the important data stored in it. If that's true, you will need a good data recovery software to recover files from corrupted hard drive as soon as possible.
iReparo Data Recovery is the best software for Windows and Mac users to restore the documents, photos, videos, and audio files hidden in internal or external hard drive. You can also use it to recover files from SD card, USB flash drive and other storage devices.
Why Choose iReparo for Corrupted Hard Drive Recovery
Recover over 150 types of files.
Support internal & external hard drive, SD card, USB flash stick etc.
Multiple filtering options help you find desired data quickly.
Full preview before recovery to avoid money wasting in case of data overwriting.
Straightforward and friendly user interface.
Now connect your corrupted hard drive to your computer, then follow the steps below to access the important files.
Step 1. Run iReparo Data Recovery and choose Recover File.
The hard drive recovery software will run itself after the installation. You can also launch it from the desktop icon. Click Recover File to proceed.
Tips: Create Image is another amazing feature for backing up your removable drive.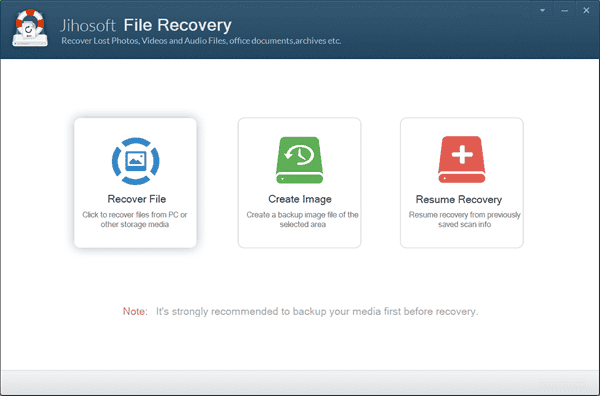 Step 2. Select the Crashed Hard Drive and Scan Now.
You will be displayed with all the partitions detected by the program, including internal or external hard drive and removable drives. You need to select the partition which is inaccessible, then click Scan Now to proceed.
Note: The Advance Scan button allows users to select only the wanted file formats so as to speed up the scanning.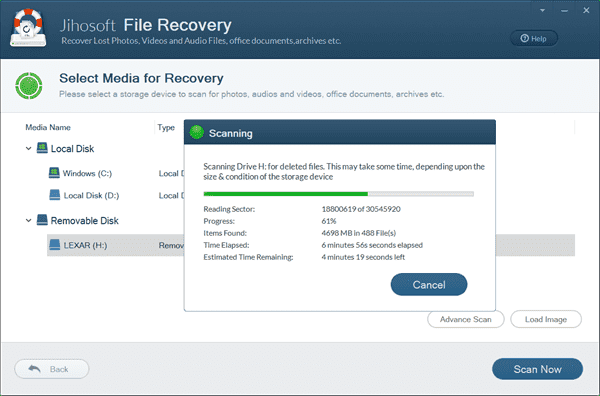 Step 3. Preview and Recover Files from Corrupted Hard Drive.
When the scanning is finished, you can open the categories on the left pane to view all types of files. Select only the files you need and click Recover button to get the data back.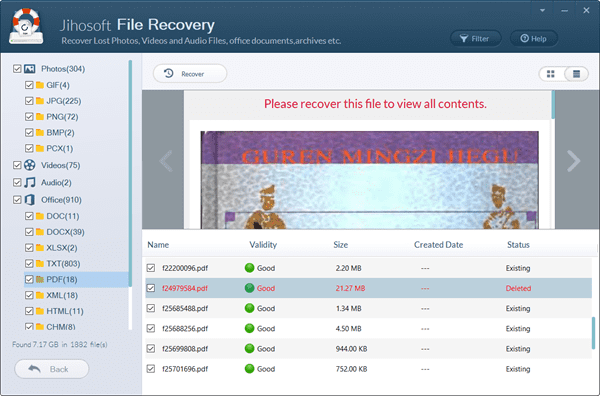 Bottom Line
Make sure to move the recovered files to another local drive or cloud drive. Once you have successfully extracted the files, it is easy to format the corrupted hard drive for further use. If you're experiencing the same issue or have been at the same place, don't hesitate to share your cases or opinions in the comment section so that more people will benefit.